Entertainment News
Emmy Awards: Complete Coverage Of The 2011 Emmy Television Awards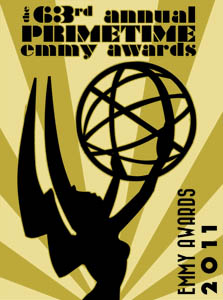 A look at Neon Tommy's coverage leading up to, during and after the 2011 Emmy Awards show celebrating the best in television.
PREVIEW:
Will "Modern Family" win best comedy and will Steve Carrell finally win for "The Office?"
Can "Mad Men" continue its winning streak or will "Friday Night Lights" win big for it's final season?
A complete look at every category and star nominated.
The Fashion Forecast: 2011 Emmy Awards
Our writer wants more stars, including Tina Fey, to wear color Sunday night.
2011 Emmys: Updated List of Presenters
Sofia Vergara, Amy Poehler and Rob Lowe are some of the big stars handing out awards Sunday night.
Emmys Dinner Menu Gives Guests More Than Awards To Be Excited About
See what the stars will be eating during Emmy night (it may include filet mignon and chocolate)
AWARD SHOW:
Modern Family Should Win Best Comedy
Why "Modern Family" should beat "The Office" and "Glee."
"So You Think You Can Dance" Should Beat "The Amazing Race" At 2011 Emmys
Will dancing beat great cooking in "Top Chef" and travelers around the world?
Lea Michele, Nina Dobrev and Sofia Vergara in red
Red is a popular color in fashion.
Julie Bowen Beats Jane Lynch, Betty White, and Sofia Vergara
"Modern Family" continues to win big at the 2011 Emmy awards.
Spotlight on Melissa McCarthy at 2011 Emmy Awards
Between "Bridesmaids," "Mike and Molly" and a new "SNL" hosting gig, this is McCarthy's year.
Another "Modern Family" Win: Ty Burrell Wins
Surprised that "Glee's" Chris Coffer lost?
"The Daily Show" favored to win in outstanding variety series at 2011 Emmys
Does Jon Stewart deserve the big win?
Jim Parsons Wins His Second Emmy
"The Big Bang Theory" star wins again.
Charlie Sheen Speaks to his "Two and a half men" costars at the Emmy Awards
Sheen surprises many with best wishes to his old co-stars.
Take a look at our top 5 picks for best dressed females of the night.
We analyze the trends of what your favorite stars were wearing.
Nude lips and black nailpolish are some of the beauty trends celebrities are following.
Emmy Awards 2011 Worst Dressed
Do you agree with whose on our list? Olivia Munn and Jane Krakowski?
Kyle Chandler Wins Lead Actor in a Drama at 2011 Emmys
The "Friday Night Lights" actor finally gets a win for his final season.
Julie Bowen Wins Big At 2011 Emmys
The "Modern Family" actress is shocked during her acceptance speech.
Why Chris Colfer should have won an Emmy for "Glee"
Did the Emmy's choose the right winner for Best Supporting Actor in a Comedy?
Best and Worst of Fashion at the 2011 Emmys
Check out who will end up on the best dressed list and who left viewers wondering why.
Jim Parsons Takes Emmy For Outstanding Actor in Comedy Series... Again
Our writer thinks Steve Carrell should have won for his final season on "The Office."
"Modern Family" Takes Home Best Comedy Emmy
Jane Lynch called the show, "The Modern Family Awards."
Jane Lynch as Host of 2011 Emmys
Lynch brings a new edge to the Emmys.
Best Speeches from the 2011 Emmys
Which speeches stood out this year?
Did your favorite TV actor and actress win?
Best Quotes of the Night At the 2011 Emmy Awards
From winners to presenters, here's a look at the funniest quotes of the night.
Emmys 2011: Notable Men's Fashion
See what Rico Rodriguez, Joel McHale and other leading men wore at this year's Emmys.
A special message to the actors and actresses who went home empty handed.
Were you surprised by who won?
Emmy 2011 Fashion Trends From the Red Carpet to the Real World
You don't have to be an A-list celebrity to get an Emmy look.
Reach entertainment editors Nicole Shoohed here and Mike Vulpo here
Best way to find more great content from Neon Tommy?
Or join our email list below to enjoy the weekly Neon Tommy News Highlights.