Entertainment News
Letter To Emmy Losers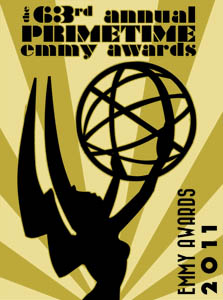 Dear Emmy Losers,
We've all heard the phrase, "It's an honor just to be nominated" on about every red carpet interview for every award show. While the winners go on to celebrate the night with a shiny new companion in hand, the losers receive a pat on the back and force their spirits up the remainder of the night.
So to all those who will ride home in their stretch limos empty handed, be consoled by our kind words that boast of your talents.
Jane Lynch: Maybe you didn't win back-to-back Emmys for your snarky portrayal of Sue Sylvester on Glee. You have the next best thing: hosting the awards show. Clearly the executives value your talent, believing you have the skill to carry the entire night on your shoulders. Glee fans all saw your range as an actress when you traded in one-liners for tears in a dramatic character arc this season. With the anticipation building for the upcoming season of Glee, I have no doubt you and your iconic tracksuit will march straight to the top of next year's ballot.
Jon Hamm: You almost have it all: good looks, great talent, and a critically acclaimed show. The Emmy may have slipped your grasp this year, but you continue to impress as the womanizing Don Draper. If you had to lose to anyone, take solace in the fact that you were only second best to Kyle Chandler. With Friday Night Lights taking its final bow this year, Chandler needed to go out on top. So go on, keep on seducing the ladies and commanding Draper's powerful presence—next year could be yours.
Conan: It's been a year of ups and downs and you really could have shoved this win in Jay Leno's face had your name been announced off that golden envelope. Maybe the Academy didn't recognize your greatness, but your fans always will. They stuck by you after The Tonight Show fiasco and they'll stick by you through this loss. The Daily Show has way more experience in this category—we're talking 15 previous wins kind of experience—so they're well seasoned. It's your first year and you're still getting settled. Dig in, keep up your quirky charm and we'll all keep our eyes glued to our screens.
Steve Carell: Let's be honest. This one has to hurt. This marked the sixth nomination for your portrayal of Michael Scott on The Office and with your exit from the series, this one will also be your last. You made us laugh, you made us cry, and at the end of the day you taught us all there will never be a shortage of "That's what she said" jokes. Only you could have made a completely incompetent character so lovable. We'll all miss you and your inappropriate jokes next season.
Chris Colfer: The Academy didn't give your Golden Globe a winged woman companion on your mantle, but be humbled by how much you've given your fans. As Kurt Hummel, you've helped shed light on serious issues like bullying and LGBT equality, while killing every popular songs and ballad you belt out. With so little acting experience, it's amazing the depth and emotion you bring to the both your character and the show.
All other directors for drama series: There's really no shame in losing this one. You went up against Martin Scorsese. In this case, it really is just an honor to be nominated alongside him.
Emmy Losers, once again, keep your chin up and talent sharp. You have a whole year to impress the Academy once more and earn your spot in the winner's circle. Enjoy the after parties tonight and get working tomorrow.
Reach reporter Amanda Martinez here
Follow Amanda Martinez on Twitter
For complete coverage of the 2011 Emmy Awards, click here