Entertainment News
Top 5 Emmy Beauty Trends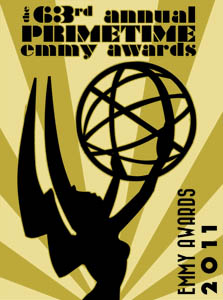 5. Black Nailpolish:
These beautiful leading ladies are graceful, glamorous, and… goth? Black nailpolish makes a comeback as these women prove that a black nails might be the perfect replacement to a little black dress.
Blonde beauty Julia Stiles looks graceful in a silver strapless dress, smoky eyes, and boxy black nails. The light against dark contrast looks effortless, especially when pulled together by a silver and black clutch.
Naya Rivera Glee is back from Glee's tour… in black! Her voluptuous curves are hugged by a midnight black number, which match her darker fingernails and smoky eyes .
4. Easy-Going Curls:
Meet the women who bring laid back comfort to "TV's biggest night." They understand that high glam is the norm, yet embrace an organic appearance.
Rachel Harris styled her beautiful blonde tresses with side-swept bangs and light curls. The beauty continues to push the "casual" envelope further by accessorizing with thick-rimmed glasses and a modest necklace.
Julianna Margulies of "The Good Wife" channels effortless Hollywood glamour with a looser variety of side-swept bangs and curls.
Charlie's newest angel, Annie Ilonzeh, sports angelic tight curls, gracefully adorned with an embellished headband.
3. Red on Red:
Red Lips, Red Dress— The leading ladies on this year's Emmy's best dressed list sizzled in form-hugging jewel-toned reds. But the look wouldn't be complete without an equally red-hot pout. Check out these women at the Emmy's who believe that less is not more: red is more.
A red dress and lips pop against "The Office's" Angela Kinsey's peaches and cream complexion and gold jewelry.
Presenter Kerry Washington also rocks a retro, flapper-esque red dress andlips, accompanied by sultry smoky eyes and a red clutch. Overkill? We don't think so.
Following this year's Emmy trend, Adrianne Palicki embodies the balance between sex-appeal and modern class with a busty, bright red number, red lips, and a sleek up-do to highlight her blue eyes.
2. Coral + Peach = Pretty:
Coral lips and cheeks at this year's Emmys bring a warmer dimension to the show, nicely contrasting from dramatic reds, blacks, and silvers.
Charlie's Angels star, Rachael Taylor, is all a warm-hued beauty at this year's Emmy's, with noticeably peach-tinted cheeks against a light dress and hair.
Modern Family comedian, Ariel Winter, looks all grown-up! This cutie graces age-appropriate and elegant make-up with rosy cheeks, light pink lips against an equally rosy pink laced dress.
Christina Hendricks' coral lipstick shines against the actress' beautiful fair skin and tousled red hair.
1. Nude Lips:
Blacks, silvers, blues or reds—no matter the dress color, this year's #1 beauty trend was nude lips. The high drama of this year's fashion choices (and the natural beauty of the women themselves, of course) was complimented by the light-hued lip color.
Nina Dobrev rocked this year's #1 beauty trend! Nude lips and a natural smile shined equally as bright as her sparkling choker, accentuating her smoky eyes and perfectly form-hugging red number.
Countless others followed suit with nude lips, including Kelly Osbourne, Kyle Richards, and Jenna Ushkowitz. Perhaps we can scratch what we said before about the red lipstick. Less color can indeed be more.
Reach Asal Ehsanipour here.
Follow her on Twitter here.
For complete coverage of the 2011 Emmy Awards, click here
Best way to find more great content from Neon Tommy?
Or join our email list below to enjoy the weekly Neon Tommy News Highlights.