Los Angeles and Region
Occupy L.A.'s Last Stand: Full Eviction Coverage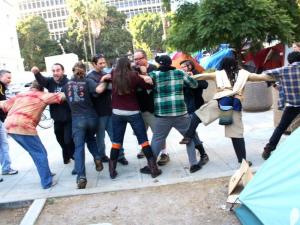 The Latest Stories:
LIVE BLOG: Occupy LA eviction coverage
Stick with Neon Tommy for minute-by-minute reporting from City Hall.
Occupy Los Angeles Raid Expected Tonight
Protesters brace for eviction. LAPD staging areas established. Hundreds of riot police boarding busses at Dodger Stadium.
10 At Occupy L.A. Accept Villaraigosa's Free Housing Offer
Tents at Occupy L.A. had become shelters during the past two months for a few dozen people without homes.
Occupy L.A. Raid Watch Night Three: Images Of Retreat
Here's what our staff photographer Rosa Trieu ran into Tuesday afternoon.
More Occupy Camps Face Shutdown Orders As Others Return
Protestors to re-establish a public presence after being evicted earlier this month by local officials from camps that had been set up in early October.
Two days after the passing of the city's deadline for Occupy L.A. protesters to clear their encampment, the demonstrators maintained a diminished presence of tents on the City Hall lawn Tuesday.
The atmosphere at the Occupy Los Angeles campgrounds is tense the day after the eviction order went into effect.
Occupy LA's Diehard Protesters Dig In At City Hall Park
Occupy L.A. Seeks Court Order Against Eviction
Occupy L.A. Protesters Trained For Nonviolent Confrontation
At Least Four Arrested At Occupy L.A.
Why Not Them?: What The Occupy Movement Means
LIVE BLOG: The Latest From Occupy LA
Our reporters provide detail from the encampment.
Mayor Villaraigosa: Occupy Campers Will Have "Ample Time" To Remove Belongings
Mayor releases statement on upcoming closure of City Hall Park.
LAPD Officer: No Occupy Raid Sunday Night (VIDEO)
LAPD officer tells "Occupy Freedom LA" that raid will not happen tonight
Clergy, Labor Leaders Urge Occupiers To Stay Civil Nov. 27, 2011
Clergy leaders and representatives from labor groups addressed Occupiers Sunday evening in anticipation of potential violence during Monday's planned eviction.
Public Art Defense League Calls For Donations To Arm Occupiers With Cameras Nov. 27, 2011
As Occupy L.A. prepares to square off Monday against the LAPD, the Public Art Defense League has reached out for donations to aid Occupiers in an unconventional way.
VIDEO: Councilman Rosendahl Pleas For Occupy LA To Disband Nov. 27, 2011
Los Angeles City Councilman Bill Rosendahl asked that the protesters take their fight to the political system, and to not resist the LAPD's efforts to clear City Hall.
SLIDESHOW: Scenes from Occupy LA
Photos from the camp. Will be updated throughout the night.
Previous coverage:
OccupyLA Plans To Resist Monday Eviction Nov. 25, 2011
OccupyLA Reacts Negatively To Monday Eviction Order Nov. 25, 2011
Occupy LA Told By Mayor and LAPD To Close By Monday Nov. 25, 2011
Occupy LA Stands Its Ground To Celebrate Thanksgiving Nov. 24, 2011
Occupy L.A. Offered An Office At $1 A Year Nov. 22, 2011
Occupy L.A. Protester: "If The Police Touch Us, We Can Sue Them" Nov. 17, 2011
Occupy L.A. Protesters' Day Of Action, 23 Arrested Nov. 17, 2011
82-Year-Old Woman First To Be Arrested At Occupy L.A. "National Day Of Action" Nov. 17, 2011
Occupy LA Holds Fort, Preps For Showdown Nov. 16, 2011
Occupy L.A. Arrests: Alleged Masturbator, Kidnapper And Torcher Charged Nov. 15, 2011
Occupy L.A. Eviction Plan In The Works Nov. 15, 2011
Occupy LA Marches For Raided Occupy Wall Street Nov. 15, 2011
Media:
Other Stories:
Occupy L.A. Guide - Who, What And Why Oct. 8, 2011
Occupy L.A. Has Unified Goal; Still Looking For Consensus To Achieve It Oct. 14, 2011
Occupy LA Protesters To Meet With LAPD Oct. 28, 2011
Social Network Feeds:
View the story "#OLA " on Storify]
View the story "More From Social Media" on Storify]
Best way to find more great content from Neon Tommy?
Or join our email list below to enjoy the weekly Neon Tommy News Highlights.