Los Angeles
Clergy, Labor Leaders Urge OccupyLA To Stay Civil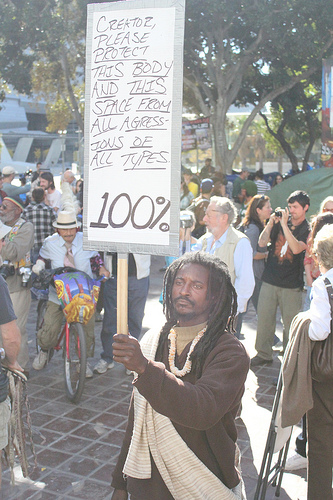 Clergy leaders and representatives from labor groups told Occupiers Sunday evening that they, as well as law enforcement, should avoid violence during the next several days as the Occupy L.A. encampment is shut down.
Maria Elena Durazo, executive secretary treasurer of the Los Angeles County Federation of Labor, encouraged Occupiers to recall the examples set by Martin Luther King Jr. and other civil leaders "to reinforce the long term value of nonviolence in building a movement for change."
She said that while the federation is "grateful" that OLA has drawn attention to wage inequities and an unfair distribution of wealth, "We call for nonviolence in all acts of civil disobedience by Occupy L.A. and in professional procedure by the LAPD."
The leaders' message Sunday comes in a series of pleas from city officials to persuade Occupiers to respond civilly to Mayor Villaraigosa's eviction notice.
The labor movement has spoken out in support of the movement in the past, going so far as to march alongside Occupy protesters. It remains to be seen whether protesters will go quietly when police descend tomorrow, but no one seems to want L.A. to deteriorate into the scenes of chaos and violence found in other Occupied cities.
Best way to find more great content from Neon Tommy?
Or join our email list below to enjoy Neon Tommy News Alerts.