Los Angeles
Public Art Defense League Calls For Donations To Arm Occupiers With Cameras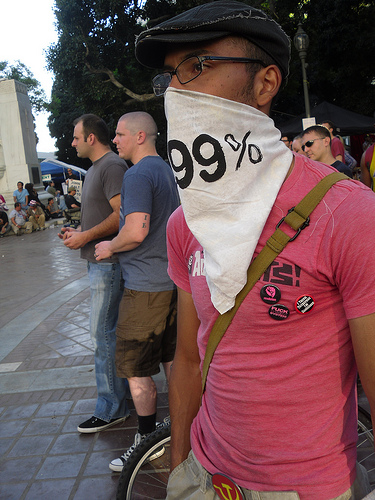 As Occupy L.A. prepares to square off Monday against the Los Angeles Police Department carrying out eviction orders, the Public Art Defense League has reached out for donations to aid Occupiers in an unconventional way.
Travis Wilkerson sent out a plea for support Sunday on behalf of the league, a collective of artists and activists. He and the league want to distribute as many cameras as possible to help document the interaction between protesters and law enforcement. In an email, Wilkerson said the eviction is part of a nationwide campaign of repression.
Wilkerson wrote:
The blossoming of a new, growing movement of young people, students, workers and unemployed against the wealthiest 1% has the potential to develop into an ideological force capable of challenging the oppressive nature of the system—which is why the state is in the process of smashing it nationwide. Big business and its politicians want the Occupy movement gone completely, so any occupation that still stands is keeping that movement alive. Los Angeles is the last untouched major city.
Because of the profound political and social significance of the potential eviction, the Public Art Defense League regards articulate documentation of state action and the organized political response as an urgent necessity.
Please help us accomplish this desperately important task. We intend to arm activists with as many small, sturdy sports cameras as we can purchase in the next 48 hours. Because of the extreme urgency of the request, we can't turn to Kickstarter or other crowdfunding sites. We have to turn to friends, fellow activists, and colleagues directly.
I'm personally spearheading and organizing the efforts to produce a powerful, useful, honest account of the eviction and its aftermath.
The league is accepting donations via PayPal, using the address [email protected]. Donations of $300 or more, Wilkerson said, will add a camera to the artillery, and those who make the larger donations will have camera returned to them if they are still in one piece after police intervention.
"Every penny will be used to help document," Wilkerson wrote. "And every donator, no matter how small, will be thanked and acknowledged as a contributor. Up until the last moment of the eviction, I'll gather as many cameras as I can and distribute them as broadly as possible. Participatory media at its best while it happens."
Reach Catherine here; follow her here.
Best way to find more great content from Neon Tommy?
Or join our email list below to enjoy Neon Tommy News Alerts.