Investigative Reports
Life Of A Sugar Baby: A Different Kind Of Part-Time Job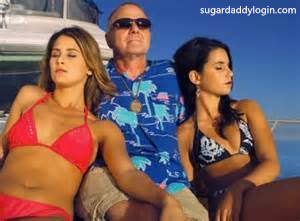 This story is the first of a three-part project, "Life of a Sugar Baby." For Part Two, click here. For Part Three, click here.
At 11:36 p.m., a message pops up on my screen, "Hi Emily, I would like to see your eyes :). Do you have a photo without sunglasses."
"HavingABlast" doesn't know it yet, but he's out of luck. For one, I'm not Emily – that was just the first thing that came to mind when he asked me my name – and I panicked. Not to mention that I was already scared enough to post a real picture of myself, so he's definitely not getting another.
He's not my only option, though. I also have received date requests from men like "MRHOLLYWOOD," who claims to be 52 but appears much older in his pictures, and the 47-year-old "EddiEv" who describes himself in his profile as a "conquistador." I at least was truthful about my age -- I'm 20 -- but that doesn't seem to be deterring those twice my age.
I strike up conversations over message with a few of these men, trying to get the hang of online dating. Some don't reply; others bore me. One option, "laballer620," is only 24. He asks for my number, which I give him, and we text back and forth occasionally for a few weeks. He tells me he just graduated from UCSB. I lie to him and tell him USC is going to beat UCLA in the upcoming rivalry football game. When the planned day of our loosely decided upon date comes around though, he says he's sick and asks to reschedule.
I guess this is my welcome to the new world of online dating. Except I'm not looking for a husband -- I'm looking for money.
I'm not the only one. With tuition and the cost of living in many places rising, some students have turned to nontraditional dating and relationship websites through which to parlay their youth and attractiveness as a source of income.
How they do this differs. The site I'm on, WhatsYourPrice.com, sets up first dates between men and women in which the man pays the woman an agreed-upon price to go on the date with him. Other sites, most popularly SeekingArrangement.com, set up sugar daddy-sugar baby relationships in which an older man gives a younger woman a significant amount of money for a relationship that can range from pure companionship to solely sex.
READ MORE: OkCupid Joins Facebook In Experimenting On Users
Making an Honest Dollar
These dating sites attract all kinds of people, among them many college students. With tuition now averaging a hefty $11,550 a year across the country for a full-time undergraduate, and particularly more for many students in Los Angeles, where we are writing this story, being a college student today costs more than ever before. And that doesn't even count expenses for living, travel, transportation and books.
Two students who have found that Seeking Arrangement and What's Your Price can be a good way to pay their way through school are "Emily," a sophomore at USC (where tuition is $47,562 a year), and "Robyn," an undergraduate student at UCLA (where tuition and fees are $13,194 a year). Both asked not to have their identities revealed.
In addition to the support she receives from the sugar daddies she finds through Seeking Arrangement, Robyn said she is on financial aid, receives a few scholarships, holds a work-study position and has a side job as a busser and waitress at private events.
"It is never a good idea to rely on this 100 percent," she said. "That becomes very, very dangerous at times, not just physically for someone, but just mentally."
What does she use all the money for? Well, the basics.
"Right now, I think my spending accounts for education and housing," she said. "And perhaps food once in a while."
Robyn isn't alone. Brook Urick, a public relations manager for Seeking Arrangement, said the largest demographic of sugar babies is college students.
"Obviously, it's because college is expensive," Urick said. "Most parents aren't paying for school anymore, and people are taking out loans, tens of thousands, maybe even hundreds of thousands, and they can graduate debt-free if they go on one of the sites and find a sponsor."
The site tracks the number of college students by counting dot-edu email addresses. Babies have an incentive to use their school email over another account: Those who register with a dot-edu email are given premium membership for free. And these "babies" weren't given their name for nothing. Undoubtedly due in large part to the large number of college students, the average self-reported age for a sugar baby on the site is 26. The average age for a sugar daddy is 42.
Not all of those on the site are entering into relationships, however. Multiple girls said they created a profile for a variety of reasons but couldn't find a "daddy" or didn't go through with an arrangement.
"I actually haven't had any luck with the site, nor used it really," said Hannah Liu, a USC alumna of 2014. "I find the interface and the planning necessary to set up a date a little bit too much of a hassle."
Liu, who heard about the site through word of mouth, said it sounded "too good to be true."
She has since lost faith in it. "It's honestly just not worth going through the trouble of sorting through batches of hopeless matches," she said.

Cassandra Quarto also never found a "daddy."
"I've met up with a couple people but have never actually gone through with setting up an arrangement," Quarto said via Facebook. "I always chickened out!"
Though testimonies like these makes it hard to pinpoint exactly how many successful matches the site has arranged nationally, the number of users, at least, has skyrocketed, jumping from 300,000 users in 2009 to 800,000 two years later. Today, the site advertises 3.6 million users – 2.6 million of whom are sugar babies.
For students, sugar relationships are not just any part-time job: they're a way to earn a large amount of money in a short period of time. Robyn said that because school keeps her busy she doesn't meet up with a sugar daddy more than once a week – time that would accrue her a minimal sum working a minimum wage job in California.
Emily also said she knew a part-time job would not cover her expenses as much as becoming a sugar baby would. "I realized it was easier than getting a part-time job because it takes time to accumulate more money," she said.
Emily saw sugar daddies as an efficient way to support herself in the areas where her family didn't. "I needed the money because my family did pay for school, but everything else I had to pay for myself," she said.
SEE ALSO: Life Of A Sugar Baby: Dating As A Profession
The "everything else" could range from books to school supplies to food and entertainment -- all the expenses that don't usually take up the largest chunks of money but nonetheless exist. Emily lives with her brother so her parents assume he helps her with the small necessities she needs. In reality, her sugar daddies and other dates she goes on are her only source of income, something not even her brother knows.
Since signing up for Seeking Arrangement and What's Your Price five months ago, Emily has dated 10 different men and been on 15 dates. Her initial meetings with potential sugar daddies can be expensive for the man.
"The most I've gotten is $500, and I've heard of people getting $1,000," she said.
Emily's longest lasting — and current — arrangement sees her every week and gives her $300 for each visit. A student with a minimum wage job in California would have to work 33 hours per week to make $300 before taxes as opposed to one date with Emily's sugar daddy.
Emily has always been paid in cash at the end of the night so far. Expenses of the dates, such as dinner or coffee, are also paid for.
Robyn said that she's also heard about sugar dadies making deposits in sugar babies' bank accounts in the case of more long-term relationships, but is herself not comfortable with giving out financial information.
"I accept only cash, and it usually happens at the end," she said. "So, you discuss the number before and you usually receive it by the end."
These relationships aren't always dependent on an outright exchange of cash, however. In addition to other ways of transferring money, many times sugar daddies provide less direct financial support, such as paying for some expenses or showering their sugar babies with lavish gifts and trips — something common to many normal relationships as well. Which begs the question, how different is a sugar baby relationship from a normal relationship given that both parties understand the arrangement?
Prostitution or Just Another Dating Website?
Kirsten Johnson, a public relations manager for Seeking Arrangement, said the comparison of sugar relationships to prostitution is a common misconception.
"People make a lot of assumptions based on things they don't really know about," she said. "I know a ton of sugar babies who have never had sex."
Emily is one of these sugar babies who refuses to have sex. Still, she said, due to the prejudice many people have toward the site, she takes great lengths to maintain her anonymity.
"A lot of my family and friends are more conservative," she said. "[I] didn't want them to think, 'Oh, she's like a prostitute.'"
To give a "refresher course in the definitions of Sugar," Seeking Arrangement published a blog post this summer titled, "Four Differences Between Sugar & Prostitution." According to the company, sugar babies and sugar daddies have a relationship, not a transaction; being a sugar baby is a lifestyle choice not a profession; sugar babies receive funds as an "added benefit of dating a generous man" not for a specific service; and sugar babies have professional goals distinct from that relationship.
READ MORE: Awkwardly Depressing But Slightly Flattering: Experiments In Online Dating, Week 5
Robyn, who does have sexual relations with her sugar daddies, said she does not see the site as a prostitution service but whether it is or isn't doesn't matter to her. "I don't believe there's anything wrong with prostitution as long as it's of that individual's own free will and they do it not to live for their next meal," she said.
Robyn even said she would be willing to have a one-time encounter with a man on the site if he were just in the city for the day, something she viewed as more similar to prostitution. "I don't care what you call it, and I do want to get to the point where one day this could be outwardly legal, a site could proclaim whatever it wanted to represent without there being any trouble with the law and any trouble with societal expectations and boundaries," she said.
Different users had different ideas about where the line should be drawn for the site not to be prostitution. Johnson and Emily maintain that since Seeking Arrangement is not a website for soliciting sex, it is not a place for the oldest profession in the world.
"I think it's fine," Emily said. "As long as I'm not having sex with them, I don't see a problem with it."
Johnson said some sugar babies she knows even just Skype with the sugar daddy because the person wants someone to talk to. "Everything is on your terms," she said.
Seeking Arrangement also maintains a support team to check profiles for prostitutes and escorts trying to use the site. Johnson said certain keywords and pictures cross-checked through prostitution sites tip off the team. "We kick people off everyday," she said.
Johnson said she even sees the site as a way of going back to "traditional dating"-- where the man tries to court the woman with gifts and the like to sway her interest. The difference with Seeking Arrangement, she said, is that both parties are not exclusively looking for romance.
"On the first meeting, they talk about the terms of the arrangement and what they're willing to give and what they want out of the relationship," Johnson said. "Almost like a job interview."
Reach Contributor Fehbe Meza here. Follow her on Twitter here.
Reach Contributor Isabella Sayyah here. Follow her on Twitter here.