Investigative Reports
Life Of A Sugar Baby: Dating As A Profession
This story is the second of a three-part project, "Life of a Sugar Baby." For Part One, click here. For Part Three, click here.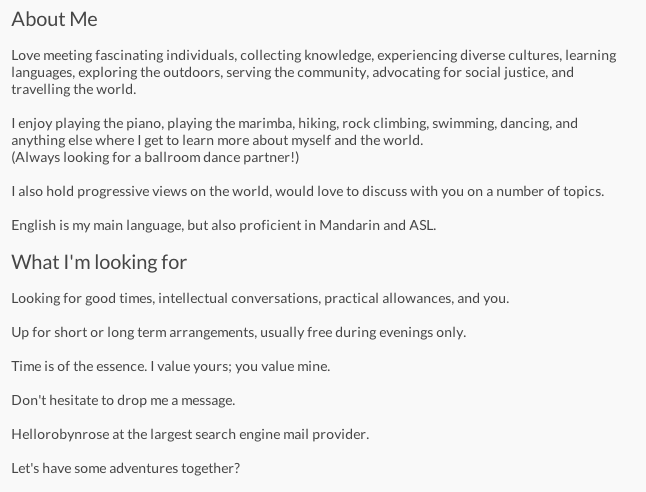 For those not looking to be a sugar baby, other nontraditional dating sites also offer women the opportunity to make money.
What's Your Price, owned by Seeking Arrangement's parent company, sets up first dates between two people much like other dating sites — except for the fact that a "generous male" must pay an "attractive female" to go out with him.
"A lot of the guys on [a dating site] are totally nice, they're totally generous, but maybe they're not as attractive or they're not as good with words as far as messaging goes, so they can't really get the girls that they want," Urick said. "What's Your Price is called the shortcut to dating because they can offer their generosity, show you, 'I'm a nice guy, and I'll even give you $100 at the end of the date to just come out with me.'"
Women can earn a sum starting at $5 and going into the hundreds for a single date. Emily also uses this site as a source of income and says it gives her more control over her dates than Seeking Arrangement.
"You talk, and if they're interested, they send you a wink and then you send a price, like an amount per date to meet. They can either accept it or counter and say what kind of date you want to go on," Emily said.
An income source isn't exactly what the site is meant to be used for, however. Urick said it's primarily just a forum for people to connect. "There are people who are going to just use the site because they want to get money, but that's not to say they're not going to meet somebody when they're out on a date," she said. "There's no one who's really opposed to that."
After the first date, it's up to the man and woman to decide where the relationship will go. Urick said she's heard many success stories come out of the site.
"I was talking to one girl who I was friends with on Facebook because we cast her on the site. She was in a relationship, so I texted her and said, 'Who are you in a relationship with?'" Urick said. "And she said, "A guy I met on What's Your Price. He's so nice, he's helping me, he really wants me to pursue my aerialist career, so he's paying for one of my classes.'"
Though Urick and others might claim the sites founder Brandon Wade started have created many happy endings, Wade himself isn't so optimistic about love. "Love is a concept invented by poor people," he wrote in an op-ed for CNN. "Love at first sight that sends shivers down your spine is a fairy tale, and it doesn't last forever."
Wade's own problems with love are why the MIT graduate initially started Seeking Arrangement. He says the inspiration came when his mother told him to concentrate on his studies, that the girls would come once he was successful.
"I wasn't buying affection, but rather broadcasting my generosity to a potential audience of women that would normally be inaccessible to me," Wade wrote.
"He was a smart guy, but very shy and had no luck in love," Johnson said.
Surprisingly, some Seeking Arrangement users have found what seemed to have eluded Wade. According to Johnson, Wade attends multiple weddings each year of people who met through the site. One sugar baby and sugar daddy who met on the site fell in love, she said, and the couple is now engaged and expecting a child.
The other sites, including What's Your Price, came later. Urick said that due to cross-marketing by the company there is a lot of overlap in regard to members of the site. But the two serve different purposes.
"Seeking Arrangement is something more long-term," she said. "I mean, an arrangement in itself is something long term, it's an ongoing relationship, whereas What's Your Price is just a first date. Seeking Arrangement maybe you're not actually going on a date ever."
Even on Seeking Arrangement, though, the length of relationships can vary dramatically. Robyn said she has kept her relationships with all four men she met through the site short. "I would prefer short, not because I don't want to genuinely know them as a person, I just know that I have no capacity like time-wise to ever consider anything more than that," she said.
Just how safe is it?
As with any arrangement with a stranger over the Internet, there's always an element of danger -- especially during the first meet-up.
Emily said there have been times when things did not go quite as planned for her. In one experience, a guy wanted sex right away and didn't tell her when they were messaging on the website.
"We met in the park, and he wanted to meet in the corner," she said, adding that it was an immediate red flag.
Emily said that the man still texts and harasses her occasionally, which led her to set a new rule for her sugar daddy search: not to give out her real number to just any guy who is interested.
Robyn, who characterized herself as "adventurous," said she has yet to find herself in a situation where she has felt unsafe. She has also been sure, though, to set certain rules for herself.
"First meets are always in public," she said. "I refuse to meet anyone at the home, meet anyone at a hotel [room]."
In addition to being safer, meeting in public has other advantages. "It's good to see them interact in public. For example, like if you meet for coffee, how do they treat the cashier. If you go to a restaurant, how do they treat the waiter," she said. "So, it's simple things."
Another rule? No sexual relations during the first meet. "I think that might send the wrong message," she said. "I'm not especially opposed to it, but it's something that I have had in place which tends to work out well."
Divergent Identities
In addition to taking classes toward her science major at UCLA, Robyn is very involved in volunteer work, including with the homeless. She said no one in her regular life knows she is also "Robyn," and she does not reveal her real name to sugar daddies she meets.
"All except for one have not asked me for my real name, and it's very assumed that you can go off the name you put on SA," she said. "I wouldn't ask for their personal information either, unless they had first offered it to me."
Though Robyn said she's interested in the men she meets as characters and doesn't care about names or details, personal information does come up sometimes. The first man Robyn met through the site, a math professor at a local college, told her about his wife and young child. "He was very excited to show me a picture of his two-year-old son, and he was very cute."
Robyn for her part, respects her sugar daddies' privacy and decision-making. She said she's not there to cast any moral judgment on the men she meets.
"It was his decision," she said of the married man's decision to have a relationship with her. "I have no context, and I'm not in a position to be judging him."
For her part, however, Robyn said she doesn't share family details but is open to discussing her work, volunteering and travel. She uses the opportunity to have another identity as a way to learn more about herself as well.
"You go into an SA relationship, it really is like completely entering a new personality, a new you, and it's great to be able to explore other characteristics of yourself that you never knew that society or school or work was always holding you back from," she said.
Though Robyn has not told anyone about her use of Seeking Arrangement, she said she is not completely closed to the idea.
"It is a very, very separate part of my life," she said. "I might consider telling a very close friend or a future partner, but right now, probably not."
Having a partner isn't exactly in the distant future for Robyn, however. Though she said she's never been in a committed long-term relationship before due to time constraints, she is currently seeing someone she met at a conference related to her volunteer work a few months ago.
"I do have a relationship that's actually a long distance relationship, and I don't know if it will change anything. I don't know what I might tell my partner about it," she said.
If the relationship does progress further, Robyn said she would be open to telling her partner about being a sugar baby, but said she doesn't see it as a necessity.
"I think this could work out even if someone was in a long-term relationship, whether or not they told their partner about it," she said.
Emily said she has told one person, a close friend who she doesn't feel judged by, about this aspect of her life. Her family, including the brother she lives with, are kept in the dark.
Emily doesn't use her experiences on the sites as an exercise in character study as Robyn does, but she also learns from her partners. She often uses her sugar daddies as a means of getting career advice.
She recalled her first date with a sugar daddy. They met at Starbucks, and then she agreed to have sushi with him afterward. "We talked about his job, how I should pursue what I want to do. He was giving me advice," she said. "[He] gave me $100 at the end of the night and wanted to see me again."
Emily, a business administration major, has learned to take advantage of whatever information these men can provide her with. "A lot of the men are really smart and are mostly all businessmen," she said.
While she said she hasn't received any job offers, Emily has discussed internships with her dates.
Reach Contributor Fehbe Meza here. Follow her on Twitter here.
Reach Contributor Isabella Sayyah here. Follow her on Twitter here.