Books
Red Hen Press Celebrates Two Decades Of Flourishing Literary Culture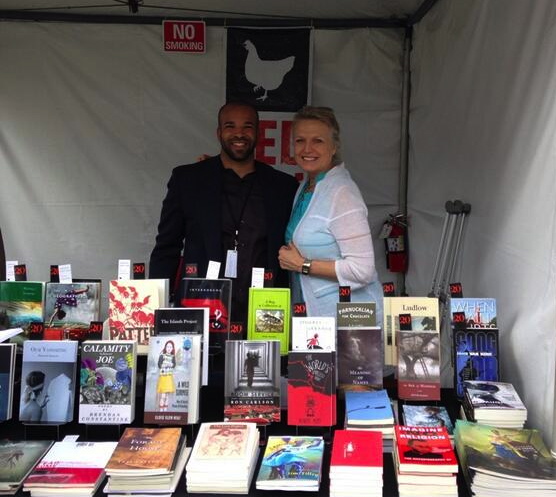 What does the story of the Little Red Hen have in common with a non-profit literary publishing house? According to Kate Gale, founder of Red Hen Press, everything.
What makes the famous tale so pertinent to Gale's company is that, like the Little Red Hen, initially she was the only one that was willing to put in the effort - everyone wanted to be published, but nobody wanted to take the steps to transform the contents of individual word documents into beautifully bound manuscripts.
"There was this bunch of farmyard animals, all of whom wanted to have bread," Gale recalls in an interview with Poets & Writers. "So the Little Red Hen said, 'Who's going to plant the wheat?' And they all said, 'Not I! Not I!' So the Little Red Hen planted the wheat... At the end, when she's made the bread, she says, 'Who's going to eat the bread?' And everyone's like, 'I will!' The story for us was a good image for getting going on something."
The metaphor of the Little Red Hen as a publishing company is not far-fetched in a city like Los Angeles, where literary connoisseurs come to die and few make the effort to jumpstart what's hardly palpitating. In contrast, Gale and co-founder Mark E. Cull took it upon themselves as enterprising little red hens to help revive a dying lit scene.
Fast-forward 20 years, and Red Hen is seeing many more Hens popping their heads up at the company, ready to plant the wheat for the rest of the farmyard animals. With 20 titles published annually, it certainly takes a few chickens to get these eggs cracking.
To celebrate Red Hen's upcoming 20th anniversary, we made a list of some of the incredible contributions the publishing press has made to L.A.'s literary scene.
SEE ALSO: Beyond Baroque: The Modern Epicenter Of Literary L.A.
In 2003, Red Hen created Writing in the Schools (WITS), an outreach program that aids low-income schools with creative writing and literary education. For the program, the press hires authors with experience teaching in Title-1 schools and the authors conduct at least four writing workshops at schools in the Los Angeles and Pasadena Unified School District. Upon completion of the program, each student submits one poem to be published in a professionally bound anthology.
LAUSD's art budget was about $18 million for the 2012-2013 school year, compared to $78 million from 2007-2008. With the deprioritization of creative writing in schools, Red Hen's WITS program was founded to "step in."
"It was created... to really fill a gap," says WITS coordinator Beth Soroko. "It was during a time when budgets were just being slashed for arts education across the board, especially in L.A." By providing these literary programs, Red Hen is giving children access to books and writing programs to help prepare the future generations of Los Angeles for careers in the arts.
Beyond exposing students grades 3 through 12 to poetry and literature, the program aims to improve high school retention rates and grades, which it has thus far succeeded in doing. "We know that arts education has been proven to help with graduation rates and overall GPA's," says Soroko. "We want to see general engagement in the arts and general academic engagement. That's something that's very important to [Red Hen]."
SEE ALSO: NaNoWriMo Dares You To Write A Book In One Month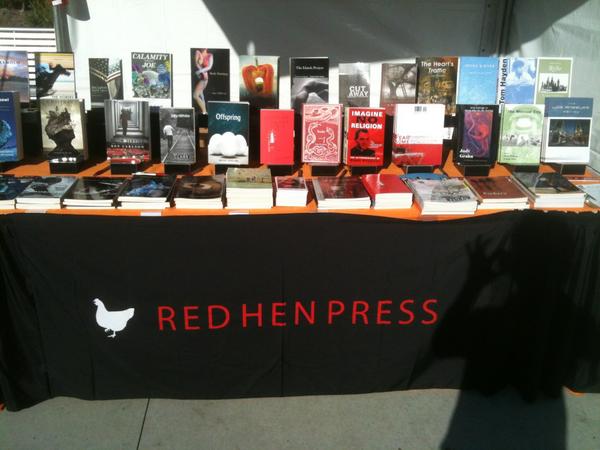 In addition to helping expose young minds to opportunities for reading and writing, Red Hen Press is dedicated to increasing exposure for burgeoning writers through its literary magazine, the Los Angeles Review.
Established in 2003, The Los Angeles Review (LAR) is Red Hen's own literary magazine published twice a year. On their Facebook page, the Review writes of its founding, "We believe that the West Coast has a significant and growing place in American literature. Los Angeles, with its multitude of cultures, is at the center of the caldron of divergent literature emerging from the West Coast." The online and print magazine publishes fiction, nonfiction, poetry, translations, interviews and book reviews.
"Probably what's the most impactful way that you see people responding to literature based out of Los Angeles is the way people interact with us at our events," says Samantha Hanley, marketing associate and managing editor for LAR. The publication hosts many events on their own, as well as many events in collaboration with Red Hen.
SEE ALSO: A Guide To Literary Los Angeles
The very existence of The Los Angeles Review opens up even more opportunities for Red Hen to help writers. Starting in 2001, Red Hen has run an annual short story contest, the winner of which receives $1,000 and publication in the magazine. The press provides few guidelines for the competition to allow maximum creativity.
After the success of its Short Story Award, Red Hen Press founded a Poetry Award just two years later. The winner each year is published in The Los Angeles Review. In 2013, Red Hen received over 650 entries for the contest, more than twice the number of entries received in the fiction contest.
SEE ALSO: 4 Books That Need To Be Movies
Throughout the year, Red Hen hosts a number of readings and speaker events scattered throughout Los Angeles, many of which are notably free of charge with a suggested donation. Red Hen's events are primarily held at the Annenberg Beach House, the Armory Center for the Arts, the Ruskin Art Club and the Boston Court Performing Arts Center. These events give curious minds the chance to interact with local authors and hear the words straight from the horse's mouth.
To celebrate 20 years of success in a town that Gale notes is "overshadowed by the film industry," Red Hen will be hosting a 20th Anniversary Champagne Luncheon next month in Pasadena. The event with feature performances from local children, a silent auction and raffle, and readings by celebrated authors Richard Blanco, Pete Fromm, Pam Houston and Sharon Olds.
Kate Gale knows that Los Angeles isn't the most ideal place to start a publishing company. But 20 years later, with over 400 published titles under her belt, her company is still going strong and keeping the Los Angeles literary scene alive.
"L.A. is both a place where you go to reinvent yourself and a place to try out your wildest ideas," she says. "If we'd been in New York or Chicago, someone would have sat us down in the early years and said, 'This is impossible, given this city, given how expensive it is to live here, given how much money you're going to have to raise.' But in Los Angeles, it's all about making the impossible possible."
Contact Staff Reporter Morgan Greenwald here.