Books
A Guide To Literary Los Angeles
When we think of the literary capitals of the U.S., cities such as New York, San Francisco, Seattle and Portland come to mind. Even Iowa City is designated as a UNESCO city of literature for its plethora of creative writing programs and initiatives; yet Los Angeles often doesn't make the cut.
Despite being overshadowed by the glitz and the glamour of Hollywood, the City of Angels in fact has its own share of literary troves and hidden gems. You might be surprised to learn that you've been to some of these places without knowing that they used to be the haunts of literary giants.
So grab a map, embark on a literary tour and see the city with eyes anew.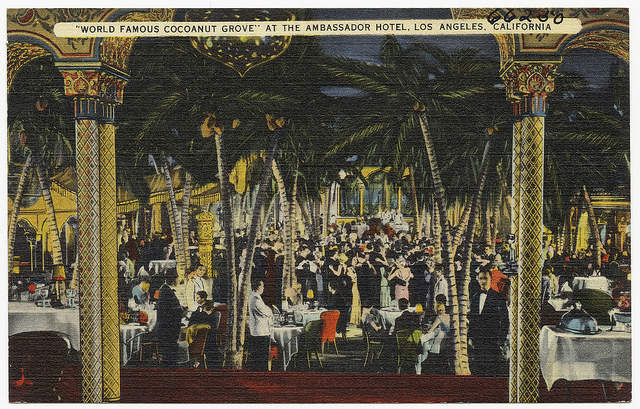 1. The Ambassador Hotel
When F. Scott Fitzgerald came to Hollywood in January 1927 to write a flapper movie called "Lipstick for Constance Talmadge" for United Artists, he and his wife Zelda stayed in a bungalow at the Ambassador Hotel. Here at the legendary hotel in Koreatown, they met 17-year-old actress Lois Moran. One night, when Fitzgerald and Moran were out having dinner, a jealous Zelda threw all the clothes she had designed into the bathtub and set them on fire. Ironically, after all this personal drama, the movie never ended up being made.
The site is now home to the Robert D. Kennedy Community Schools complex. LAUSD started converting the site in 2006 in commemoration of Kennedy, who was assassinated at the hotel on June 5, 1968.
2. Sheilah Graham's ApartmentSheilah Graham, a British-born gossip columnist, was the last of FSF's mistresses. He moved in with her because he couldn't climb the stairs to his apartment (1403 North Laurel Ave, right next door to Lucille Ball) due to failing health. It was in the living room here that Fitzgerald suffered a fatal heart attack and died at the age of forty-four on December 21, 1940.
3. Musso and Frank Grill
The Musso and Frank Grill opened almost a century ago in 1919, and it's been an integral part of Hollywood and the literary scene ever since. Among the long list of famous authors who patronized the classic restaurant's bar are F. Scott Fitzgerald, Orson Welles, William Faulker, Ernest Hemingway, Raymond Chandler, T.S. Elliot, William Sorayan, Aldous Huxley, Max Brand, John Steinbeck, John O'Hara and Dorothy Parker.
We all know how real estate agents recite "Location, location, location!" as their mantra, and Musso's certainly got it right by being strategically located at the heart of bustling activity. Across the street was the Screen Writers Guild, where writers worked under studio executives banking on the fame and name of established American authors. Next door was the Stanley Rose Bookshop, and next door on the other side was Pickwick bookstore, both frequented by the literary greats. About seven blocks east of Hollywood Boulevard was what used to be a movie theater—the Pantages—where FSF caught the premier of "This Thing Called Love" with lover Sheilah Graham the night before he died of a massive heart attack.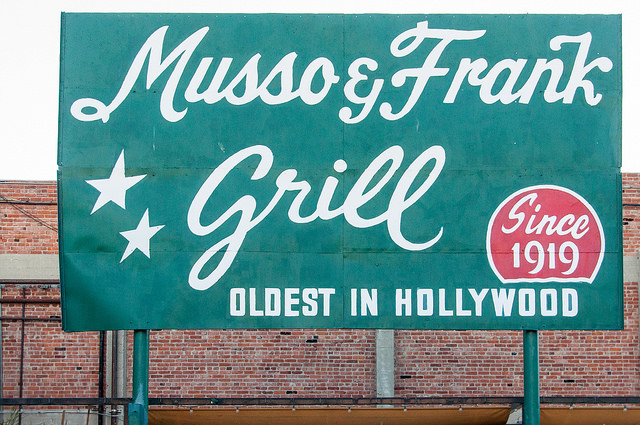 Deaths aside, the Back Room of Musso's is famous for housing several famous authors, including Fitzgerald, who wrote or proofread while sitting in the red leather booths under the chandeliers. After the Stanley Rose Bookshop closed, Musso's expanded into the space with a new room in 1955, and Joseph Heller, Kurt Vonnegut and Charles Bukowski became regulars, continuing the literary legacy of the classic restaurant.
Think of this literary hub as the L.A. counterpart of the famous Les Deux Magots in Paris, which attracted the likes of Jean-Paul Sartre, Bertolt Brecht, Ernest Hemingway, Albert Camus, Pablo Picasso, and James Joyce.
4. Uptown Theater
Ray Bradbury and his family moved from his birthplace Waukegan, Illinois to Los Angeles where his father pursued jobs after the Depression. They lived in an apartment right in the middle of Hollywood, and the 14-year old roller-skated everywhere to movie premiers and studio gates as he explored the neighborhoods. In particular he frequented, or rather, sneaked in to, the MGM and FOX flagship theater Uptown Theater four blocks away from home on a weekly basis to watch film previews. The theater was sadly demolished in the early 1970s and in its place stands a Bank of America building today.
5. Glendale Galleria
We know Ray Bradbury as a celebrated figure who elevated science fiction to appeal to sci-fi readers and literary afficionados alike, but apparently he served as a creative consultant-designer for shopping malls too. Guess who helped shaped the design of Glendale Galleria, the second largest mall in L.A. County?
The lead architect Jon Jerde was greatly influenced by an essay Bradbury wrote on urban planning and how L.A. lacked a center and town squares, and consequently a decline of gathering and declining sense of community. In a way it makes total sense because Bradbury was able to envision and conjure up entire colonies in the SF realm, and his concepts really changed retail districts and downtown centers.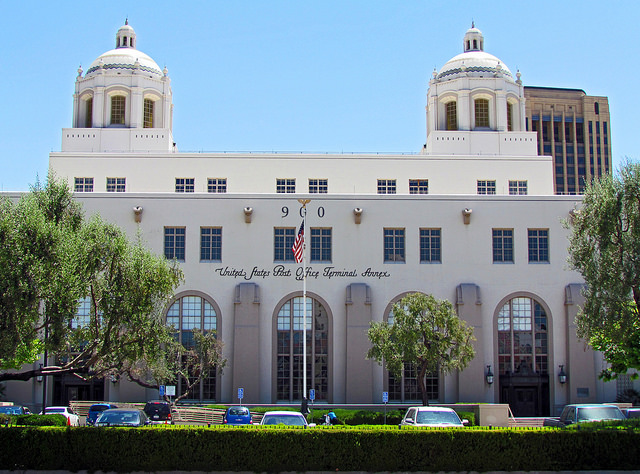 6. U.S. Post Office—Terminal Annex in Downtown
Charles Bukowski worked as a clerk and carrier for the U.S. Postal Service for a total of 14 years—and went nearly insane. The good thing to come out of it was that it provided the content for his first novel "Post Office," an autobiographical account of his experiences.
Publisher John Martin had formed Black Sparrow Press just so he could publish Bukowski's work, and offered the latter $100 a month (what Bukowski said he needed for living expenses) for life if he would quit his job and write full time. Bukowski churned out his first novel in three weeks (According to Martin, Bukowski said he wrote it "out of fear). After that followed a prolific trail of five other novels ("Factotum," "Women," "Ham On Rye," "Hollywood," "Pulp") and numerous poems, short stories and essays.
After dinner or lunch or whatever it was -- with my crazy 12-hour night I was no longer sure what was what -- I said, "Look, baby, I'm sorry, but don't you realize that this job is driving me crazy? Look, let's give it up. Let's just lay around and make love and take walks and talk a little. Let's go to the zoo. Let's look at animals. Let's drive down and look at the ocean. It's only 45 minutes. Let's play games in the arcades. Let's go to the races, the Art Museum, the boxing matches. Let's have friends. Let's laugh. This kind of life like everybody else's kind of life: it's killing us.

—excerpt from "Post Office"
7. Santa Anita Park
Instead of spending torturous hours at the post office, Bukowski preferred going to the race track at Santa Anita Park where he bet on horses. He has been hailed the "poet laureate of Skid Row" as well as a "Laureate of American Lowlife." His vices included betting, boozing and bedding women, but that was part of his appeal—he could reach out to people because he himself dufferend and understood their lives.
I've been watching them for decades.

The jocks change but the horses
look about the same...
I have wasted a lifetime at the racetrack

and to this moment, I still go every day.

I don't know any other place to go…
—The Horse Player, "Sifting through the Madness"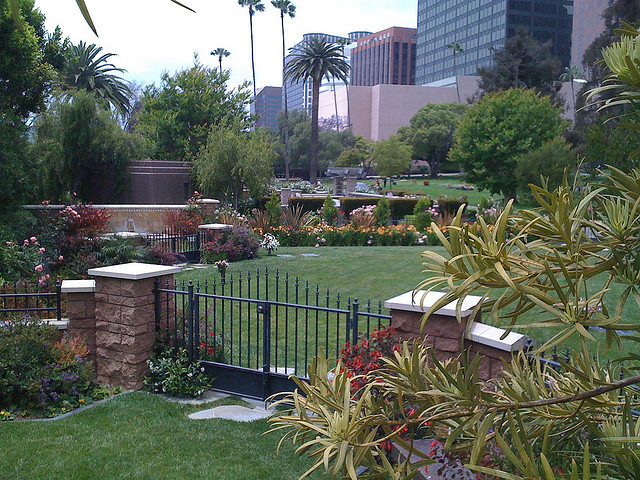 8. Watts
In 1966 Thomas Pynchon, the novelist of paranoia, wrote a first-hand report on the six-day Watts race riots in which he reflected that "illusion is everywhere." The article "A Journey into the Mind of Watts" ran in the New York Times Magazine, soon after he published his second novel "The Crying of Lot 49." In his essay about the problems of racial injustice, he writes that:
Whatever else may be wrong in a political way – like the inadequacy of the Great Depression techniques applied to a scene that has long outgrown them; like old-fashioned grafter's glee among the city fathers over the vast amounts of poverty-war bread that Uncle is now making available to them – lying much closer to the heart of L.A.'s racial sickness is the co-existence of two very different cultures: one white and one black.
Though Pynchon is regarded as one of the most difficult authors to read because of the esoteric writing style, the essay shows him to be very much in touch with reality, which makes his literary works all the more impressive.
9. Pierce Brothers Westwood Village Memorial Park Cemetery
What city tour is complete without a trip to the cemetery to pay respect to the dead, literally the haunts of Los Angeles' literary giants? Authors resting here include Truman Capote, who wrote "Breakfast at Tiffany's" and the chilling "In Cold Blood." His ashes are in a crypt facing the cemetery entrance, on the outside (west-facing) wall.
There's also Ray Bradbury who's remembered as the author of "Fahrenheit 451" on his tombstone; and the ashes of Robert Bloch, who wrote the blood-curdling suspense novel "Psycho." As an added bonus, the latter's ashes are in the Room of Prayer columbarium near where Marilyn Monroe rests.
From their resting space, these authors continue to transcend time and space, and the realms of life and death.
10. Vedanta Temple
Gerald Heard, Aldous Huxley and Christopher Isherwood were among the writers and intellectuals who frequented the temple that housed a branch of the Vedanta Society of Southern California. Huxley was already been developing his philosophy that religions are historically and culturally relative but each validate, in their own way, that human beings are divine. Naturally he was attracted to Vedanta, a Hindu religious philosophy based on the sacred scripture Vedas, which affirms the oneness of existence, the divinity of the soul, and the harmony of religions. Huxley taught lectures for members of the society and wrote for its journal, and his influence drew more people to the Society.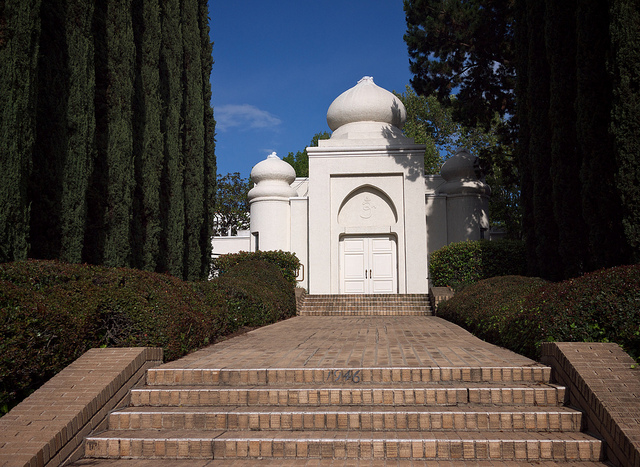 SEE ALSO: Ray Bradbury, Writer Of 'Farenheit 451,' Dies At 91
Many visitors go on a sightseeing tour of movie stars' homes, but some of us would rather make pilgrimages to the homes of the pen-wielders, no? Just keep in mind that many of these are private residences, and don't let your over-zealous enthusiasm get the better of you.
11. Bertolt Brecht's home
The German Marxist playwright left Germany with his wife and two children in 1933 after Hitler came to power, and moved to
Denmark, Sweden, Finland, before settling in Los Angeles in 1941. In 1942, he made a nice blue-trimmed foursquare house in Santa Monica his home. Brecht hated L.A., potentially because of a lack of critical success and the commercialized nature of the city. But that dislike served as a productive fuel, and Brecht's scathing remarks became some of his well-known California poems, of which there are hundreds.
In Hell too

There are, I've no doubt, these luxuriant gardens

With flowers as big as trees, which of course whither

Unhesitantly if not nourished with very expensive water. And fruit markets

With great heaps of fruit, albeit having

Neither smell nor taste. And endless processions of cars 

Lighter than their own shadows, faster than

Mad thoughts, gleaming vehicles in which

Jolly-looking people come from nowhere and are nowhere bound[…]

--"On Thinking About Hell," translated by Nicholas Jacob
His most acclaimed works include "Mother Courage and Her Children," "The Life of Galileo," "The Good Woman of Setzuan" and "Three Penny Opera" in collaboration with Kurt Weill. His house has since then been restored to meet the needs of a modern family, and in fact received a 2014 Preservation Award from the Santa Monica Conservancy in February this year.
12. Thomas Mann's home
Thomas Mann was among many German exiles who arrived in SoCal after the rise of Hitler and helped the local German intellectual scene flourish. Mann moved to Los Angeless in 1942 because his wife Katharina Mann was Jewish, and there they stayed until after the end of World War II. After winning the Nobel Prize for Literature in 1929 for "Death in Venice," "Buddenbooks" and "The Magic Mountain," Mann continued to enjoy an international reputation and had a good relationship with publisher Alfred Knopf, so one would imagine he was happier in Los Angeles than Brecht was. He lived in a rental home at first, but later on built a mansion surrounded by gorgeous gardens atop Pacific Palisades.
13. Aldous Huxley's home
The author of dystopian novel "Brave New World" moved to Los Angeles from England in 1937 and stayed there until his death, writing screenplays. He lived in Hollywood in a house at the top of Mulholland Highway beneath the first "O" of the landmark Hollywood sign. In California, he wrote many screenplays. He was involved in the original screenplay for Disney's "Alice in Wonderland" in 1938 but it was ultimately rejected because it was too literary and Disney "could only understand every third word." Unfortunately, many of Huxley's manuscripts were lost in a bush fire that burned down his house in 1961.
He also experimented with psychedelic drugs in the '50s (of which his friend Ray Bradbury disapproved) and as a result wrote "The Doors of Perception." That was the inspiration behind the band name of The Doors.
Contact Staff Reporter ShuWen Zhang here.