Books
Beyond Baroque: The Modern Epicenter Of Literary L.A.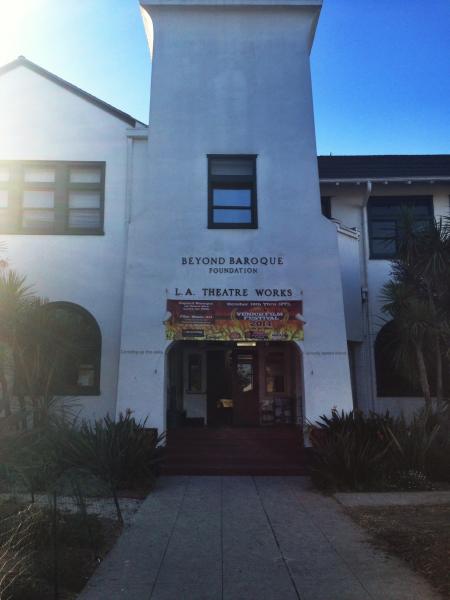 As a new resident of Los Angeles, I am eager to find a space in this city where I can develop my writing skills, read in front of an audience or enjoy interesting poetry performances. Beyond Baroque in Venice offers all this and more.
The performance space-school-bookstore hybrid has been serving the L.A. literary community since 1968 with the mission of bringing poetry to the people. "[We] specialize in poetry, which is somewhat unique in L.A," said Richard Modiano, the director of Beyond Baroque.
The building contains an archive of over 40,000 local publications and an audio archive of readings at the venue that includes performances by Allen Ginsberg and Charles Bukowski.
"Getting to meet a lot of poets and writers of all ages and levels of accomplishment is the most gratifying part of my job," said Modiano, who's seen dozens of up-and-coming poets get started at Beyond Baroque. "Poets, in general, are dedicated to their art."
READ ALSO: Organic Food + Good Reads = Great Dates
The now-iconic space functions both as a platform for local poets and an attraction to draw other accomplished poets to the area and a breeding ground for new talent thanks to its free weekly writing workshops. The Wednesday night poetry workshop is specifically known for nurturing the talents of generations of L.A. poets and artists.
"Beyond Baroque was the first place I ever took a poetry workshop... and the first place I felt a sense of community with other poets in Los Angeles," said Cecilia Woloch, a member and regular reader at Beyond Baroque. "So it was a birthplace for me, as a poet, and it continues to be a home for me, as it is for so many poets."
One of the best ways to get a feel for Beyond Baroque's influence on L.A.'s literary scene is to attend one of their First Sunday Open Readings.
"The performance space is a great space in which to listen and in which to read," said Woloch. "There's a sense of both intimacy and drama in that space; poetry is sacred there."
READ ALSO: A Guide to Literary Los Angeles
This is one of the few places in the city where 20-somethings and 80-somethings mingle with a sense of mutual admiration and respect. It's not age or fame that matters here; it's passion. Performers make themselves vulnerable and open, addressing a wide range of personal topics ranging from divorce and the death of loved ones to aging and living in Los Angeles. Some first Sundays may be life changing, while others may be relatively mundane. Regardless, the supportive, innovative atmosphere is inspiring.
Writing can often feel like a solitary task, especially in a sprawling urban metropolis like Los Angeles, but Beyond Baroque fosters a sense of intimacy that helps writers to grow with the support of a community behind them. L.A. may not generally be regarded as a literary hub, but organizations like Beyond Baroque offer an abundance of creativity and inspiration.
Contact Staff Reporter Eliza Moley here or find her on Twitter here.