Books
NaNoWriMo Dares You To Write a Book In One Month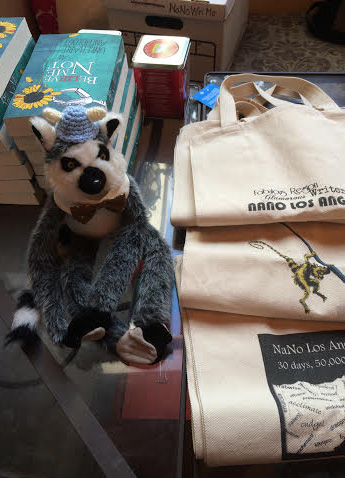 For over 300,000 individuals around the world, November means
NaNoWriMo
. National Novel Writing Month challenges people to write 50,000 words in 30 days, or about 1667 daily. While a typical adult novel typically hovers around
90,000 words
, a successful NaNoWriMo gives a huge word count boost.
"NaNoWriMo helps people make creativity a priority in life and realize the vital ways our stories connect us," said Executive Director Grant Faulkner in a press release.
Several popular books were written as a part of the online contest including New York Times bestseller Sara Gruen's historical novel "Water for Elephants" and Marissa Meyer's "Cinder" — a futuristic reimagining of Cinderella as a cyborg.
Lisa Walsh has done NaNoWriMo for three years and also aims to be published. Now in her first year as a volunteer municipal liaison for NaNo Los Angeles, Walsh helps coordinate write-ins year-round for people all over the city.
"I feel like writing is such a solitary thing sometimes. You sit in your room and you're on your laptop and you're typing," said Walsh. "The thing that's so great about NaNoWriMo is the community. You get to come out and meet other writers just like you."
Jennie Vongvith has participated in NaNoWriMo for eight years and has been a municipal liaison for three. She first heard about the event through LiveJournal and got more involved with it over time.
"I figured, I've always wanted to write, and this is the perfect excuse to sit down and get those words out and not worry about the quality," said Vongvith, who writes primarily science fiction and fantasy. "Just all about the quantity."
Vongvith is trying something new this year: being a "pantser" – that is, not outlining beforehand and just writing from the seat of her pants. But some writers choose to take another road.
"I'm a planner. Some people are not," said Kelly Villalobos, a second-year NaNoWriMo participant, or WriMo. "I sit down and I need to have an idea where the story's going."
Villalobos was drawn to the passionate online community. Her enthusiasm for NaNoWriMo was contagious and now two of her children and her husband have decided to join the November race.
SEE ALSO: 7 Reasons Why We Can't Wait For Amy Poehler's New Book
"Even if you don't seem them, all these people are giving you suggestions on your plot, giving you ideas, giving you encouragement when you don't think you can do it," said Villalobos.
Sometimes writers are their own worst enemies.
"I think the hardest part is putting your inner editor away. I think for a lot of us—really, all of us—we have this almost crippling fear of putting words onto paper," said June Low, a second year WriMo who published a short story in NaNo LA's anthology "Believe Me Not."
Ultimately, NaNoWriMo gives writers a chance to silence the internal monologue and free themselves from the harsh self-critique.
"That's why NaNo helps," said Low. "You have no choice but to keep moving forward and keep writing."
Reach Staff Reporter Maritza Moulite here and follow her on Twitter here.