Food
Russ Parsons Talks 'Flavors Of L.A.'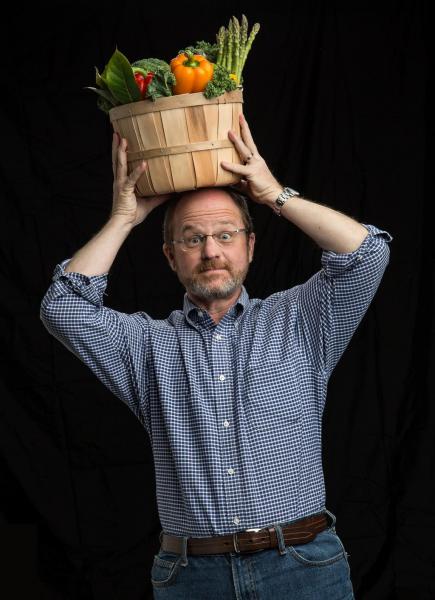 With over two decades of experience as a food writer and with two food-centric books to his name, there's no doubt that L.A. Times Food Editor, Russ Parsons, knows about good eating. So when the Los Angeles Times announced that "due to unforeseen circumstances, Times restaurant critic Jonathan Gold will not be able to serve as a host at The Taste," Parsons was a natural choice to help fill in.
Parsons will take Gold's place as Michael Cimarusti's co-host for Sunday night's final event, Flavors of L.A., while Jenn Harris will all be standing in for Gold as co-hosts of Saturday's Dinner with a Twist, alongside Betty, John Sedlar and Julian Cox Hallock.
In addition to Flavors of L.A., Parsons will also be co-hosting Field to Fork for the fifth year in a row. After all, what could be more distinctive about Los Angeles cuisine than its abundance of top-notch produce?
SEE ALSO: The Taste Celebrates L.A.'s Gastronomical Wonders This Weekend
As a novice gardener, Parsons is committed to supporting fresh produce not only with his wallet, but with his hands.
"I've got four raised garden beds in my front yard, but farmer's markets do definitely change what I grow," said Parsons. "I don't need to grow zucchini because I know I'll always be able to find it in the markets. But I do tomatoes and herbs—chives, basil, tarragon—and the things they charge and arm and a leg for at the market, oregano; different kinds of mint; beets…fava beans, which are really good for the soil—oh and fruit trees too."
But here in L.A., not being able to maintain a garden is no excuse for missing out on the region's incredible produce. Parsons recommended the Santa Monica's Wednesday farmer's market, Hollywood's Sunday market, Beverly Hills's Sunday market and Burbank's Sunday market as "the four great markets" in L.A.
"But I think what's really important for people to understand that they don't need to go to a great market," added Parsons. "They just offer more different growers to choose from—and if you're shopping for your family or making dinner for your friends, all you really need is a single peach vendor that you can find at your neighborhood's farmer's market.
But even the natural foods movement has its flaws.
"I really see way too much emphasis placed on organic and people tend to choose sides," said Parsons. "It's like if you're buying organic you're buying from barefoot baby Jesus and if you're buying conventional, you're basically injecting Agent Orange into your arm."
According to Parsons pesticide usage decreased dramatically in the past 15 years, partially due to the fact that California's most prominent pesticide, ammonium sulfate, can be used even on foods labeled "organic."
SEE ALSO: THE TASTE: A Labor Day Weekend Of Food, Wine And Festivities
While the organic movement may be a bit of a scam, L.A.'s eatery of the moment certainly is not. Grand Central Market has been on the lips of Angelenos across the city ever since the 97-year-old food hall landed on Bon Appetit's list of the 10 best new restaurants in U.S.
And according to Parsons, the recent hype is well-deserved.
"I'm someone who's been eating at the grand central market for the past 25 years," said Parsons. "And I think that the changes they've made have been largely for the better. They've really done a great job of getting in such a great assortment of new vendors and crowds are three to four times what they were."
"But," Parsons continued, "there is an issue with gentrification. If places like…Tacos Tumbras a Tomas get squeezed out, then I think the market will be in real trouble. It's very dangerous to try to run a public market when it's no longer a public space."
SEE ALSO: L.A. Times Festival Of Books: 'Are We Really What We Eat'
It's hard to imagine many places better than L.A. to be eating right now, so if you're lucky enough to be witnessing the city's epicurean renaissance first hand, make the most of it.
With new markets, restaurants and wine bars popping up all over the place, there's no knowing how long anything will stay. Peach season will be over before you know it and your favorite restaurant could be replaced at anytime, so don't make your taste buds wait, go eat.
Revision: The story originally said that John Sedlar and Julian Cox would be filling in for Jonathan Gold, but they were original co-hosts. Only Jenn Harris was selected to replace Gold.
Contact Deputy Editor Sara Newman here. Follow her on Twitter here.