Food
LA Times Festival Of Books: 'Are We Really What We Eat'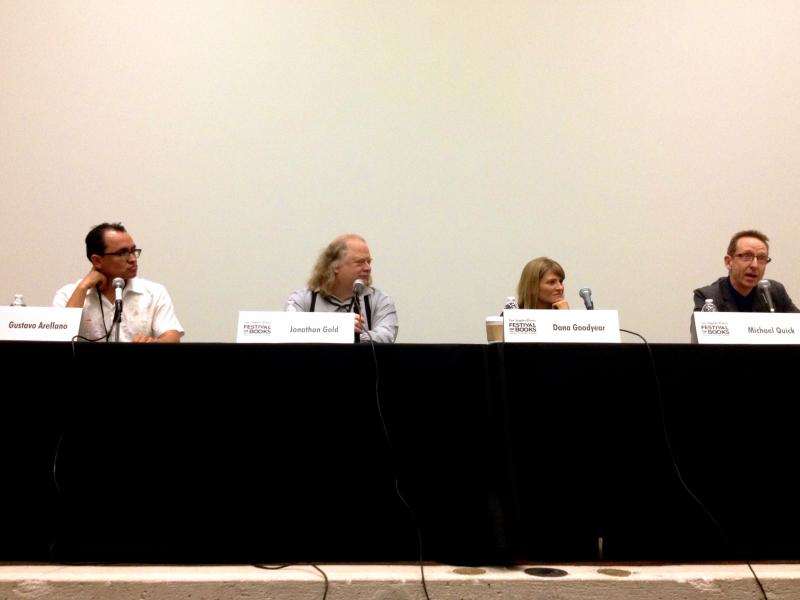 Every person has a favorite food related memory. Whether it's baking cookies with Grandma or eating burgers at the local diner, food and identity are inextricably linked. If this is true, are we really what we eat?
The first panel to sell out at the 2014 Los Angeles Times Festival of Books explored this question. Moderated by USC professor Michael Quick, the panel included Pulitzer Prize winning food critic Jonathan Gold, journalist Dana Goodyear and author Gustavo Arellano.
READ ALSO: Q&A With Dana Goodyear: Discussing L.A's Extreme Food Culture And 'Anything That Moves'
Arellano, author of the new book "Taco USA: How Mexican Food Conquered America" and editor of the "OC Weekly" and its accompanying column "Ask A Mexican," emphasized the link between food and ethnic identity.
"When immigrants first come to any country, the first two things they open up are a place to worship and a place to eat," Arellano said. "So, a lot of times food does become that initial representative from their culture to the rest of the dominant culture."
With an influx of immigrants comes an increase in food variety. Panelists claimed that the globalization of food has helped diversify the average Americans' presumably bland palette. Cities like Los Angeles and New York house large immigrant communities, so they become gateways for new cultural food to enter the American mainstream diet.
"All these styles of Mexican foods at one point being considered exotic if not disgusting and at one point if it's good, the American palette eventually assimilates it and then moves on to the next thing," Arellano said. "There's always been that stereotype of the American eater being an unadventurous eater, but I've never believed because I think the American eater has tried to eat new cuisines slowly but surely."
According to the panelists, increased globalization has made being a foodie desirable and popular. Mainstream interest in food culture is rising like never before, largely due to the departure from traditional business models in restaurants and the increased view of food as entertainment. Popular cooking competition shows like "Chopped" and "Top Chef" are exposing Americans to types of cuisine they may not have seen before. These programs are becoming increasingly popular and are changing how Americans think about their meals.
This rising interest in cooking as entertainment is a change for the industry. Discussing the restaurant industries hierarchical system of executive chefs, sous chefs and assistants, Gold points to the of rise young talent in the kitchens of Los Angeles' hottest restaurants as a major reason behind the decay of the old kitchen ranking system.
"They may have been technically flashy or had a flashy command of flavors, they may have been able to put things together and say this looks good but those aren't necessarily the things it takes to be a successful chef in a restaurant, yet those were the people who were successful restaurant chefs," Gold said. "They had to put things together in their own way, so food became re-contextualized as entertainment. The idea was that entertainment became as important as being well nourished or well fed."
The restaurant's changing role from simple watering hole to entertainment destination has prompted a shift in its business model. No longer does a restaurant need to have four walls or an address; new concepts like food trucks and pop up restaurants are discarding old operation methods in favor of providing diners with a more entertaining experience.
"The definition of the restaurant is undergoing a big change and I think a lot of those ideas also come out of LA," Goodyear said. "Food trucks have always served neighborhoods and have been a quick and dirty meal, but that changed. The idea that you don't need a $5 million space to suddenly have a business. The temporary nature of both food trucks and pop up restaurants really encourages the excitement of diners."
Sustainability and being conscious of how food is produced was a recurring topic of discussion.
Because so much emphasis is placed on saving money and producing a large quantity of product, corporate mega farms like Foster Farms are increasingly displacing local businesses and offering low quality products.
"That's a direct result not of eating animals per say but in the way we eat animals, utilizing these humongous factory farms that pollute the environment and make life miserable for these animals. Also the produce we eat, the people picking our produce are exploited," Arellano said. "The globalization of food is good in some aspects in terms of introducing people, but when we're getting our raspberries from Chile. Buying something just because it's cheap doesn't make it sustainable."
Despite being one of Los Angeles' historic neighborhoods, West Adams and the surrounding areas are considered "food deserts," an urban area where buying fresh and affordable food is difficult. Gold talked about the Los Angeles Food Policy Council's attempts to convince owners of bodegas and liquor stores to display fresh, healthy items at the front of the store instead of sugary snacks.
Reach Staff Writer Helen Carefoot here and follow her on Twitter here.