Food
The Taste Celebrates L.A.'s Gastronomical Wonders This Weekend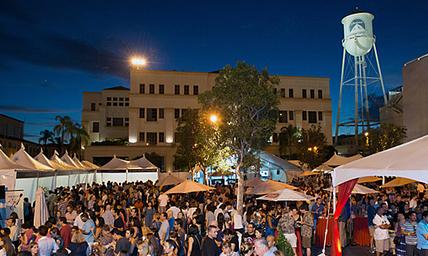 Los Angeles is one of the few cities where you can buy bright, juicy strawberries from your local farmer's market it December. It's also one of the few cities where $3 tacos from Worldwide Tacos in Leimert Park are as sought after as the $63 Peking duck from Mr. Chows in Beverly Hills.
This weekend The Taste is giving foodies all this and more on the very same plate—as long as you're willing to fork over some serious dough for a ticket.
"It's just like the farmer's market," said Los Angeles Times Food Editor Russ Parsons. "You need to walk around and see everything before you start eating because there's going to be so much good food there that otherwise you'll get to a place like Bouchon or Mozza and think 'That looks so, so good, but I simply can't eat any more.'"
For the fifth year in a row, Parsons will be co-hosting Saturday morning's Field to Fork event, along with Nancy Silverton of Mozza and La Brea Bakery fame.
Other events to look forward to include the Opening Night, Dinner with a Twist and Flavors of L.A.
"This year there's also a Sunday brunch event that didn't exist last year," said Kristen Hansel, one of the event organizers. "So that feels very Los Angeles and is focused on capturing the feel of Los Angeles on the weekends."
SEE ALSO: THE TASTE: A Labor Day Weekend Of Food, Wine And Festivities
With over 100 restaurants all serving up the best of what they have to offer on the Paramount Pictures backlot, traffic certainly can't stop you from versing yourself in all the gastronomical pleasures that Los Angeles has to offer.
But with individual event tickets ranging from $100 to $175, and a weekend pass costing $299, this certainly isn't how most people will be spending their Labor Day weekend. There is, however, something to be said of getting to sample the best cuisine that the city has to offer for about the same cost as a ticket to Coachella.
"We don't nickel and dime you on the dishes so once you get in you can eat as much as you want," said Parsons. "And unlike other similar events in the city, the crowds definitely show up, but you won't end up waiting for like 45 minutes for a bite."
L.A. Times restaurant critic and co-host Jonathan Gold is looking forward to eating Bulgarini's goatmilk gelato this weekend while Doma Kitchen, one of the featured restaurants, is excited to indulge in a Belgian waffle pancetta scramble sandwich this weekend.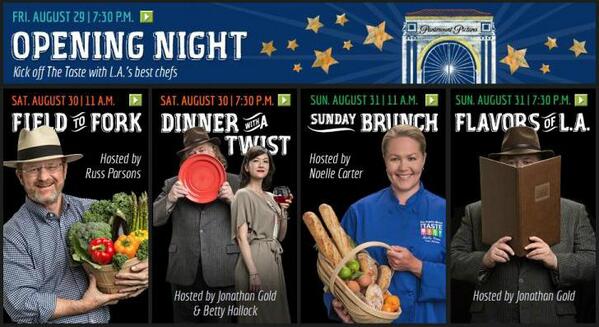 SEE ALSO: L.A. Times Festival Of Books: 'Are We Really What We Eat'
But the weekend is about more than just fine dining. Organized by the L.A. Times, The Taste aims to celebrate the city's culture and educate eaters about growing, buying, and consuming food. After all, even Chef Ludo Lefebvre can see the good in McDonald's french fries.
With a collection of seminars, live demos and food and beverage samplings, The Taste is meant to introduce L.A. diners—seasoned foodies and culinary novices alike—to the chefs, restaurants and bartenders who have made Los Angeles an international food icon.
"If you're talking about fine dining, I don't think there's any question that New York has more fine dining," said Parsons. "But what Los Angeles does have…is the wealth of...small restaurants that reflect different cultures.
"I started writing about the food in 1982 or 1983 and every year since then I've thought the food just can't keep getting better," said Parsons. "But then it does."
With delicious morsels on every street corner to suit every budget, Los Angeles's culinary star is on the rise, and there's no reason not to indulge. Whether at The Taste or at the new Indian/Italian/Vietnamese/Ethiopian/fill-in-the-blank place that just opened around the corner, find a way to make your taste buds dance.
Contact Deputy Editor Sara Newman here. Follow her on Twitter here.