Opinion
What Protests Taught Me About Being A Trojan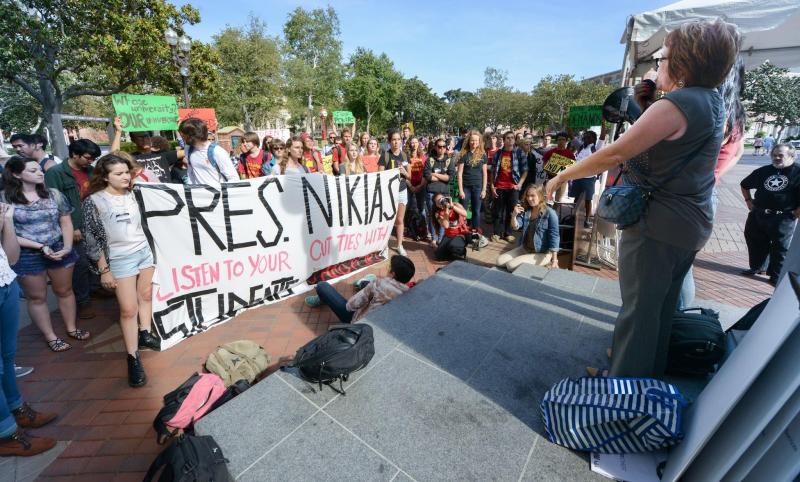 In 2013, a group of impassioned students got Adidas to pay $1.8 million in legally-owed severance to 2,700 Indonesian garment workers.
Students accomplished this gargantuan undertaking by demanding that their universities cut their contracts with Adidas. After 17 contract cuts, the brand agreed to pay the workers their due compensation.
Students are powerful. With some research, passion and determination on our end, along with some respect and collaboration on the university's, thousands of workers' lives can be improved.
Right now, USC has an opportunity to protect the lives of the 190,000 workers who produce apparel for VF Corporation in Bangladesh.
USC has a contract with JanSport, whose parent company, VF Corporation, has a record of continued workers' rights absues.
In 2010, a factory producing VF apparel burned down, killing 29 workers. Two years later, the same thing happened at a different factory producing for VF (but thankfully—and purely by chance—no workers were in the building at the time of the fire). Last August, the Workers Rights Consortium, of which USC is an affiliate, inspected Optimum Fashion, another factory in which VF produces, and identified several serious fire safety hazards in the building. Since the inspection, VF has activiely made Optimum Fashion more dangerous for workers.
SEE ALSO: USC Student Protesters Rally Against University Policies
Garment workers are currently organizing in Bangladesh to protest VF's refusal to join over 150 apparel corporations in signing onto the Accord on Fire and Building Safety in Bangladesh, a legally binding agreement that will decrease the number of factory disaster deaths by ensuring that factories are renovated to meet basic fire and safety standards.
In April, two Bangladeshi garment workers—one, a survivor of the Rana Plaza factory collapse and the other, a labor rights leader whose life has been threatened for organizing workers—explained to USC students that workers alone can't put enough pressure on VF to convince the corporation to sign onto the Accord. They need students to put pressure on their universities, who will in turn put pressure on VF through contract cuts.
21 univerisites have already cut their contracts with brands that refuse to sign onto the Accord. In a matter of minutes, USC could become the 22nd university to take these steps, playing an indispensable role in protecting the lives of 190,000 workers.
Instead, USC's administration is using its resources to silence students, like myself, who have decided we have a duty to push our university until it acts like the leader in human rights that it claims to be.
On April 15, after eight months of campaigning without having received so much as an email of acknowledgement from President Nikias, I occupied Bovard Administration Building alongside 17 of my peers, demanding that he meet with his students to discuss the possibility of ending USC's contract with JanSport.
SEE ALSO: USC Students Protest In President's Office Over Ties With JanSport
During this sit-in, not only did university administrators refuse to negotiate with us or acknowedge why we had been pushed to such drastic measures, they began calling our parents and threatened us with disciplinary action as severe as expulsion if we did not leave.
The university's reaction provoked outrage amongst students, leading to the most inspiring display of solidarity I have witnessed at USC.
Almost 60 students, representing a diverse array of organizations, occupied four separate administrative offices in response to the administration's continued and intensifying repression of student voices and refusal to protect workers' lives.
Exactly one year ago, I decided to move 3,000 miles away from my Virginia home to become a Trojan. In light of the recent demonstrations on campus, I can confidently say that I never thought I would be so satisfied with my choice.
For this satisfaction, I have to thank the people who have taught me what it means to be a true Trojan—in action, not just in gold engravings. Here's what I've learned:
1) A Trojan is faithful—faithful to everybody within USC's reach, including those beyond the USC gates, like workers halfway across the world to whom we could easily turn a blind eye.
2) A Trojan is scholarly—not just studying for exams and writing papers at the direction of professors, but also independently investigating the complex, murky net of global social ills and figuring out where we fit into it as privileged students in Southern California.
3) A Trojan is skillful—acting strategically and relentlessly to combat social ills using the information scholarly pursuits have uncovered.
4) A Trojan is courageous—sacrificing personal comfort when obedience and morality become incongruous.
5) A Trojan is ambitious—fighting for a more just USC and a more just world, even when both seem entirely out of sight.
During our first sit-in an administrator informed us that he was going to call our parents, issue letters of suspension and possibly revoke scholarships and financial aid due to our choice to disrupt university business—or to stand up for human rights, depending on how you see the matter.
SEE ALSO: USC Plays Chicken With FERPA At Student Protest?
I couldn't hold back my confusion. I asked where it was written that he had the right to do any of that, but my question was met with the same words that have been used to justify centuries of evil: "We've done it before, we'll do it again."
I'm sorry, what? Just because something was done extra-legally in the past, you, as a figure of authority, have a right to continue doing it?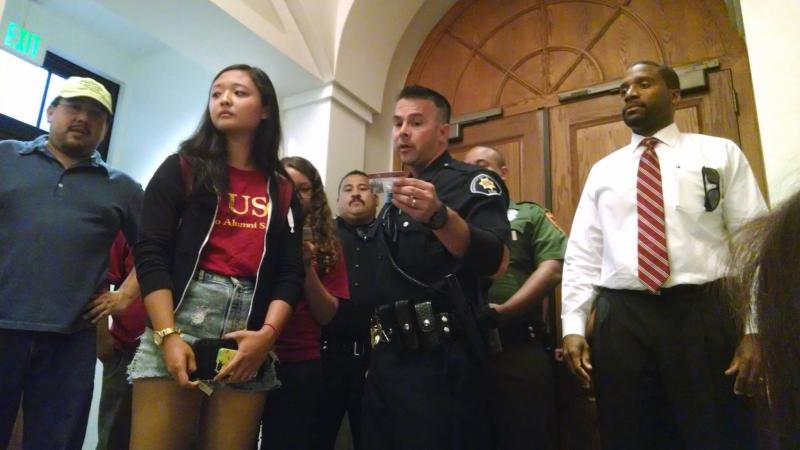 There is nothing easier than following the status quo, quieting your conscience and acquiescing to the voice of authority that can put you in a place of discomfort if you refuse to obey. But it takes courage to deviate from an unjust status quo.
Relying on each other's support, we stayed in Bovard for four hours, as they began making good on their threats.
Of course, I was scared. But the students sitting by my side reminded me that justice is worthwhile. And let me tell you, justice looks a hell of a lot more like students sitting in an office, chanting in solidarity with workers across the world, than it does a man in a suit standing above said students trying to scare them back into their shells of silence.
I received a notice of code violation three days after the first sit-in, through which I was informed that my "participation in a demonstration in Bovard Hall went beyond the actions permitted by our [the University of Southern California's] principles of free expression and dissent."
I'm angry that my university even considered taking disciplinary action against me for sitting in a hallway in an effort to get my president's attention after exhausting every established channel for doing so. I'm angry that President Nikias' secretary told me I had to stop recording the sit-in as cameras glared down at me from above her door. I'm angry that we were denied access to a bathroom for hours during the sit in, when one was in plain sight. I'm angry that administrators shut off our WiFi to halt our communication with outside supporters. I'm angry that our administration called freshmen's parents first, trying to intimidate those they assumed would be the easiest to scare away.
SEE ALSO: Why the SCALE Protest Matters To You
But it's easy to be upset with the lower-level amdinistrators who interacted with us (albeit very degradingly).
It's harder to remember that President Nikias stayed clear of our anger altogether by never showing his face, never uttering a word.
President Nikias: I know you have a corporation to run. I can even put aside my personal frustration that administrators have openly used that word interchangeably with "university." But you wouldn't have this corporation to run if you didn't have free-thinking, action-taking students to fund it.
Thanks to the incredible organizers of the Student Coalition Against Labor Exploitation (S.C.A.L.E.) and every brave soul who sat in, spoke out, marched and fought back, I believe we can create greater justice at USC and around the world.
I believe in a USC where students can learn about terrible social ills, figure out tangible solutions and act on them without being criminalized for speaking up. I believe in a USC where students won't have to occupy administrative buildings to catch the attention of the only person who has the power to make decisions. I believe in a USC in which an elusive President doesn't get to tell me (or rather have his people to tell me) that trying to engage with my university transcends what he considers to be the appropriate boundaries of free speech.
I believe in a USC where students, when they come together, can be just as powerful as the men in suits hiding in Bovard. That's Trojan ambition.
Reach Contributor Lorelei Christie here.
Learn more about the Student Coalition Against Labor Exploitation at their Facebook page or their website.