Los Angeles
USC Students Protest In President's Office Over Ties With JanSport
Students yelled and screamed Tuesday outside of USC President Max Nikias' office at a staged protest for workers' rights.
"Even though USC has no production in Bangladesh, our money is still going to that corporation and it's just not right," said Liz Fernandez, a USC student at the protest.
But what's crazy is what was going on inside of the office -- students staged a sit-in.
Student Coalition Against Labor Exploitation, or SCALE, sat in Nikias' office Tuesday afternoon and refused to budge until he spoke with them about their repeated requests to break ties with JanSport.
As of 4:40 p.m., 18 protesters were inside the building in front of Nikias' office waiting to talk with him.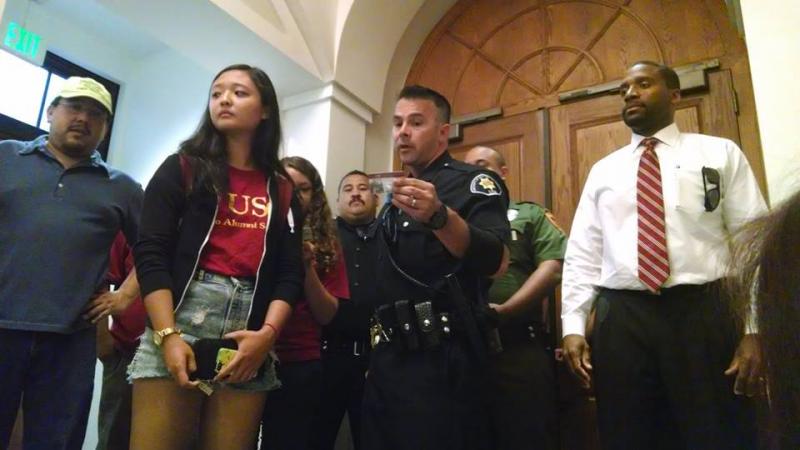 JanSport, the popular backpack company you likely remember from middle school days, is owned by VF and reportedly has factories in Bangladesh.
After report of factory fires and collapses, the student association says USC should not be doing business with VF.
"VF refused to sign on for fire and building safety codes," Fernandez said.
She also said VF failed inspections.
Fernandez said SCALE has sent letters to Nikias every week for the past eight months in order to arrange a sit down.
Apparently, Nikias wasn't moving fast enough for them.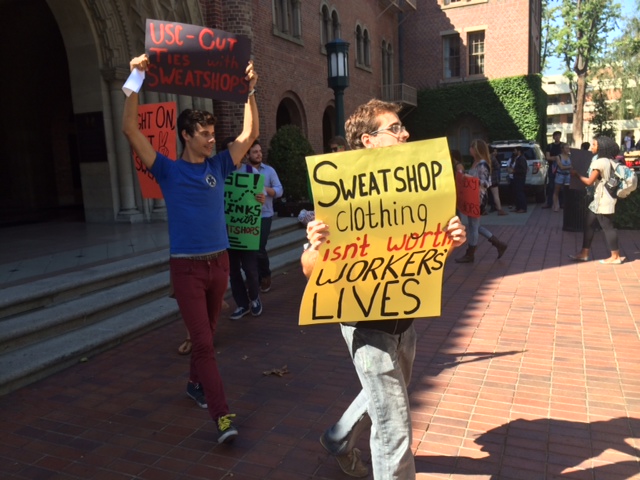 Neon Tommy interviewed multiple students out of the two dozen shouting outside with neon signs that read, "Students won't stand for sweatshops," and "Too sexy for sweatshops."
"Administration has threatened to take the following actions against students who have chosen to sit-in to protect workers' lives: revoking our scholarships, calling our parents, suspending each of us," a student inside the office protesting said.
The Department of Public Safety said that it was a peaceful protest, and no injuries or enforcement had occurred.
Neon Tommy reached out to Student Affairs and the USC media representatives, and is awaiting a return call.
Refresh this page for updates.