Opinion
USC Plays Chicken With FERPA At Student Protest?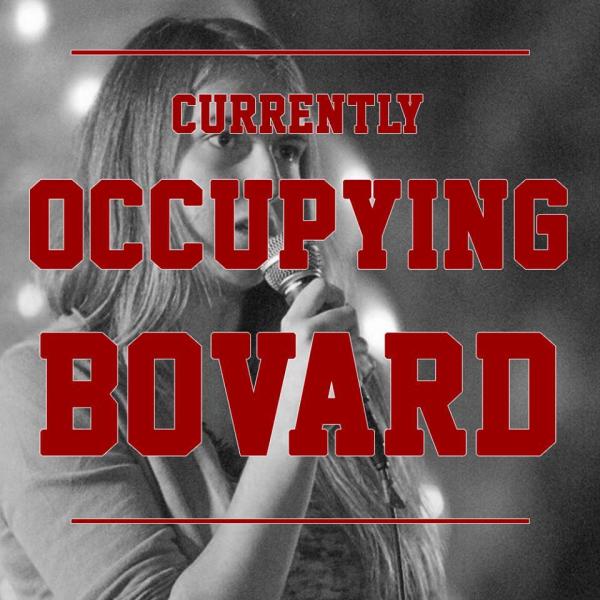 The last time a school official called home to report on my bad behavior, I was in the fifth grade.
That is, until yesterday. On Tuesday, April 15, I occupied the hallway of Bovard Administration building on the USC campus with 17 other students, in protest of the higher university administration's ongoing refusal to acknowledge student concerns about USC's contract with JanSport—a subsidiary company of VF Corporation, which has been directly tied to failing factory inspections and worker death in Bangladesh.
Babysitting was a theme of the afternoon. No less than four Dept. of Public Safety (DPS) officers attended us in the hallway. Outside the building, no doubt, there were more. One of the officers stood in front of the staircase to the second floor at all times—just in case any of us had designs on using the bathroom.
SEE ALSO: USC Students Protest In President's Office Over Ties With JanSport
All of this was fair—or at least constitutes the expected response to direct action tactics like a sit-in. (The days at which I was surprised when six SUVs full of DPS showed up any time a student group delivered a letter to the president are long over.)
But what really got to me was when Dr. Ainsley Carry, Vice Provost for Student Affairs, arrived on the scene. Armed with the USC student handbook and planted squarely in front of the door to the president's office, Carry calmly explained to us that we were violating university policy by demonstrating at an "unreasonable place and time" and in an "unreasonable manner." Technically, we were just sitting on the floor, but I wasn't going to push that point. Carry proceeded to inform us that unless we evacuated the hallway immediately, we were facing possible suspension, expulsion or loss of our scholarships and financial aid.
But this is where things really got interesting. Because when students started voicing outrage and confusion that we could possibly have our scholarships revoked for doing exactly the sort of thing that had brought many of us to USC in the first place, i.e. being engaged global citizens, Carry added a catch.
Get out of the office, he said, or we're going to start calling your parents.
I couldn't help it. I raised my hand.
"How can you call our parents informing them of our suspension?" I asked. "Isn't that a violation of FERPA?"
FERPA—or the Family Educational Rights and Privacy Act—protects the privacy of student education records. According to FERPA, a student who has reached 18 years of age or enrolled in a post-secondary educational institution (in other words, every student enrolled at USC, regardless of how old they are) has "control over the disclosure of personally identifiable information" from their educational records—including, but not limited to, records of any disciplinary action taken against them. So when it was first suggested to the 18 of us in the hallway that our parents would be called, I was not so much bothered that my university wanted to tattle on me to people who live several thousands of miles away, as I was confused that they would so nonchalantly throw around the idea of disclosing my suspension without my consent.
In response to my and similar protestations, Carry affirmed that it was at the discretion of university officials to contact parents in emergency situations. He cited the examples of serious injury and student death.
To which an uninjured and very much living student replied:
"Can you explain to us why you're using our emergency contact information in a situation that's not an emergency?"
"I'm concerned about you," he replied.
Oh, glory, I thought. I hadn't heard "your behavior is concerning to me" since around the fifth grade, either. And maybe I could have accepted that if I was exhibiting signs of a heroin addiction, or destroying university property or sexually assaulting my fellow students without consequence. But for trying to obtain a meeting with my university president because of a pressing human rights issue? That left me just a little incredulous.
SEE ALSO: USC Students Fight On Against JanSport At Bovard
Was I concerned that I would be suspended while sitting in the office? Unfortunately, yes. Unfortunately, I have seen the way my university chooses to exert power in ways that are not always just toward its students, nor—apparently—the workers on the other end of our clothing supply chain. But when students in the hallway actually began receiving phone calls from parents who had been contacted by the school, I wasn't so much concerned as insulted.
Ironically, once Student Affairs started informing parents that they were in the process of preparing our suspension letters, they would in fact be preventing themselves from being able to do so legally. Had the suspension letters actually been issued, informing our parents would have constituted sharing documented disciplinary information with an outside party, and therefore a potential violation of FERPA.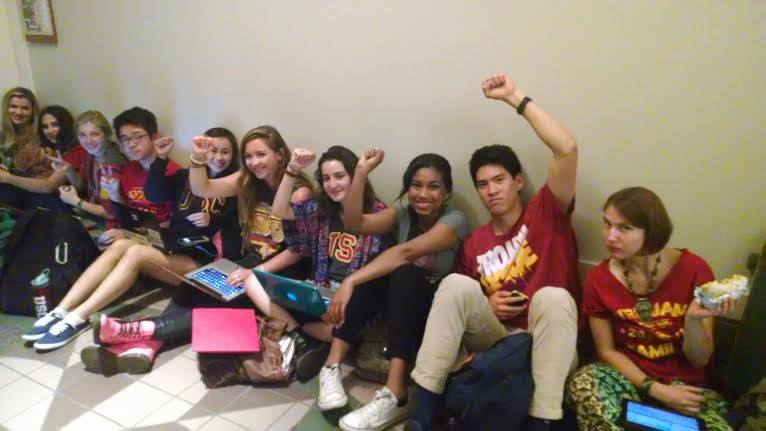 In other words, I don't really believe this was about threatening us with suspension at all. Rather, the school was using scare tactics: emotionally manipulating people in our lives who we care deeply about, who have their own lives, jobs and other children to take care of, in order to convince us to leave. And for those students inside whose parents have a more tenuous relationship with them or their activism? It wasn't that far off from blackmail.
In no way was this made more obvious to me than the manner in which they went about communicating with parents. They started with the freshmen first—seemingly, the most vulnerable, whose parents might be the most worried about receiving a call from a school administrator. As they called parents, they cited various reasons as to why we would be facing disciplinary action. For some it was violating fire code; for others, obstructing university activities; I, personally, was informed by my father that the school would be suspending me for being too loud.
When my (justifiably confused) father texted me minutes before I peaceably exited Bovard, explaining that he had been informed by the school that I would be suspended "within minutes," it was a confirmation that certain parties at this university do not see me as the adult, scholar or concerned citizen that I am. They see me as a child who—rather than being acknowledged, negotiated with and treated with respect—needs a parent to step in and call them off.
On Tuesday, April 15th, I occupied Bovard with 17 of my fellow students because I believe it is essential that the institution where I attend school, where I contribute avidly to student life and programming and where I will someday perhaps donate a significant portion of my income, makes ethical business decisions. I occupied Bovard because, while I have not been an active participant in SCALE's JanSport campaign this year, I know exactly what it's like to have my own ethics concerns blatantly and grotesquely ignored. I occupied Bovard because I have made a decision to devote my adult life to drawing attention to and combatting injustices wherever I can. And I will continue to do so, even when people who have no argument against ethics resort to strategies that seek to delegitimize me instead.
Even though USC's response to our sit-in was effectively to turn it into a time-out, I don't think we're the ones who should feel like children here.
I guess I have a different definition of what constitutes "childish."
Learn more about the USC Student Coalition Against Labor Exploitation (SCALE) campaign
here
.