Los Angeles
Downtown L.A.'s Economic Development Is A Mixed Bag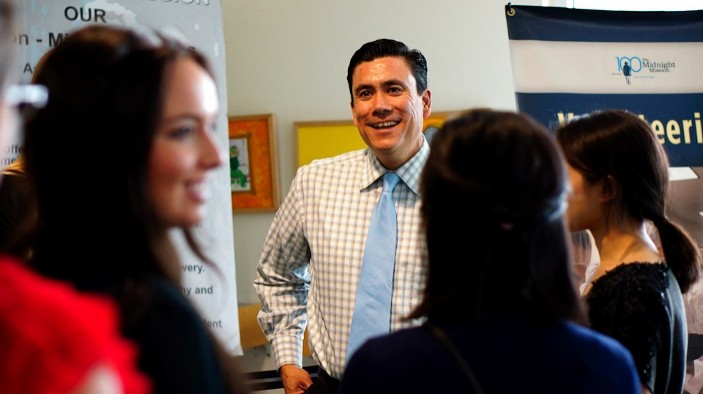 Downtown Los Angeles' economic makeover might be a boon for shoppers, artsy hipsters and foreign investors, but not everyone is ready to pop out the champagne.
Ryan Navales, administrative supervisor at Midnight Mission — the longest-running social services agency in downtown Los Angeles — believes the effects of recent economic developments on the local community are too premature to ascertain.
"As far as development downtown, its too early to tell, a lot of these hotels being built are still just holes in the ground," Navales said.
Midnight Mission provides emergency services, recovery programs, job training, education, and work programs for the homeless in Los Angeles. The organization proactively seeks partnerships with community benefits agreements that ensure job promotion and availability for local residents.
"When AEG built the Staples Center, they put on paper that they were going to reach out to help the community. We partnered with them to ensure we were getting guys off the streets and into paying jobs," explained Navales.
READ MORE: "The Future Of AEG's Farmers Field In Downtown Los Angeles"
For the homeless population of Los Angeles, bridging the gap to self-sufficiency is a challenge, even with suport from organizations like Midnight Mission.
"We provide apartments, at cost, to guys graduating the program, so they can save money and wait for the right opportunity to open up," said Navales, "We're getting guys off Skid Row, [but] we don't want to send them right back into the community they came from."
As a privately funded organization, Midnight Mission is able to adapt to changes within downtown Los Angeles, including gentrification.
Nevertheless, commercial improvements in a community are often only a win-win if agencies, like Midnight Mission, are able to secure agreements with developers to protect lower-income communities from economic disparity.
"Farmer's Field, as a development, has certain impacts that affect the community. We worked out benefits [with developers] to ensure our guys could overcome obstacles and become self-sufficient," Navales continued, "[But because] Farmer's Field never got billed, those agreements never happened."
Gentrification is a double-edged sword. It is a natural part of economic evolution, a social upgrading of sorts, and a displacer of low-income urban residents. The city becoming gentrified sees a return of wealth, an increased tax base, and a modicum of affluence to said urban neighborhoods.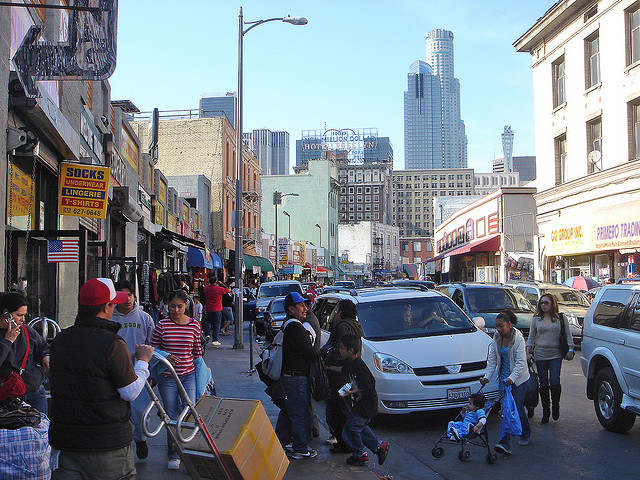 Economic development in a city is generally a good thing. Big fashion retailers like
Zara or H&M
coming to downtown generates revenue for the city and jobs for residents in the surrounding area.
READ MORE: "Why Small Boutiques Are Setting Up Shop In Downtown L.A."
The key is to ensure low-income residents have the first crack at new jobs created by developments, says Teresa Eilers, equitable development associate at Strategic Actions for a Just Economy (SAJE), a local community empowerment group that engages residents in creating solutions that strengthen the health and economic well-being of low-income communities.
"Ideally, people that live within the community get jobs in the community. Development can equal new jobs, but a large part of those jobs are going to people outside the immediate community," says Eilers, who implements targeted hiring policies and facilitates training programs for local disadvantaged workers as part of community benefits agreements with developers.
While it is difficult to determine exactly where jobs are going otherwise, it is clear that community benefits agreements protect lower-income residents by ensuring equitable opportunities.
"Part of the issue is that local residents must be qualified to get into those jobs. Looking at it critically, can these people get those jobs? What training programs are needed to get them there?" Eilers says.
READ MORE: "Downtown L.A. Is The New Hub For Co-Working Spaces"
Since a 2001 community benefits agreement with the city of Los Angeles — when AEG sold the Staples Center and L.A. Live became a thriving economic hub — SAJE has fought to have local jobs go to local residents.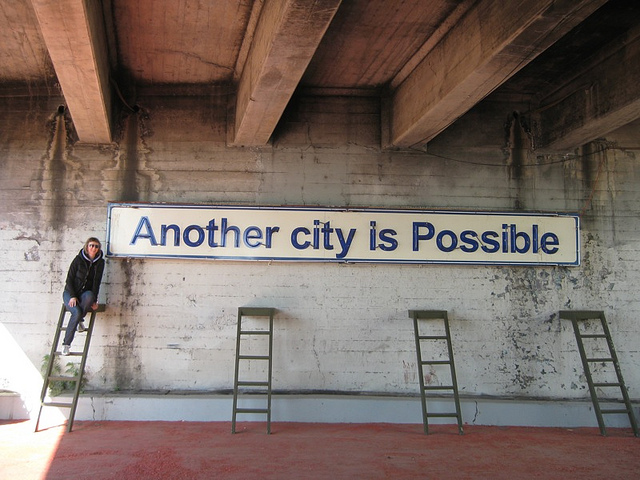 SAJE fosters leadership in the community by teaching local residents how to advocate for assured housing, local hiring, and engage in city planning commissions. But their efforts are not without challenge. SAJE must find ways to work with the city to ensure local residents receive the education and experience needed to meet the qualifications for new jobs.
Compounding this issue is the steady increase of affluent students populating the areas around USC. Housing demand has noticeably increased rent prices, which has subsequently pushed long-time, low-income residents out of the area, as economic data via Curbed LA and Trulia confirm.
"Gentrification is usually associated with increases in economic activity: more jobs, a more vibrant nightlife, perhaps even greater appreciation of property values. The cost is that it becomes very difficult for people without a minimum level of income," says Professor Raphael W. Bostic of USC's Price School of Public Policy.
Through economic barriers, these residents are forced to leave and seek more affordable living situations. Hence the word, "displacement."
So, what can be done about this issue to change it for the better? Professor Bostic has a few theories.
"There are all kinds of ideas: inclusionary zoning, where a certain number of units are reserved for certain income levels; or forcing greater density [more housing per square mile], which translates into the ability to keep rents lower."
These are not catchall solutions, warns Bostic, "They require real attention, or it won't happen. We have to make sure people are talking about it."
An additional point of concern, rumors are flying about that South Korean and Chinese investors are buying up (and holding) non-owner-occupied condos. Such actions reduce the availability of rentable or buyable properties on the market, thereby driving up the price of rent and mortgages, a fact confirmed by Lawren Markle, Director of Public Relations at the Los Angeles Economic Development Corporation (LAEDC), who had a few words on the subject.
"There is some truth to that, and it's welcome investment here in LA County. It's creating a great amount of jobs and economic growth opportunities. Investment is always welcome," Markle said. "A good example is the Wilshire-Grand skyscraper," continued Markle, "They're preparing to pour foundation now. Yang Ho Cho, chairman and CEO of Hanjin Shipping, has led the investment."
Hanjin Shipping, based out of South Korea, is one of the 10 largest shipping companies in the world.
"The LAEDC honored Yang at the Eddy Awards in November," announced Markle, "[Yang] continues to invest in L.A. County, which has seen an increase in international trade. [Yang] has seen the importance of South Korea's ties with Los Angeles for a long time now."
Yang Ho Cho also received his MBA from USC Marshall School of Business.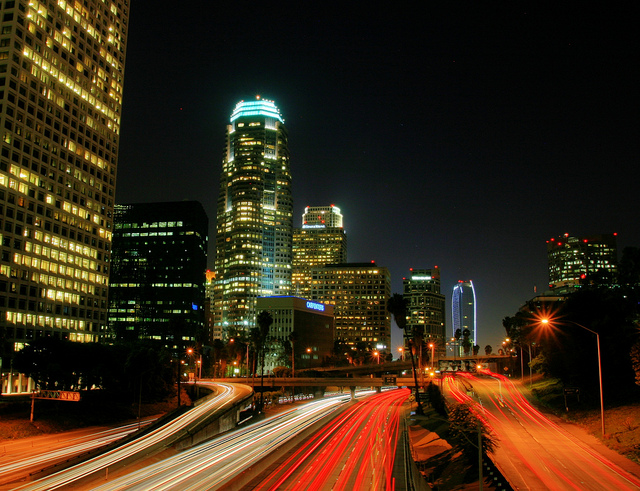 Markle does point out several concerns: "While we are still a major center for entrepreneurship and industry, concentration relative to rest of US has been dropping," but with a newly published
economic report
, Markle confidently contends, "L.A. is the creative capital of the US."
From low-income urban residents and hipsters, to developers and community improvement groups, USC students and business owners, improvement centers and local government, there are clearly a lot of "pieces on the board."
"You have to have a voice," said Bostic. "Be informed when things are happening to weigh in at appropriate times, keep people organized and informed."
Local organizations, like SAJE, work to ensure local residents have a voice in the community.
"DTLA is becoming a bustling area — development can be great, but we need more jobs and significantly more affordable housing," said Eilers, "It needs to be done in a way that benefits residents. We need to figure out how that happens. That's why we create policy to ensure it's equitable."
This story is part of a Neon Tommy special on the revitalization of downtown Los Angeles. Click #reviveDTLA for more.