Los Angeles
Why Small Boutiques Are Setting Up Shop In Downtown L.A.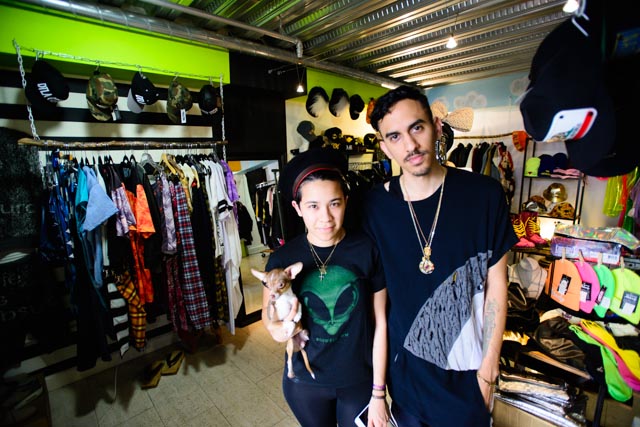 At the cross-section of eclectic vintage and futuristic vision lies Haus of Love, a store brought down to earth by its sweet owners and their tiny Chihuahua.
Owners Kelly Love and Fez Phez describe what they offer as "avant-garde streetwear for men and women," with bold neon colors and statement T-shirts.
When the opportunity for their current space — near the Starbucks on 6th and Spring — came along, the two "jumped on it." According to Phez, they were attracted to the centralized location for its heavy foot traffic and the nature of the Historic Core.
"There have been a couple boutiques hanging out in the area for three, four years," Phez said. "They really started the movement for [downtown L.A.] to be on the uprise."
Haus of Love is one of at least 10 new retail stores which opened in downtown Los Angeles during 2013, several of them located within the Historic Core. The youth of this growing community is documented by the fact that the "old" shops are those that have been around for only three or four years.
One of the newest additions to downtown's retail community is Pale Violet, located at 7th and Spring. Meant for the contemporary girl, Pale Violet's style is forward yet classic. A downtown resident of five years, owner Julia Blake said she always wanted to own a store in the area but chose to wait for a larger retail store to open first.
"Downtown has just been an underrated city," Blake said. "Retailers really saw that people from downtown didn't want to leave downtown [to go shopping]."
READ MORE: "FIGat7th Brings Big Retailers To Downtown Los Angeles"
Blake says large retailers like Acne, City Target and Urban Outfitters set up shop in downtown after realizing residents wanted the convenience of shopping just outside their doors. And though these large retailers could be competition, Blake said they are more of a positive influence on the area because they bring people from other neighborhoods down to downtown.
And many store owners cited downtown's addition of Ace Hotel as a reason for opening their boutiques. Blake said that since the announcement of Ace Hotel's new location in the Broadway Theater District, she hears of new retailers every week.
For Hotel 1171 owner Brett Baldwin, the well-respected and hip hotel chain "validated the transformation of downtown L.A."
Hotel 1171, which is around the corner from Pale Violet, opened two months ago. Half clubhouse and half menswear, Hotel 1171 is just as good for hanging out as it is for shopping. According to owner Brett Baldwin, the timing of the store felt right with "everything that's been happening in downtown L.A."
Like many independent store owners, Baldwin sees the growing number of boutiques as an instance of "the more, the merrier." There is a sense of community not just between retail stores, but also among designers and friends as they support each other's local brands.
READ MORE: Where else can you shop? Check out a store map.
So just how big is the downtown Los Angeles' independent retail community?
Marketing consultant Cinnia Finfer found out while working for client Kuo Yang, owner of the boutique, Brigade LA.
"This town is coming back to life," said Finfer, who has lived in L.A. for almost three decades. "[When] one store sticks its neck out, others follow suit."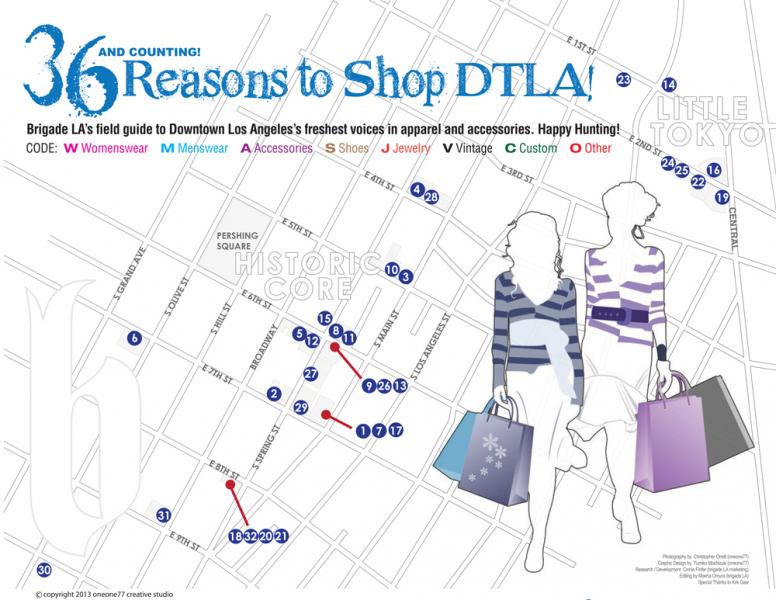 She said people kept asking where all the cool stores in L.A. were, so she began to search. The initial idea, only meant to be published in Yang's "Brigade LA Magazine," was to find 10 spots, but as she tracked down store after store, owners kept suggesting more. The list mushroomed to include 36 stores.
Yang committed the money to print shopping guides, including a map of downtown highlighting all 36 featured stores. He plans on expanding the list as more stores like Pale Violet open their doors.
"We wanted to reach out to build awareness of the retail community," said Yang, whose store was one of the earlier boutiques to settle in the downtown area. "The map is meant to inspire locals to spend more time downtown."
This story is part of a Neon Tommy special on the revitalization of downtown Los Angeles. Click #reviveDTLA for more.
Reach Staff Reporter Sophia Li here.