Los Angeles
Downtown L.A. Is The New Hub For Co-Working Spaces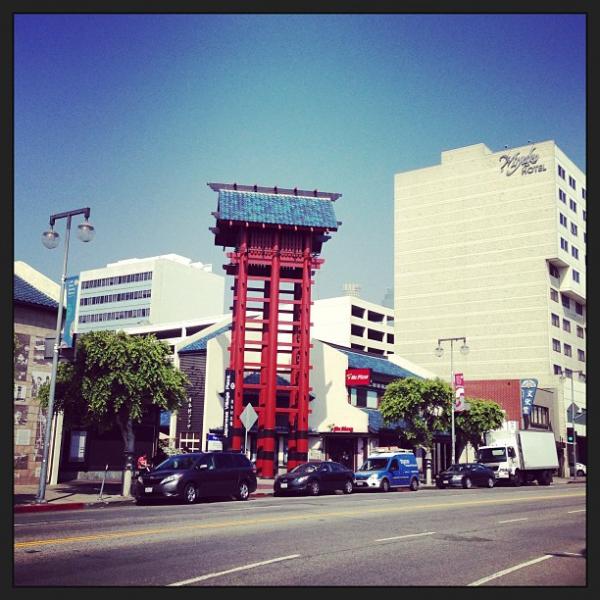 For years, John Kim and Ryo Takei leased out downtown office suites to large corporate clients for commercial real-estate broker Jamison Services, Inc.
Now, the pair rents out single desks to start-ups and freelancers. Some leases are for as short as a single workday.
Their new business, Opodz, is an attempt to jump on some of the changes creeping across downtown, as small innovative companies begin to set up shop in spaces that once housed big firms.
After launching Opodz on East 2nd Street, in the heart of Little Tokyo, they rented space from Jamison, their former employer, and converted it into an open space with desks, work stations, conference rooms, a shared kitchen and free high-speed Wi-Fi. Clients can choose leasing plans based on their needs, from a private assigned desk where you can leave your stuff, to an open table available on a first-come, first-serve basis. Some want 24/7 access; others only want to check in 10 days a month. Day passes can be had for $20.
Jeff Chen and his partner run a small Internet marketing company with a staff of four, including themselves. Leasing a full office would have been too costly and locked the fledgling business into a long term contract. But at Opodz, the company can dial up or down their space as needed.
Alex Saaveare, the web designer on Chen's team, has his own private desk at Opodz for $425 a month. And sharing the space with others gives the office a buzz and energy that would have been lacking if the four were in their own space.
"I feel comfortable having clients meet me here," said Saaveare.
As early as 2005, Takei, who had been the chief investment officer at Jamison, began to fret that the downtown real estate market was headed for turmoil. He noticed that after tenants moved out of some properties, vast swathes of office space —including the one Opodz currently leases — would become essentially unrentable.
Once a doctor moved out of one suite, the office went unoccupied for 10 years, he recalled. "I tried to lease it, but it didn't work," he said. Demand had dried up.
READ MORE: "The Future Of AEG's Farmers Field In Downtown Los Angeles"
"When the economy gets rough, the trend is to cut everything off, space and time. That's the basic principal," said Takei.
He began to see co-working spaces, a concept popular in the start-up world, as a possible solution. In co-working spaces, people working for different companies — or for themselves — share the same open office environment as a way of cutting costs and creating a collaborative work atmosphere.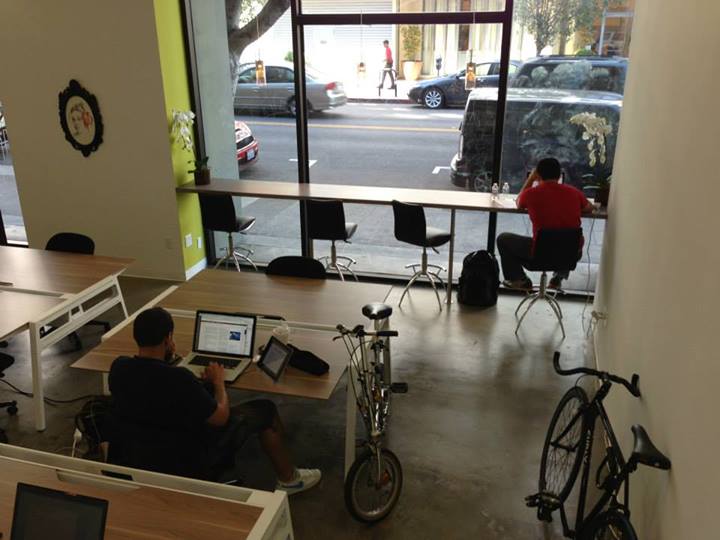 Co-working spaces first sprouted in Los Angeles a few years ago. Among the earliest were Blankspace in Mid-Wilshire in 2008 and Coloft in Santa Monica in 2010. There are now more than 20 co-working spaces scattered around the region, most clustered in Westside communities like Santa Monica, Westwood and Culver City.
Kim, who worked as a lawyer at Jamison, began to think that some of the changes taking place downtown — such as Grand Park and L.A. Live — might make the area ripe for a co-location spot as well.
The number of downtown residents has jumped 32% since 2008 and is almost triple what it was a decade ago. More than half of the residents also work downtown and 80 percent have attended college, according to the demographic study conducted by Downtown Center Business Improvement District.
"Now you see people jogging, exercising, young families walking with their babies," said Kim. "You'd never see that even two years ago."
Most co-working spaces have a distinct style. "People are not interested in drop ceilings and carpets," said Kim. "Now everyone is looking at open ceilings, concrete floors and they want cool fixtures and an open floor plan. That's really where the trend is going."
Open for only three and half months, Opodz is still trying to attract a critical mass. Currently, it has about 15 steady tenants, but it needs 25 to 30 to be profitable.
That might be a challenge. Other co-working spaces have also popped up around downtown, such as Kleverdog near Chinatown, The Hub in the Art District and Indiedesk on Broadway.
Opodz organizes free workshops, exhibits artworks from artists in the neighborhood and reaches out to other nearby businesses to establish a relationship.
Jennie Yoon has been working in Opodz since its opening and said the camaraderie is what keeps her around. Yoon works for a Hong Kong e-commerce company that sells iPhone cases and was the lone employee sent to the U.S. to expand the business. Her office needs are so modest, she said, that she could almost work out of a Starbucks.
At Opodz, Yoon rents an open desk for $275 per month.
"If you spend enough time there, you want to feel comfortable not only with the space, but also the people around you," said Yoon. "I just fell right into it."
This story is part of a Neon Tommy special on the revitalization of downtown Los Angeles. Click #reviveDTLA for more.
Reach Staff Reporter Evie Liu here.