Los Angeles
FIGat7th Brings Big Retailers To Downtown Los Angeles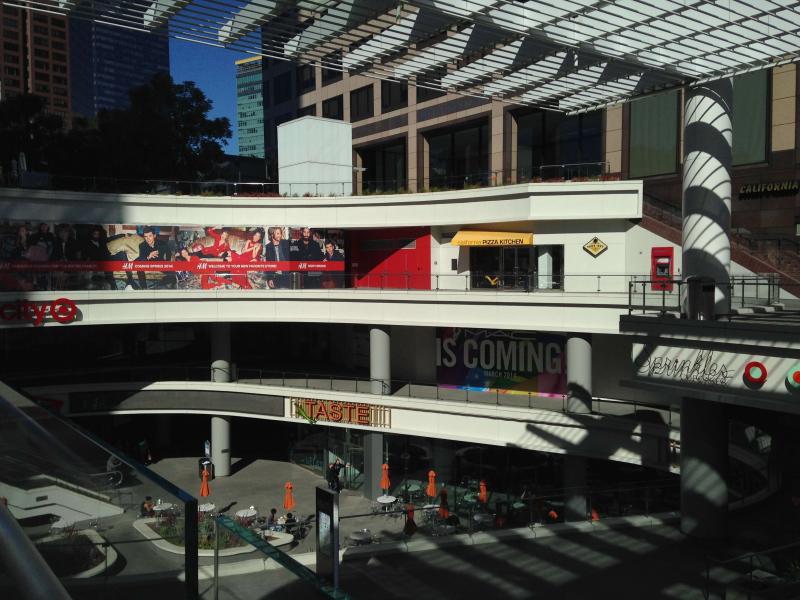 Los Angeles fashionistas, thank your lucky stars. The downtown shopping scene is getting a serious makeover.
The FIGat7th shopping center, located at the intersection of Figueroa and 7th streets, has become a major player in downtown's revitalization. Many restaurants, such as California Pizza Kitchen, Sprinkles Cupcakes and Mendocino Farms, are already open, along with a small selection of stores, including LensCrafters, Sport Chalet and City Target.
But the real excitement is still to come. 2014 brings the opening of fast-fashion heavyweights Zara and H&M, along with mall staples like Victoria's Secret, L'Occitane and Bath and Body Works.
SEE ALSO: "Why Small Boutiques Are Setting Up Shop In Downtown L.A."
"I can't wait for the MAC [Cosmetics] store," one Target shopper said.
Another cautiously anticipated the opening of Zara and H&M. "I guess it'll just depend on if they have good guy sections," he said.
Since 2011, over thirty retailers and restaurants have signed leasing contracts to occupy FIGat7th's 330,000 square feet of retail and dining space.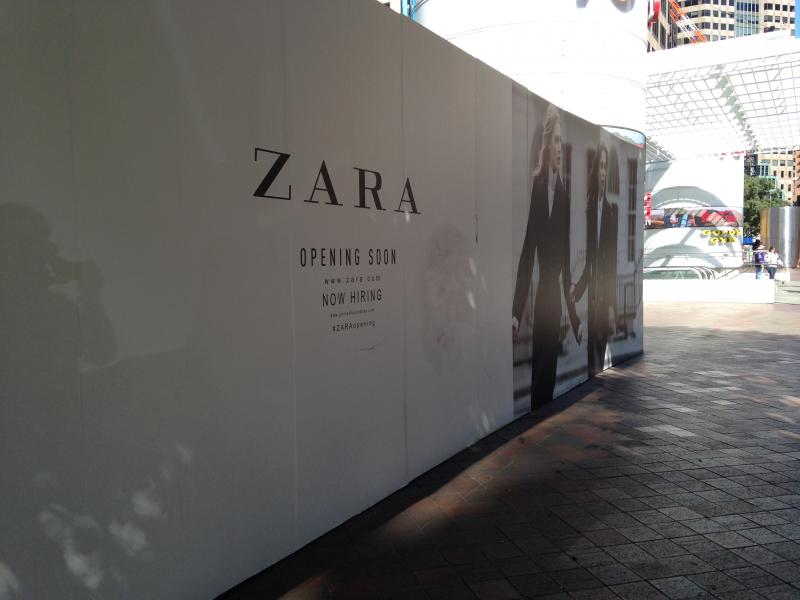 Zara, currently under construction and slated to open its doors this spring,
will take over 27,000 square feet and become a West Coast flagship
. H&M will be even larger at 32,000 square feet, up to 60 percent larger than the average H&M store,
according to T
he L.A. Times
.
FIGat7th's new fashion-forward occupants are looking to capitalize on a growing number of young downtown residents living around the corner.
According to Brookfield Office Properties, which acquired the 28-year-old property in 2011, 530,000 people live within a three-mile radius of the shopping center. Most are affluent and young, with an average household income of $80,000 and a median age of 37. And the company reports the surrounding area houses an estimated 35,000 students, many of whom will benefit from FIGat7th's chic but affordable wares and close proximity to public transportation.
FIGat7th also profits from the large number of downtown professionals. According to Simone Tatro, the store team leader at FIGat7th's City Target, about 10,000 people work in offices within a four-block radius of FIGat7th.
"If you come Monday through Friday during our lunch rush, we have every lane open," Tatro said. "We've exceeded the company's expectations on sales since opening."
Other shopping developments in the area — Urban Outfitters inside the old Rialto Theatre, Acne Studios' new global flagship on 9th and Broadway and the massive renovation planned for Macy's Plaza on 7th and Flower — are turning the once-barren downtown region into a commercial shopping destination, where people who know what's what can dine and shop.
"L.A. is not only just a place to work anymore. It's really a place to live," Tatro said.
This story is part of a Neon Tommy special on the revitalization of downtown Los Angeles. Click #reviveDTLA for more.
Reach Staff Reporter Gigi Gastevich here.