Los Angeles and Region
USC Construction Plans Tap Into Issues Of Gentrification, Ousting Of Low-Income Community Residents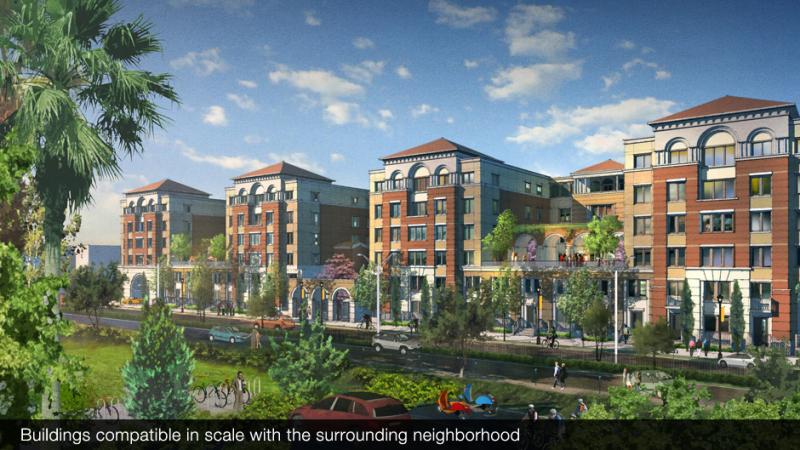 Residents who live near the University of Southern California are raising questions about whether a 20-year
Master Plan
that calls for new academic buildings, a revamped retail center and a luxury hotel will bring more harm than good.
Their fear? That future development on university-owned land just blocks away, along with a lack of affordable housing within the South LA area, will drive up rent prices and fuel the evictions that have plagued the adjacent community since the university seized land through eminent domain in the '60s and increased enrollments without adding student housing in the late '90s.
A generation later, opinions are split on current development plans for housing and the revamping of University Village retail center, all of which still await city approval.
When asked whether construction was worth displacement, Anu Khanna, a mother of a USC student, said she was "okay" with displacement if the university offered people "appropriate compensation" and packages their message wisely.
"It's all in how you present it," she said.
United Neighbors In Defense Against Displacement, a group based across campus east of Figueroa Street, is challenging the university's approach to construction. They say gentrification in South LA -- an area formerly known as South Central which has changed demographically over the years due to displacement -- complicates social bonds and carries costs that transcend dollar values.
"Relationships are destroyed," said David Robinson, the group's director, in regards to the impacts of gentrification. "It becomes harder [for displaced people] to send kids to schools; it becomes harder to go to church, harder to take care of relatives who fall ill. Displacement disrupts the whole social network."
Robinson also disagreed with the manner in which USC was trying to present its Master Plan.
"The way the university is trying to frame the discussion is looking at right now going forward," Robinson said. "But you can't just look at right now going forward."
Lack of student housing in the late '90s pitted a growing student body against low-income residents in the search for living space, Robinson said. With new customers willing to pay higher prices, landowners increased rents and older tenants found themselves facing displacement from their homes, sometimes in the form of illegal evictions.
USC's executive director of local government relations, David Galaviz, agreed that a lack of housing construction in a period of student growth caused landowners to raise rents, but said the university at the time did not "have the space on campus" to build housing.
"When people bring that up, I say look at a map of our campus," Galaviz added. He noted that the university was landlocked and said that "the worst thing we can do is to purchase property."
Without affordable housing in the South LA area, rents would continue to rise due to development, said UNIDAD's Robinson.
"The furthest they've come to addressing this issue is planning to build some more student housing," he explained. "But while that's necessary, it's not nearly enough. It won't stop displacement. Because the process of gentrification -- of driving up property values and rents -- will continue and will be accelerated by the master plan."
"You can't improve the community by getting rid of it," he added.
Robinson said he didn't know the exact number of people displaced by USC, but cited two studies to support his claim that the number was substantial.
A 2007 study conducted by Enterprise Community Partners and commissioned by USC, noted that "the lack of construction by the university to provide ample housing for students has contributed to market conditions that have displaced local residents." The study called for, among other things, building more affordable student housing and preserving existing affordable housing in the community. Robinson's group said that the university was reluctant to promote the study's release after it had read the report, and that the university released the report only after pressure from city officials.
The second, a 2008 survey analysis from the Figueroa Corridor Coalition for Economic Justice, examined a neighborhood north of campus and found that of the 300-plus buildings within the examined zone, some 130 were exclusively for USC use -- compared to only nine university-related buildings within the area just a decade before.
"It has gotten to the point where churches in the area see a large part of their congregation forced to move away, and they have to make the decision of whether the church itself should stay or leave," he said.
He criticized what he saw as the university's refusal to take responsibility for their past actions.
"Whether USC wanted to see the surrounding people disappear or whether they simply didn't care, there was no mystery about what the effect of such a housing policy would be," Robinson said.
Not surprisingly, opinions differed on the other side of Figueroa at the university.
Back on campus, Khanna insisted there were more important issues at stake than worrying about displacement.
"It's [construction] for a greater cause of education, of preparing our future citizens," she said.
For Nick Harvester, a freshmen majoring in interactive media, the issue is two-fold.
"While the university has an obligation to the community, it also has an obligation to its students," Harvester said. "There should definitely be a balance of the two. I would want a better campus but I don't want to see people displaced. The university should definitely reach out to the community and get their input."
For USC's Galaviz, the university's Master Plan provides the remedy for past hardships.
"We see our project differently," he said. "If we can create a project where we take students out of the community and place them in housing, then we can stop gentrification."
He argued that aspects of the Master Plan would resolve the effects of past displacement. In particular: the expansion of new student housing by 5,200 beds on university-owned land and the revision of the University Village to fit both community and USC needs.
"Otherwise, gentrification will continue and the community won't have access to any further retail, community shops, or job opportunities," he continued.
Particularly, Galaviz prided USC's plans to make student housing more affordable to students -- especially in comparison to the price tag of student luxury housing within the area -- as a step forward.
"The key to student housing is that it's going to be tied to student financial aid," he said.
Both USC and UNIDAD stressed that university goals and community goals could coincide.
Galaviz pointed out that the university was in talks with the community over future development, and planned more meetings in October. He said the university had held 75 to 80 public meetings and more than 200 meetings with community stakeholders over nearly five years, as well as holding talks with Robinson's group.
Robinson made it clear that the coalition was not "anti-USC."
"We feel there is an opportunity for USC's expansion to be a model -- locally, statewide, nationally, and even internationally," he said.
Robinson said USC could protect lower-income residents alongside construction of the Master Plan by preserving and promoting affordable housing for them. He said the university could do so by building such units, donating university-owned land or by creating a large affordable housing loan fund to jump-start construction.
"This would make USC an international model," he added. "No question."
When asked, Galaviz said that the building affordable housing was certainly a potential prospect.
"We don't have an agreement," he said, "but right now everything is on the table."
Reach Aaron Liu here.
Follow him on Twitter.
Best way to find more great content from Neon Tommy?
Or join our email list below to enjoy Neon Tommy News Alerts.