Entertainment News
In Case You Missed It: Kim Kardashian Is Featured On Kanye West's 'Bound 2' Video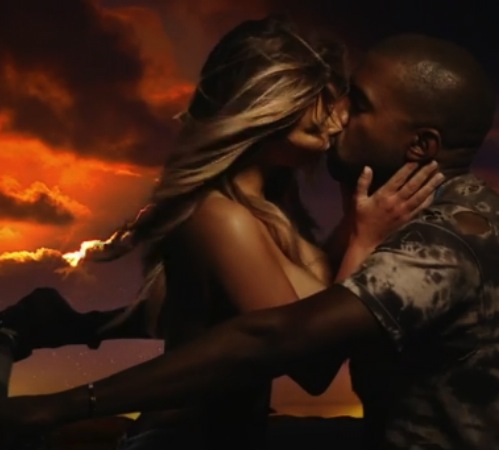 Every Friday, Film Editor Kathy Zerbib brings you the top five highlights of the entertainment world. In case you missed it, here's what's going on this week!
Kanye West Uses Kim K for "Bound 2" Music Video
Kanye West recently dropped his music video for "Bound 2." The video starts off with some fantastic looking horses, great nature shots, and then… Well, it gets interesting from there. Kanye West appears on a motorcycle. He's clearly in front of a green screen that's showing various landscapes throughout the video (Let's hope the concept was intended to look tacky). Then, guess who shows up naked(?) on the motorcycle - all blacked out and still easily recognizable? Yup. We see you, Kim Kardashian. The video then switches from West to Kardashian to both of them to one of them, etc etc etc. Oh, and there's plenty of suggestive bouncing on the motorcycle. West knows what he's doing.
Of course, Kardashian looks stunning. West wanted to flaunt his girl, and he did. However, can someone do her the biggest favor and lower the fan blowing at her face?! She's trying to squint through her hair and blinks incessantly throughout the video. Let's hope she didn't get bugs in her teeth after shooting this. Also, was she prohibited from smiling for most of the video? Because she looks gorgeous with a smile on… Just saying.
The Twittersphere had a lot to say. The "Bound 2" video has been called a "stupid ass video," "so awkward and forced," "amazing," "dumb," "too advanced for you [haters]," "so weird," and a "50s movie." So, it got some pretty mixed reviews. Kudos to Kanye West and Kim Kardashian, though. They got the world buzzing, which equated to nearly three million YouTube views in three days. Also, that chorus is pretty catchy.
Watch the full music video for yourself here.
Check out our Storify of Twitter reactions below.
READ MORE: Kim Kardashian's 9 Kraziest Moments
Adam Levine is the 'Sexiest Man Alive'
Well, according to PEOPLE Magazine, anyway. The decision was announced on "The Voice," the singing competition show Levine serves as a mentor on.
So, what landed him the extremely coveted title? Maybe it's his fiancee, Victoria's Secret model Behati Prinsloo, who spiced up his image. Maybe it's his job on "The Voice." Maybe it's the angelic voice he has when performing with Maroon 5.
Levine beat out a plethora of honorable mentions including Jimmy Fallon, Bruno Mars, Chris Pine, and Chris Hemsworth.
Does the Maroon 5 frontman deserve the top spot this year? Is his appeal overrated, or is he just that fine? Check out some of the mixed reviews in our Storify here.
READ MORE: Mixed Reviews For Adam Levine As "Sexiest Man Alive'
Angelina Jolie is "Maleficent"... And She's Perfect for the Role
The "Maleficent" movie trailer is a must-see. Angelina Jolie is back, and as great as ever. The trailer for "Maleficent" just dropped and it's already proving to be more than just a scarier version of a romantic fairytale. In "Maleficent," we bare witness to the sorceress' life. We see the events that led up to her cursing our favorite Sleeping Beauty, and her direct interactions with Princess Aurora.
Jolie is a great choice for the role because she embodies the haunting character of Maleficent. Already, we can tell the hair and makeup department for this movie is great at what they do. Her signature horns are beyond terrifying, her sharp cheekbones can cut glass, and that nefarious look in her eyes is too perf. Step aside, Aurora, time for this Disney villain to shine.
The movie won't be released til May 30, but we're allowed to tease ourselves in the meantime. Watch the trailer below.
READ MORE: 4 Disney Villains That Deserve Their Own Movies
Hugh Jackman was Diagnosed with Skin Cancer
Say it isn't so, Wolverine! After a week-long hiatus on Instagram, the actor posted surprising news - a mark on his nose was diagnosed with basal-cell carcinoma. According to Jackman, his wife Deborra-Lee Furness told him to get the mark checked out. Well, she was right. Though this sort of skin cancer doesn't kill and is actually quite common, it can still still mess skin up physically.
Jackman warns his fans about developing skin cancer. "Please don't be foolish like me. Get yourself checked. And USE sunscreen!!!"
Judging by the bandage wrapped on the actor's nose, Jackman most likely had the mark surgically removed.
READ MORE: Q&A: Director James Mangold Discusses 'The Wolverine'
"Hunger Games: Catching Fire" Lives Up to the Hype
This was a big week for the "Hunger Games" franchise. The "Hunger Games: Catching Fire" movie premiere was in Los Angeles, and the movie is now officially in theaters (Cue the Jennifer Lawrence craze and epic "Hunger Games" fandom).
Here at Neon Tommy, we're especially excited for one of the most anticipated movies of the year to finally be released. Want info on Jennifer Lawrence's visit to David Letterman? Want to know five things to look forward to at the movie premiere? Did you hear rumors about a "Hunger Games" theme park? What's seven things to be excited for about "Catching Fire"? Did you know Josh Hutcherson is hosting "Saturday Night Live"? Just want to read a review on the movie? We've got you covered.
Watch the movie trailer below.
READ MORE: Film Review: 'The Hunger Games: Catching Fire'
Find all the "In Case You Missed It" posts here.