Entertainment News
Adam Levine Named People's 'Sexiest Man Alive'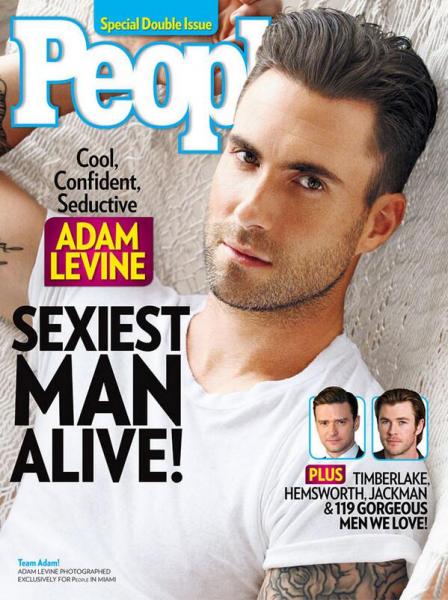 There are the Grammys, Emmys, and Academy Awards that highlight talent of entertainers in today's industry. But who needs prestigious honors like these? The most coveted award, perhaps, is being named
People's "Sexiest Man Alive."
The Maroon 5 singer told People: "As a musician, you have fantasies that you want to win Grammys, but I didn't really think that this was on the table. I was just amazed and stunned and it almost seemed like they were kidding, but they weren't, so that's cool."
The announcement was made on "The Voice" last night. Fans took to Twitter to congratulate the singer using hashtags like "#TeamSexy" to show their encouragement.
So what won Levine the award? Was it his love for the plain white t-shirt? Or his array of tattoos? Or his dimples and 12-pack abs? Or his sensitive songs about heartbreak?
We may never know what goes on behind closed doors at People Magazine, but we do know that Levine has many things going for him such as his engagement to Victoria Secret model Behati Prinsloo and his job as a judge on the hit show "The Voice."
Who's laughing now Jane?
Other "honorable mentions" that People names in the upcoming issue include Justin Timberlake, Chris Hemsworth, Hugh Jackman and about a hundred others.
Here is a list of the elite "Handsome Men Club" Levine now joins:
2012: Channing Tatum
2011: Bradley Cooper
2010: Ryan Renolds
2009: Johnny Depp
2008: Hugh Jackman
2007: Matt Damon
2006: George Clooney
2005: Matthew McConaughey
2004: Jude Law
2003: Johnny Depp
2002: Ben Affleck
2001: Pierce Brosnan
2000: Brad Pitt
1999: Richard Gere
1998: Harrison Ford
1997: George Clooney
1996: Denzel Washington
1995: Brad Pitt
1994: No award given out
1993: Richard Gere
1992: Nick Nolte
1991: Patrick Swayze
1990: Tom Cruise
1989: Sean Connery
1988: John F. Kennedy Jr.
1987: Harry Hamlin
1986: Mark Hamon
1985: Mel Gibson
Obviously, People was stretching it some years (see: 1987 and 1992). However, this is a list of men that are still seen as the spokespeople of Hollywood.
Keep calm ladies, the magazine hits stores Friday.
Reach Executive Producer Jillian Morabito here.