USC Sports
What's Missing From the Most Important Recruiting Class in USC History?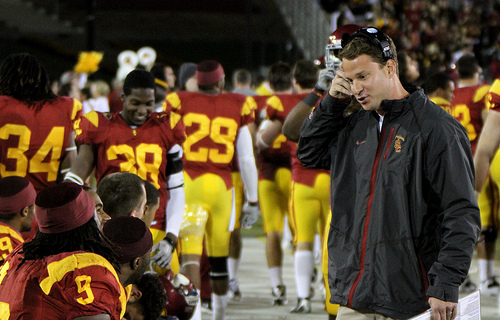 Q: What is the most important recruiting class in USC history missing?
A: Nothing
At the onset of the 2010-11 offseason, Trojans head coach Lane Kiffin stressed the team's most important recruiting needs: offensive line and linebacker.
After a volatile 2010 season in which depth and a lack of talent at many positions were glaring weaknesses, Kiffin and defensive line coach/recruiting coordinator Ed Orgeron solidified a top 5 recruiting class (4th at Rivals.com, 3rd at Scout.com), signing players at positions of need as well as stockpiling talent at other positions.
"After the UCLA game, I said this was going to be a very critical offseason for us," Kiffin said at his National Signing Day press conference Wednesday night. "We [needed] to spend every day working on this class so we [won't] have a season like we did before."
With USC allowed to sign a full recruiting class until the NCAA sanctions appeal is ruled upon, Kiffin and his staff were able to receive National Letters of Intent from instant impact players such as wide receiver George Farmer and former Stanford verbal commit Amir Carlisle.
"I'd like to think that George Farmer would come in and contribute," said Kiffin. "He has all the intangibles to be a great player."
In addition, competition for the backup quarterback spot will be heated during USC's Spring Practice. Redshirt freshman Jesse Scroggins and two early enrollees, Max Wittek of Mater Dei High School and Cody Kessler of Centennial High School will all be vying for the job.
But what about the positions of need: offensive line and linebacker, positions that were exposed by the Oregon State defensive line and the Washington run game, respectively, during the 2010 season?
Let's take a look at how Kiffin, Orgeron and the rest of the recruiting staff filled the roster's needs:
Offensive Line
With just two starting offensive linemen returning -- Khaled Holmes, who is poised to slide over and fill the vacant role at center left by Kristofer O'Dowd, and redshirt junior Matt Kalil, who will be reprising his role at left tackle (where he started all 13 games last season) -– Kiffin and his staff had to focus their attention on the trenches.
They answered the bell.
With the incoming class, every position on the line is filled. Aundrey Walker chose USC over Ohio State and will compete for the vacant starting right tackle position. Marcus Martin and Cyrus Hobbi will compete for starting jobs at both guard positions. And Cody Temple (Liberty High School; Bakersfield, CA) is poised for a backup role at center.
"If we could've, we would've signed more," said Kiffin when asked about the offensive line. "As of now, we will only have eight or nine healthy bodies going into spring ball."
Linebacker
The inconsistent play at linebacker last season can be attributed to the new defensive scheme implemented by defensive coordinator Monte Kiffin and the lack of depth within the linebacking corps.
With captains and seniors Malcom Smith and Michael Morgan graduating, Devon Kennard healing from hip surgery, and Chris Galippo coming off a subpar season compared to his 2009 Butkus Award finalist campaign, the Trojans were hoping for a few surprises on National Signing Day.
That surprise came by way of out-of-state commitment Lamar Dawson who chose USC over Kentucky, Oregon and Tennessee.
"A very good student, team leader and potential great player," Kiffin said of Dawson. "To be able to go in there and get Lamar to come was probably the biggest surprise."
USC also added commitments from underrated outside linebacker Anthony Sarao and local talents Tre Madden and Charles Burks.
Even with Crenshaw High School playmaker De'Anthony Thomas jumping ship to rival Pac-12 school Oregon, USC's recruiting class filled its needs and added depth for the future as the Trojans brace themselves for the inevitable impact of NCAA scholarship sanctions.
To reach Eric Watkins, click here. Follow him on Twitter @ericswatkins.