Film and TV
A Look At Television's Role In LGBT Acceptance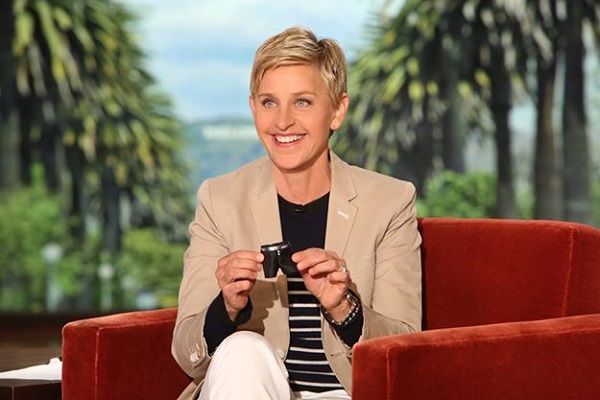 In April 1997, Ellen DeGeneres came out to the world as a lesbian during an episode of "Ellen." She came out through her character in the hit television show. She also came out in real life. Two Ellens coming out at the same time sent shock waves through Hollywood and the world. The backlash was swift. Her show was canceled and her career was in free-fall.
Times have certainly changed.
At the 2015 MTV Video Music Awards, singer Miley Cyrus closed out the show with a performance that featured drag queens as her back-up dancers. While some felt she pushed the line too far, many in the audience loved it.
READ MORE: MTV Video Music Awards 2015: Miley Cyrus Gets Naked And Drops New Album While Hosting
The increased presence of lesbian, gay and transgender people in television has influenced how Americans view gender and sexuality.
"Ellen DeGeneres' coming out was a turning point," said Tim Gray, senior vice president of Variety, in an interview with NPR.
Since DeGeneres' courageous decision, other creative events have further pushed the narrative. Seattle-based rapper Macklemore, who is heterosexual, released "Same Love," a song that encouraged the public to understand and embrace the lives of gay couples.
"'Same Love' was monumental," said Louis Brown, a master's student of producing at the New York Film Academy. "Through its lyrical message and strong visuals it sought to shed light on debilitating social structures in America, legitimize a marginalized community and unify people under a common thread: love."
"Same Love" became an anthem for the Equal Rights Movement but it was not alone in its pursuit. National campaigns, such as NoH8, were waged using celebrities as key figures.
Notable sport figures began coming out of the proverbial "closet." NBA player Jason Collins and NFL draft-pick Michael Sam, both opened up to the media about their sexuality, becoming the first openly gay athletes in their respective fields. Soon other athletes followed such as Massachusetts' Derrick Gordon who became the first openly-gay division one basketball player shortly after Collins.
READ MORE: Jason Collins Discusses Coming Out And Homophobia In Athletics At USC
Celebrities' "coming out" makes it easier for young people struggling with the same problem. Sociologist Amy McDowell believes they give legitimacy and a reference to those struggling with their sexuality.
"When a prominent athlete comes out and asserts their sexual identity into the public sphere that person is not only taking ownership of their own identity but opening up space for other people to make a claim for theirs," McDowell said.
While more gay characters appeared on television and gay couples won marital rights, transgender men and women were not accepted on television or in life. In the past six years, over 1,612 transgender identifying people were killed according to a report from the Trans Murder Monitoring Project, a European based initiative that monitors, collect and analyzes homicide reports of transgender people worldwide.
Then came Laverne Cox, transgender star of "Orange is the New Black." She became the first transgender actress nominated for an Emmy and a prominent face for the transgender community.
"I love the work that Laverne is doing," said Josh McGregor, a gender nonconforming man and gender studies instructor. "I think Laverne would be like I don't rep the entire Trans community," McGregor continued. "I think that's important because it's diverse, there's a lot of voices, and a lot of people."
READ MORE: A Look At Transgenders In Film And Television
"Keeping up with the Kardashian's" Caitlyn Jenner, became the most talked about transgender this year when he publicly transitioned from Bruce on the cover of Vanity Fair. Jenner used the 2015 ESPY stage to champion transgender equality. "Trans people deserve something vital," said Jenner during her acceptance speech. "They deserve your respect."
While Hollywood worked to push progressive attitudes, it also served as a channel for opposition.
There was backlash among some celebrities such as rapper Snoop Dogg who took to social media to voice his frustration that Jenner was receiving recognition over what he believed were more worthy causes. "Shoutout to Akon! He is about to supply 600 million Africans with solar power," rapper Snoop Dogg posted to Instagram. "I'm really upset that this isn't major news but that science project Bruce Jenner is." Singer Chris Brown shared the post.
READ MORE: 'I Am Cait' Premiere: 7 Things We Learned About Caitlyn Jenner
Fans retaliated against the rapper's post through social media.
Snoop Dogg's social media reaction is a representation of the 39 percent of Americans who are not in favor of the LGBT community, but other celebrities find the recognition and tolerance for the LGBT community to be critical for American society.
Entertainment executives and actors like Lee Daniels and Kerry Washington use their platforms to close the gap between members of the LGBT community and people who do not understand the importance of LGBT acceptance.
"Homophobia is rampant in the African-American community, and men are on the DL," "Empire" showrunner Daniels said to critics at the Television Critics Association. "They don't come out and they kill our women."
"Empire" rose as the No. 1 show on Fox its opening year bringing with it a strong LGBT storyline. "I wanted to blow the lid off homophobia in our community," said Daniels.
In addition to "Empire," this season on "How to Get Away with Murder" audiences learned that Annalise Keating, played by Emmy winner Viola Davis, had been in a lesbian relationship in law school. That relationship was re-ignited in the first two episodes.
At the 2015 GLAAD awards, Kerry Washington spoke to the importance of inclusive storytelling in television citing, "We need more LGBT representation in the media, we need more LGBT characters, and more LGBT storytelling, we need more diverse LGBT representation and we need more employment of LGBT in front of and behind the camera."
READ MORE: Kerry Washington, Eating Disorders And The Body Love/Hate Relationship
Part of the effectiveness of LGBT representation in television is its impact on younger generations, according to sociologist Ross Haenfler. A Pew study showed 70 percent of millennials support LGBT equality compared to 59 percent of Generation X and 45 percent of Baby Boomers.
"We see that opposition to things like same-sex marriage is very much a generational phenomenon," said Haenfler. "In our religious community there are several openly gay couples. My daughter has never known anything different, so she'll talk about marrying her friend, who is a girl." The younger the generation the more tolerance and acceptance, says Haenfler.
Disney has been an active participant in shaping the narrative on children. The network introduced a same-sex couple in programming such as "Good Luck Charlie" and underlying narratives of queerness in "Frozen" and "How to Train your Dragon 2."
The public received introducing LGBT material to children with mixed feelings, but as the data from Pew show it is effective.
"I support same sex marriage being shown on T.V. and commercials," said Larance Carter, a graduate social work student at Georgia State University. "I think it creates tolerance and acceptance for society and particularly for children –not to impose that belief on them but to allow them to become tolerant and accepting of it."
The narrative of LGBT equality is still being shaped in America, but the entertainment industry is furthering that narrative. Networks are developing queer friendly programs like "I am Cait" and "Becoming Us" which are educating people on transgender issues, and shows that include gay couples like "Modern Family" remain stables in television programming.
Reach Staff Reporter Lamarco McClendon here.