California
Sex Education Gets Legal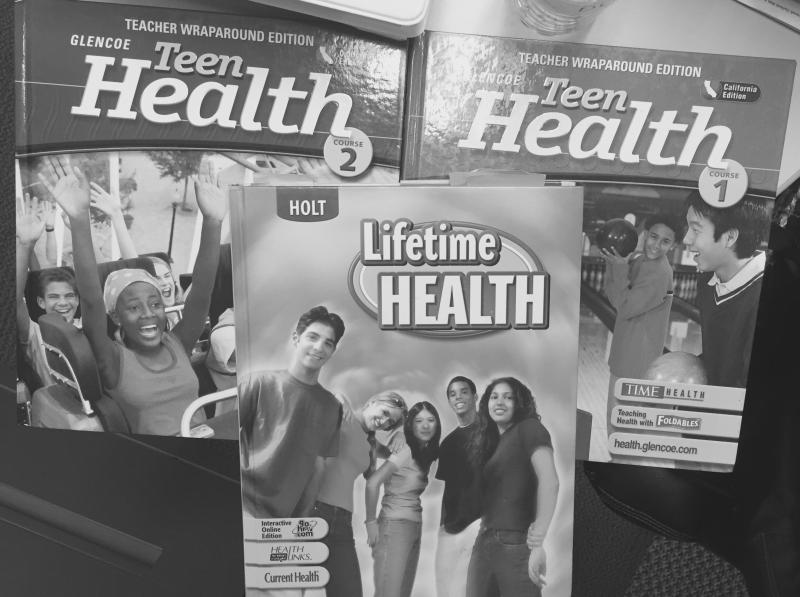 Sex education is not standardized in classrooms across the United States, but research shows that whether it's taught effectively, if at all, can have a strong impact on young people's health and drastically change their lives.
Studies show that young people engage in sex at an early age, and they need knowledge and skills in order to make healthy decisions.
"Although sexual activity and teen pregnancy rates have declined across the nation, they remain a concern," said a recent report by the National Institutes of Health. "More than 45% of girls and 48% of boys at high school (aged 13 or 14 to 17 or 18) have had sexual intercourse. The average age of first intercourse is 17 for girls and 16 for boys, but about a quarter of teenagers report having had intercourse by age 15."
Statistics also show that states — such as California — that emphasize sex education have far better social outcomes than states — such as Texas — that offer little beyond urging abstinence:
Data from 2013

Teen Birth Rate

Gonorrhea

Chlamydia

California

23.6 per 1,000 teenage girls
(15-19 years old)

250+ per 100,000 young people

(15-24 years old)

1,700+ per 100,000 young people
(15-24 years old)

Texas

41 per 1,000 teenage girls
(15-19 years old)

500+ per 100,000 young people
(15-24 years old)

2,200+ per 100,000 young people
(15-24 years old)
Sources: The National Campaign to Prevent Teen and Unplanned Pregnancy, the U.S. Centers for Disease Control and Prevention.
As the table shows, a 2013 study by the Centers for Disease Control and Prevention found that California had a considerably smaller rate of chlamydia infection than Texas. This is a particularly serious health problem because the disease is easily spread, often causing no symptoms and may be unknowingly passed to sexual partners. Similarly, a CDC study showed the California's gonorrhea rate among young people was half of that reported in Texas.
Despite the data, questions of sex education, abstinence and contraception remain topics of heated debate in many parts of the country, with lives and the future of young people at stake. Even in states with progressive school districts such as in Los Angeles County, some students are graduating seniors who have never taken a sex education course. That's about to change, at least in California.
In September 2015, Gov. Jerry Brown signed a bill to mandate sex education throughout the state and school officials expect the new law will have positive impacts when implemented January 2016.
READ MORE: Sexual Education For Kindergartners In Chicago
"Our schools are a critical environment for providing young people with the knowledge and skills that they will need to protect their sexual health," said the bill's author, Assemblywoman Shirley Weber, D-San Diego, in a statement. "This is about empowering all young men and women — whatever their orientation or gender — to make the healthiest decisions possible."
"The new law seeks to remedy the uneven instruction in sexual health in public schools in the state, as documented in a study by researchers at UC San Francisco," reported Jane Adams in an article with EdSource, a non-profit education research and analysis organization.
The article also notes: "The previous law was important, but there were districts that were out of compliance with it," said Phyllida Burlingame of the American Civil Liberties Union of Northern California. "This takes us to a new level."
Effective Jan. 1, the new law includes teaching students about "a range of contraceptives, issues related to LGBT and gender identity, and have an objective discussion of all legally available pregnancy outcomes including: parenting, adoption and abortion." The classes are offered at least one in middle school and again in high school.
Parents can opt their children out of the course, but schools cannot opt out of teaching sex education in their health classes.
Timothy Kordic, an LAUSD sex and health education specialist, said comprehensive programs delay the initiation of sex, reduce the number of sexual partners, or increase the use of safe sex measures to protect teenagers from harmful health effects such as sexually transmitted diseases (STDs).
While not all school discussions about sex are perfect, students say they need it.
Kaylen Hiromoto is a senior at Westchester high school who has never taken a sex education course. "I guess I know about it, but I didn't get it from school," she said in an interview. "They should offer it. I would like to learn about STDs and birth control."
Hiromoto said most of her classmates are in her shoes. She giggles as she glances at her friend, Monica Kahn who is also a soon-to-be graduating senior who has also not taken a sex education course.
READ MORE: Ohio Teens Teach Sex Education To Classmates
Although the girls say they have a concept of what sex is, without specific knowledge of sexually transmitted diseases and safe sex measures from a trained health professional, they are at a disadvantage, said Andrew Blumenfeld, president of the La Cañada School District, in an interview.
"I think that there are some basic pieces of just a skeletal sex education curriculum that without which, a student would be left to the world unable to protect themselves and protect people around them," Blumenfeld said.
"Students should at minimum be receiving information to protect themselves from HIV," said Julia Cederbaum, an assistant professor at the school of social work at University of Southern California.
California has required HIV education since 1992, which experts say is the minimum required. The presence of Chlamydia, HIV and Gonorrhea are particularly dangerous for young people because the strains are becoming resistant to treatment. But perhaps the most serious problem is early teen births.
A 2014 study by the Guttmatcher Institute, shows there has been an overall decrease of teen birth rates, teen abortion rates and teen pregnancy rates since the spike in 1991. The teen birth rate has declined by 44 percent, the teen abortion rates declined by 66 percent and the teen pregnancy rates declined by 51 percent.
Nevertheless, sex education persuades young people not to seek abortion. To prevent early teen pregnancy and births, the federal government's Centers for Disease Control and Prevention also recommends the use of barrier contraceptives for sexually active students, in addition to urging abstinence.
"The best way to reduce the risk of unintended pregnancy among women who are sexually active is to use effective birth control correctly and consistently," CDC reported.
Providing contraceptives is often at the center of sex education controversy. Catholics and fundamentalist Christians take a strong stand against contraception and argue that it encourages teenagers to have sex. The counterargument is that sex, to some extent, is inevitable.
Dr. Timothy Keller, a theologian and founder of Redeemer Presbyterian Church in New York City, said in online article titled "The Gospel and Sex," said: "Prominent in today's public school sex education, is that we should understand the natural biological drive of sex, realize that if we are not careful sexual activity can have negative consequences, master it like any other skill, and be responsible."
Cederbaum, the USC assistant professor of social work, believes that if children are being educated through the public system, parents' personal and religious beliefs do not have a strong hold.
"As long as you have abstinence as part of the discussion, which it should be, then I think you are teaching all aspects of healthy growth and development for adolescents," Cederbaum said in an interview.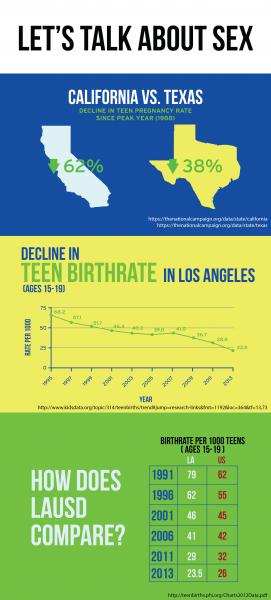 Specialists who study contraceptive use say safe sex measures are critical. Dr. Jonathan D. Klein, a researcher at the University of Rochester, said in an article for the American Academy of Pediatrics: "Youth who were given clear messages about sex and condom or contraceptive use, and who were provided condoms or contraceptives, have been found to increase consistent condom and contraceptive use without increasing sexual activity."
Klein's study also observes a possible link between sex education and academic performance. "Factors associated with more consistent contraceptive use among sexually active youth include academic success in school," he said.
READ MORE: 'Sex Week' On College Campuses Promotes Healthy Discussion About Sex
The social problems with teen pregnancy include, "school interruption, persistent poverty, limited vocational opportunities, divorce and repeat pregnancy," Klein reported. "When pregnancy does interrupt an adolescent's education, a history of poor academic performance usually exists."
He said having repeat births before 18 years of age also has a negative effect on high school completion.
The National Conference of State Legislatures said Texas does not mandate sex education in its schools. And most schools there teach abstinence-only programs where discussion of contraception is not permitted by state health service policies.
Kordic believes a direct correlation exists between what is taught and health outcomes. "We can say that we know places around the country that don't have comprehensive health programs, especially comprehensive sexual health programs, that their outcomes from teen pregnancy and STDs are really horrible."
Texas ranks third in the country in teen births. In 2013, according to the National Campaign to Prevent Teen and Unplanned Pregnancy, Texas had 41 births per 1,000 girls or nearly doubles the rate of teen births for the state of California.
Dr. Ruth White, another associate professor at USC's school of social work, said she looks ahead to the new law that mandates sex education in schools across California.
She expects more adolescents will understand sexual and reproductive health risks. "It can not only prevent unwanted pregnancy and sexually transmitted infections, but can also plan appropriately for the children they may want in the future."
But does this call for national action? Despite the major problems in states without comprehensive sex education, it seems unlikely there will be a federal standard imposed.
Reach Contributor Joy Hahn here.