Politics
National Security Will Be Central in Tonight's 5th GOP Debate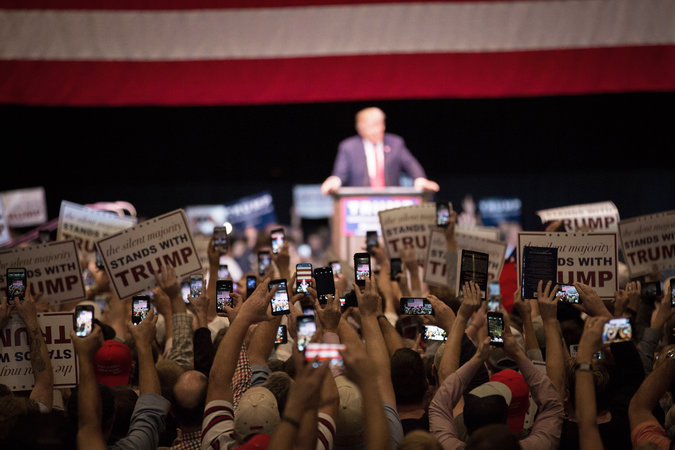 Republicans will hit Sin City on Tuesday night for the fifth and final Republican Debate of 2015. Who has the most to lose? Pretty much everyone besides pack-leading Donald Trump, Texas Sen. Ted Cruz, who has recently been given the boost of an additional life and Florida Sen. Marco Rubio, who is seen by many as the establishment's choice.
The debate, put on by CNN in conjunction with Facebook, will focus on national security, which should give the candidates lots to talk about given the timing — post the Paris and, more recently, San Bernardino terrorist attacks.
The early forum, at 3 p.m. PST, will include former New York Gov. George Pataki, former Arkansas Gov. Mike Huckabee, former Pennsylvania Sen. Rick Santorum and South Carolina Sen. Lindsey Graham. The primetime showdown, scheduled for 5:30 p.m. Pacific Time, will include Trump, Cruz, Rubio, retired neurosurgeon Ben Carson, former Hewlett-Packard CEO Carly Fiorina, Ohio Gov. John Kasich, former Florida Gov. Jeb Bush, New Jersey Gov. Chris Christie and Kentucky Sen. Rand Paul.
SEE ALSO: At Least 14 Victims And 2 Suspects Dead After San Bernardino Mass Shooting
Trump will likely double down on his proposal to ban Muslims from coming into the United States, and the other candidates will need to respond. Some thought the controversial statement would finally lead to the erosion of the businessman's lead. That did not happen. Instead, he jumped to 41 percent in a Monmouth University Poll released on Monday.
The frontrunner will not only need to prove his toughness, but also his competency. He will need to get people to trust him, and he will need to prove that he is able to handle the nuclear launch codes responsibly. He has been challenged for his lack of experience, and although political showmanship may land him some victories, it will not sway everyone. In fact, it may lead candidates down the fox hole of attacking Trump, which has historically not turned out well for the attacker.
One of those who may be tempted to attack is Cruz, seen as the person who could overtake Trump, who has already been on the "maniac" offensive. He is now the party's leader in Iowa at 31 percent, and he is in second place — by a long shot — in the national Monmouth University Poll. It should not be surprising that the Texas senator is polling first in the first in the country caucus. The evangelical candidate won the Republican Caucus in both 2012 (v. Santorum) and 2008 (v. Huckabee). Neither of those candidates went on to be the nominee.
Cruz, who is in his best position yet, will need to pull some of the non-evangelical voters away from Trump if he wants to see his poll numbers rise before the next debate. He will need to show his strength and why his experience matters for national security purposes, while being a member of the Tea Party does not. The senator will also need to withstand jabs from his colleague from Florida, Rubio, over leading the government shutdown and voting for more than asked for cuts for the armed forces.
SEE ALSO: Round-up, Round Four: Twitter Reacts To The Fourth GOP Debate
Some believe Cruz's college debate experience will be helpful and make him a force to be reckoned with. Being a college debater, however, often works against the candidate — or at least, that's what Richard Nixon would tell you.
Rubio will need to continue to prove that he is the establishment's man. He can do that by being more energetic than Bush, going after Cruz and acting like the sensible one on the stage. The senator can do that if he does not fall into the trap of attacking Trump and takes the time to go through some of his policies and credentials to be president. He probably will not, however, give any specifics. He will probably, though, appeal to the base by calling for additional resources for the military and for going to war against the Islamic State.
He, like Cruz, will also need to be tough on immigration, though not be as tough as Trump if he wants to hold the establishment vote. Rubio does have one problem that Cruz does not have: He flip-flopped on immigration policy.
SEE ALSO: ICYMI: The Fourth GOP Debate
Bush will need to prevent this from being a total loss so that donors don't flee.
For the life of Carson's campaign, he needs to stop any damage caused by the lack of national security experience and experience. His lack of national security experience combined with no foreign policy experience, possibly along with other factors, have led to a significant drop in the polls. He is in fourth Monmouth University Poll with 9 percent.
Christie has the advantage of being a former United States Attorney, so he can use his experience as a federal prosecutor and as the governor of a state neighboring New York — a major terrorist target — as a talking point.
Fiorina probably will not be more than a talking head. She has the same amount of experience on the national security issue as Carson. There are probably people who are wondering why she is still in the race.
That same question exists for Paul, who has his built-in, libertarian support. He will need to come off as something other than an isolationist, however, and he will need to prove that he is capable of being a commander-in-chief.
SEE ALSO: CNBC Moderators Lose 3rd GOP Debate
Kasich, the moderate on the stage, has his built-in support from the moderate voting bloc. Depending on how hot the rhetoric gets on the stage, he could be the guy who could balance it out. That will not help him win the White House, but it reinforces his case to be running mate.
Given that it is the end of the year, which also means it is almost the actual year of the election, candidates may do some serious soul searching after the debate. Depending on how many poor performances occur on the stage in the Venetian Hotel and/or how many donors decide to jump from one candidate to another, there could be quite a few candidates folding their hands in coming weeks.
Reach Associate News Editor Max Schwartz here; follow him on Twitter here.