Politics
Round-up, Round Four: Twitter Reacts To The Fourth GOP Debate
The "Twittersphere" was abuzz for the fourth GOP debate, hosted by Fox Business News in Milwaukee, Wisconsin on Nov. 10. Around 844,000 tweets containing the hashtag #GOPDebate were posted to Twitter between 3 a.m. and 8 p.m. Pacific Time, according to data compiled by the USC Annenberg Media Strategic Public Relations Desk.
Real estate mogul Donald Trump once again topped mentions by Twitter handle, followed by Florida Sen. Marco Rubio and retired neurosurgeon Ben Carson. Handle mentions for all eight candidates ranked as follows:
The handles for Fox Business Network and Hillary Clinton also made the top 10 mentions, with the Democratic frontrunner tagged in over 16,000 tweets.
SEE ALSO: GOP Candidates Buck Horns For The Fourth Time
In keywords linked to #GOPDebate, the most popular issue was by far Wall Street, followed by immigration, the military, Russia and wages. Health care and terrorism were also significant points of discussion, as were China, trade and Ted Cruz's disdain for the Department of Commerce. Read on to learn where candidates stood on Twitter's top topics.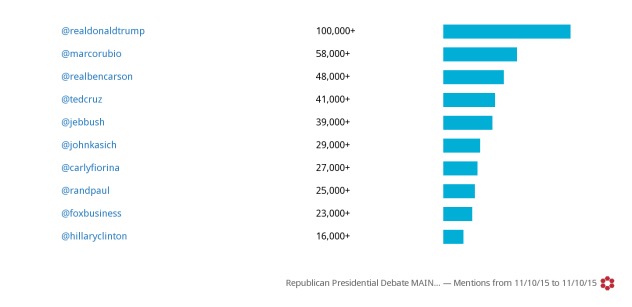 WALL STREET
About 37 percent of #GOPDebate tweets mentioned Wall Street, the most for any issue discussed Tuesday evening. Neil Cavuto cited data from a Facebook poll before posing a question to Cruz on government regulation of the stock market.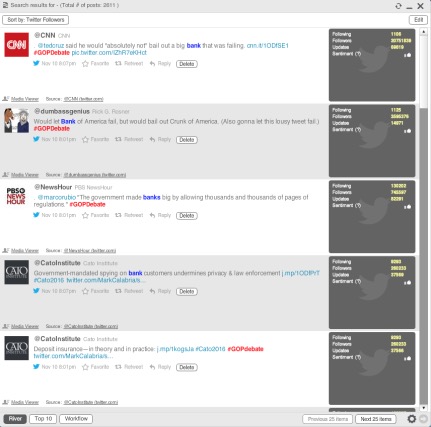 Carson: Supports increasing interest rates to reign in bank and corporate growth.
Notable quote: On whether he would break up banks that had amassed significant amounts of cash: "I would have policies that wouldn't allow that to occur."
Rubio: Would eliminate bailouts of banks in case of financial crisis.
Notable quote: "The big banks get bigger, the small banks struggle to lend or even exist. In Dodd-Frank, you have actually coddified 'too big to fail.'"
SEE ALSO: ICYMI: The Fourth GOP Debate
Cruz: Would eliminate bailouts of banks in case of financial crisis, and and supportings bringing back a gold standard.
Notable quote: "What underlies all of this is the corruption of Washington. What the Fed should be doing is keeping our money tied to a stable level of gold."
Kasich: Wants "ethics lessons" for Wall Street.
Notable quote: "I'll tell you about Wall Street: There's too much greed."
IMMIGRATION
Keywords related to immigration were present in about 12 percent of tweets tagged with #GOPDebate. Veteran business reporter Maria Bartiromo directed the night's first immigration question to Trump, referring to a federal appeals court's recent decision against the Obama administration's plan to provide work permits to five million residents who are in the country illegally.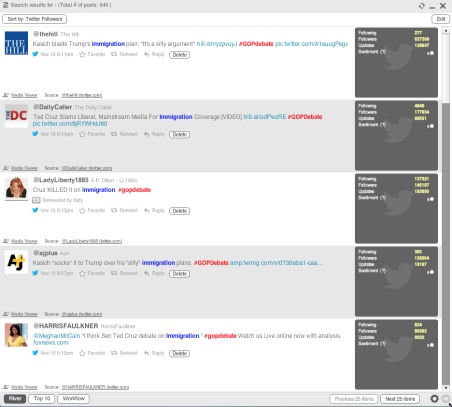 "At heart of this issue is the effect illegal immigrants are having on our economy," she said. "What will you do about it?"
Trump: Mass deportation, and a wall.
Notable quote: "We will have a wall, the wall will be built, the wall will be successful."

Kasich: Also supports a wall, but no deportation. Instead, undocumented residents would be fined.
Notable quote: "If they've been law-abiding, they pay a penalty, they get to stay. We protect the wall...anyone else who comes over, they go back."
Bush: No mass deportation. Instead, supports a program that would give undocumented residents the opportunity to earn citizenship.
Notable quote: "To send 500,000 back a month...it's not embracing American values. What we need to do is allow people to earn legal status over time."
MILITARY
Another 11.7 percent of tweets contained a term related to "military." While defending his tax plan in response to a comment from Paul, Rubio piqued interest on Twitter when he revealed his intent to allot more money to military spending.
"Yes, I do want to rebuild the American military," Rubio said, raising his voice over Paul as he attempted to chime in. "I believe the world is a better place with the United States as the strongest military power in the world."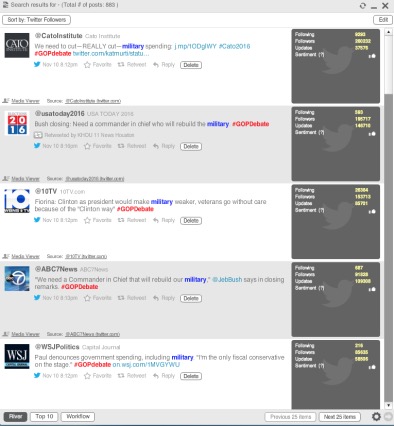 Rubio: Would increase military spending, citing threats from foreign countries like Russia and China.
Notable quote: "We can't even have an economy if we're not safe."
SEE ALSO: Twitter Reacts To First Democratic Presidential Debate
Paul: Would not increase military spending; believes bankruptcy is a greater threat to U.S. security than other global powers.
Notable quote: "How is it conservative to add a trillion dollars in military expenditure? I want a strong national defense, but I don't want us to be bankrupt."
Cruz: Would increase military spending at the expense of "corporate welfare" programs like sugar subsidies.
Notable quote: "If you think defending this nation is expensive, try not defending it."

Trump: Would increase military spending, ideally ensuring "nobody messes with us."
Notable quote: "We have to make our military bigger, better, stronger than ever before."
RUSSIA
Nearly nine percent of #GOPDebate-tagged tweets pertained to Russia. Trump ignited a brief Twitter frenzy when he referred to meeting Russian president Vladimir Putin on the set of 60 Minutes. Fiorina's subtle jab received attention as well, though some viewers wondered if the laughter from the audience was at her.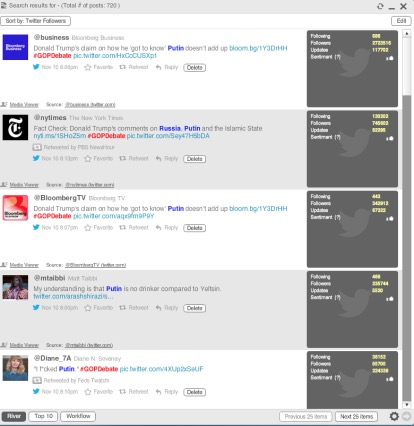 Trump
: Wants strong relationship with Russia; supports Russian forces in Syria.
Notable quote: "If Putin wants to go knock the hell out of ISIS I'm all for it. We can't continue to police the world."
Bush: Wary of supporting Russia, but much more concerned about the Middle East. Would impose a no-fly zone over Russia.
Notable quote: "We aren't going to be the world's policemen, but we'd better be the world's leaders. We have to be able to bring the rest of the world to [the crisis in Syria] before it's too late."
Fiorina: Wants to halt negotiations with Russia; believes America is currently in a relative position of "weakness."
Notable quote: "I have met [Putin] as well--not in a green room for a show, but in a private meeting."
Paul: Cautious of acting aggressively toward Russia; worries about the economic and human toll of another war in Iraq.
Notable quote: "You're asking for a no-fly zone in an area where Russia already flies. You'd better know at least what you're getting into."
Rubio: Wants to take hard line on Russia.
Notable quote: "Our allies in the region don't trust us. Putin is exploiting that."
WAGES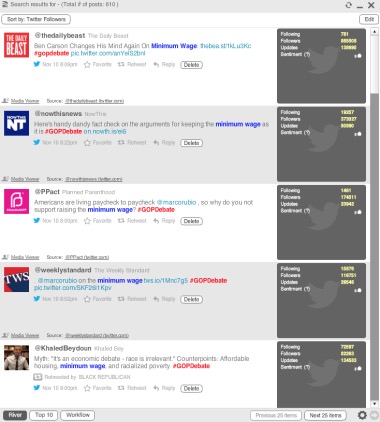 Rounding out the top five most popular keywords was the first big term of the evening, "wages." Cavuto kicked off the night's debate by addressing what he referred to as the "elephant in the room:" wages. He noted the picketers gathering across the country in support of increasing the minimum wage to $15 per hour, and asked candidates whether they were sympathetic to the movement's cause.
SEE ALSO: CNBC Moderators Lose 3rd GOP Debate
Trump: No; believes raising minimum wage would be detrimental to U.S. standing in world economy.
Notable quote: "I can't be...with taxes too high and wages too high, we can't compete with the rest of the world."
Carson: No, but wants to consider a "starting wage" for teenagers.
Notable quote: "Every time we raise the minimum wage, the number of jobless people increases. This is particularly a problem in the black community."
Rubio: No; concerned that raising the minimum wage would dramatically increase unemployment. Would like to revive interest in vocational education.
Notable quote: "The economy is not providing jobs that pay enough. If I thought that raising the minimum wage was the best way to help people increase their pay I would be all for it...in the 21st century, it's a disaster."
OTHER SOCIAL MEDIA NOTES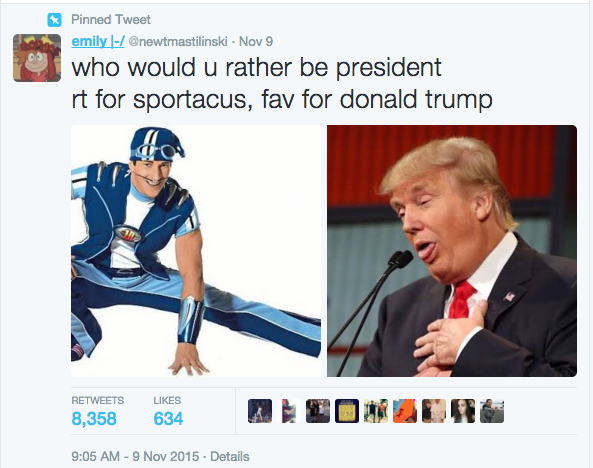 Besides having the most mentioned handle of the evening, Trump was also behind four of the top ten most re-tweeted tweets. The number one spot, however, went to a user with the handle @newtmastilinski, who tweeted an image of Trump next to the character Sportacus from the UK children's television show Lazy Town.
Qualifying candidates will participate in the next GOP debate, hosted by CNN and Salem Radio, on Dec. 15.