Politics
CNBC Moderators Lose 3rd GOP Debate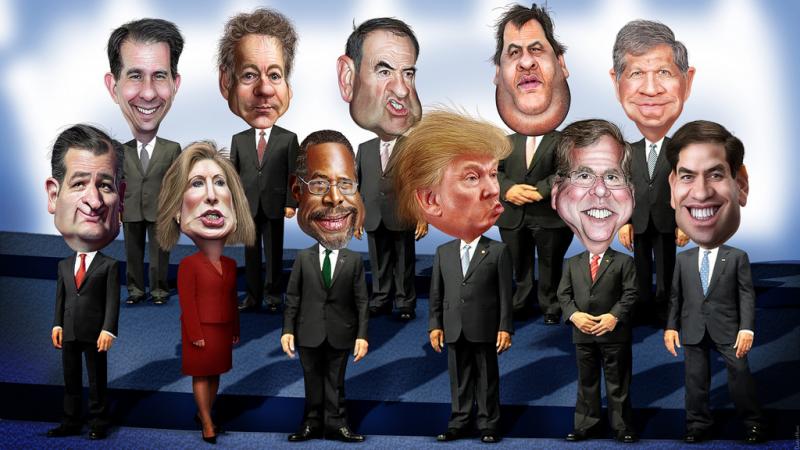 As Trump and company took the stage Thursday night, the nation's collective attention was directed to CNBC for another verbal joust between conservative candidates. The third Republican debate, called "Your Money, Your Vote: The Republican Presidential Debate," was dedicated to financial issues and pushed candidates to give more policy than rhetoric than the usual debates.
Resident moderators Becky Quick, Carl Quintanilla, and John Harwood opened the debate with a common job interview question, much to the delight of the audience. Though soon the discussion took an instigatory tone, and the candidates bonded over a shared loathing of the CNBC moderators' off-base inquiries. Sen. Ted Cruz, whose standing has risen in the polls, lamented the line of questioning, and pointed to the apparent ego-stroking of the Democrats. He mocked the mainstream media's treatment of the left.
"Which of you is more handsome and wise?" he quipped, to the rapturous applause of the audience.
The harmonious moment was soon cut short though, as the debate devolved into a shouting match between candidates, with insufficient moderation from CNBC.
Ohio Gov. John Kasich opened by swinging at Dr. Ben Carson, mentioning the neurosurgeon's unrealistic, biblical "tithing" flat-tax plan. Kasich then poked holes at Donald Trump's plan to deport millions of immigrants back to their native countries. The hostility continued throughout the debate.
READ MORE: Twitter On Fire During Third Republican Debate
The ten candidates battled for airtime, each giving their version of fiscal reform. The CNBC debate, Your Money, Your Vote…, was the first debate focused solely on financial matters. Yet, the two resident CEO's, Trump and Carly Fiorina, were relatively silent on the topic. Both regurgitated statements from previous debates, mostly defending their multiple bankruptcies and failed leadership, respectively.
Bizarre moments were aplenty, as Jeb Bush mentioned giving a democrat a "warm kiss" if capable of cutting government spending. Ted Cruz offered moderator Carl Quintanilla substances, "I'll buy you a tequila, or even some famous Colorado brownies."
Although positioned far from center stage, it was Florida Sen. Marco Rubio who stole the show. Florida Gov. Jeb Bush attacked Rubio's time-management skills — allegedly the young Cuban's presidential campaign has impeded his ability to serve his Floridian constituency.
Bush asked for his resignation on-air, "you should be showing up to work," he said, scolding his former mentee. Rubio retorted with a zinger of a dismissal, "someone has convinced you that attacking me is going to help you."
READ ALSO: Twitter Reacts To First Democratic Presidential Debate
Sen. Rubio wasn't only confronted by old colleagues, the moderators also came after him, suggesting his own financial ineptitude would affect his ability to govern as president.
"I'm not worried about my finances, I'm worried about the country's finances," he told the moderation panel.
Moderator Becky Quick pressed Rubio on his million-dollar book deal.
"I used it to pay off my loans. And it's available in paperback!" the Senator proclaimed to a captivated audience.
Sen. Rubio and Ted Cruz, were the contentious standouts of the debate, out-yelling the former frontrunner Trump. This will likely be reflected in the polls, and potentially solidify Rubio's position in the top three.
The center-right Senator may be able to swing the vote from away Democrats (and the hold-your-nose Clinton vote). Compared to the radical potential candidates, Trump and Carson, Rubio may actually deliver a winning Republican ticket come 2016.
Reach Contributor Razzan Nakhlawi here, or follow her on Twitter.