California
At Least 14 Victims And 2 Suspects Dead After San Bernardino Mass Shooting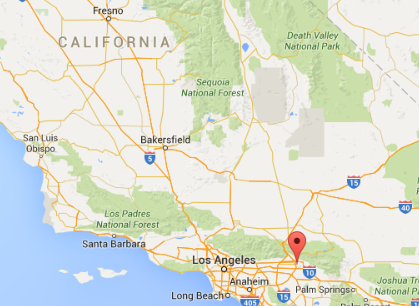 14 people were killed and at least 17 were injured in a mass shooting in San Bernardino at the Inland Regional Center today. Police say upwards of three shooters were involved. Two of those suspects were killed after a standoff with police hours after the shooting, but the third suspect is still running through a neighborhood near San Barnardino Avenue. One suspect is down and police are still actively pursuing the other shooters who killed at least fourteen people in San Bernardino today.
Two suspects are dead and have been identified as Syed Rizwan Farook, 28, and Tashfeen Malik, 27. A police-involved shootout with the suspects occured when officials chased a dark SUV that had been linked to the initial shooting scene after it left a Redlands that police were investigating.
One San Bernardino officer was injured but did not suffer life-threatening injuries.
The San Bernardino Sheriff said a holiday party with government officials present was happening in the complex during the shooting. The social services center where the shooting occurred serves people with developmental disabilities in the area.
Police official on #SanBernardino suspects: "They came prepared" as if "on a mission" https://t.co/Kr3E8XS9pbhttps://t.co/00EcsvToef
— CNN (@CNN) December 2, 2015
Officials called the shooting an act of domestic terrorism, but said they don't know if the shooters had a motive. The Sheriff also said the shooting was heavily premeditated, adding that the suspects "were on a mission" and heavily armed. Shooters came prepared, potentially dressed in military style clothing and potentially wore masks.
Police have shut down the area near the social services center while they are looking for the shooters.
President Obama has been briefed about the shooting. No additional gunshots have been heard in the area, but we still don't know if any shooters are still active in the building. Police may have also found an explosive device inside the Inland Regional Center, the site of the shooting.
The facility is very large, so officials are saying it will take time to search the three building complex for any potential suspects or any other victims.
President Obama held a press conference Thursday morning, saying the shooting was possibly related to terrorism or workplace violence, but again, we don't know for sure what the motive is at this time.
Obama added that right now, it's "too easy" for people who want to kill others to get access to dangerous weapons.
The social services center where the shooting occurred serves people with developmental disabilities in the area.
We will continue to update this story as more details come in.
This story was originally posted at 1:28 p.m. PST on 12/2/15, and was last updated at 9:10 a.m. PST on 12/3/15.