Arts+Culture
The Fashion(ista) End Game: The Runway To Your Future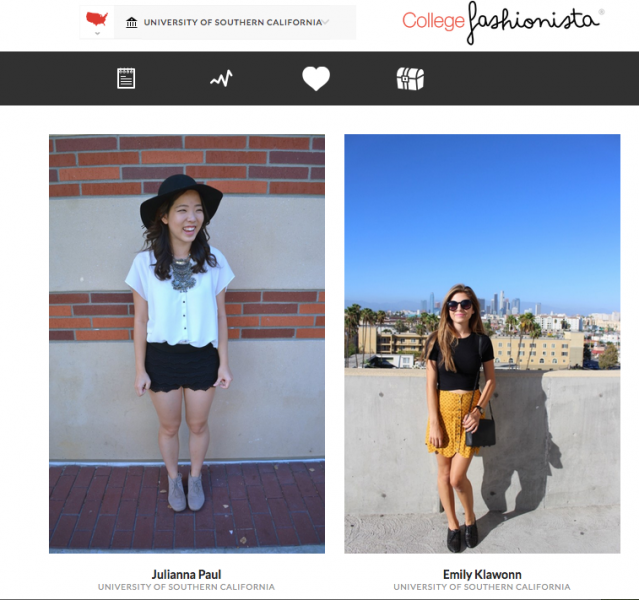 Lauren Black
hides at a table, sporting a stripped tee tucked into ripped, jean shorts, accessorized with a leather belt and mirrored sunglasses. Planted in a far corner of the University of Southern California's Campus Center, Black scrolls through a collection of fashion images on her laptop. It's her first year as a
CollegeFashionista
style guru.
With more than 800 "style gurus" on over 500 university campuses nationally and internationally, CollegeFashionista, a student oriented fashion blog, is trending.
"When I am looking for someone to shoot, I look for a head-to-toe outfit."
Black is a true Southern California girl determined to make it big in the fashion industry. The USC senior has always been a fashionista; her passion for fashion began at an early age. "I used to steal my sister's Seventeen Magazines," she says. Black began to express her personal style in high school and soon came to the realization that she wanted to make fashion her future career.
READ MORE: Midriff Politics: When And Where Should Girls Rock The Crop Top?
"I put a lot more effort into what I wore in high school," Black laughs. By the time she got to college, Black began to embrace the California "laid back style," with a hint of European influence. After living abroad in Paris, she became a fan of the sneaker trend, which is now her go-to look.
"This is one of the few times I'm not wearing sneakers with my outfit," she says as she points to her black, leather booties. "But, I really love Adidas and Nike, not just with workout clothes because that's a common thing in L.A., but with an actual outfit and sneakers as a part of the look."
The Public Relations major and personal fashion blogger wanted to build a solid writing foundation and make connections in the fashion industry, so she applied to become a style guru, and landed the job.
The CollegeFashionista style guru position helps girls and guys build their own brand as a "fashionista," while spotlighting the gurus as on-campus celebrities. As a style guru, students become fashion critics, seeking out the girls and guys who exemplify "trendy" on their prospective campuses. Students who apply are vetted for the coveted position, and only the chosen few become official campus tastemakers.
"It not only gives me a better platform and something to link to on my resume, but it has also become a really cool network for me, not only amongst the gurus, but more so with the opportunities they give us. For example, the live fashion talks on Twitter and being able to get in contact with people I never would have had the chance to."
READ MORE: 90s Fashion Trends: Yay Or Nay
Black mentions CF's recent live Twitter talk with authors, Lucy Skyes and Jo Piazza, of "The Knockoff," the new fashion-fiction novel dubbed "Juicer than The Devil's Wears Prada," according to critics.
Aside from opening doors to the otherwise closed-off fashion industry, CF likes to make sure that their readers and gurus get insight from young fashion moguls who are currently living their dreams. In early September, CF did a sequence of interviews called: "What I Know Now" with Erin Cunningham, New York editor of fashion and lifestyle website, Refinery 29, and Jen Mulrow, Beauty Assistant at Glamour Magazine. What do these two industry members have in common? They were former style gurus, of course.
Mulrow was CF's first style guru at Yale in 2010, when the site was still growing. "I liked that it fit so well into my schedule, since all of the assignments were done online and I would be able to get experience while still attending school."
Mulrow attends the top fashion events in the city, takes snap shots of models, and tests the new make up trends all while brushing elbows with celebrities. During Fashion Week, Mulrow spent her days shooting models backstage and mingling with some of the top power-players in the industry, but she takes a moment to reminisce about running around campus searching and shooting for CF while at Yale.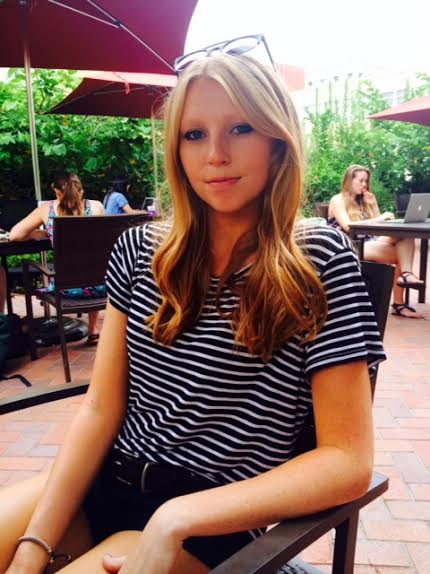 "I definitely think that this is a good internship to have on your resume. You are able to building an accessible archive of written work online and show active interest and engagement in the fashion community."
READ MORE: 'Do My Boobs Make Me Look Slutty?' And Other Busty Girl Problems
At USC, it's not hard to spot the well-dressed girls wearing the latest fashion trends. Fashion-forward girls on campus sport everything from Birkenstock shoes to designer backpacks, sheer, burnt-out tees and slip-on sneakers, over-sized sweaters, crop tops, and flannels (predominantly worn around the waist, for cooler temperature purposes if the weather allows). Like Mulrow, Black's duty as style guru for USC is to spot the hottest trends on fashion-savy students, snap photos, and create a short editorial about the look to add to the archive of trendy college students for USC's CF page.
"I either write about what the outfit is good for, occasion-wise, or a specific trend they are wearing or a beauty look. I like every part of the outfit to be 'on point,' so that there is just so much to write about and I have enough to work with."
Recently, CF teamed up with the finance "gurus" of Goldman Sachs to create a study on the top fashion brands on college campuses. The "Back to School" inspired study included the opinions of 867 style gurus who Sachs views as the "leading indicator for apparel industry trends because of [their] high personal interest in fashion and because college-aged individuals are regarded as influencers for many apparel retailers and brands."
READ MORE: Paris Fashion Week 2015: Valentino
Sarah Darrow is a new addition to the CF team in Chicago. While the New York team focuses more on sales and marketing, Darrow's Chicago team focuses on the editorial side of the site. The former Northwestern style guru holds the position of Editorial Manager. "I deal with scheduling all of the Style Gurus' posts and working with our editors."
Darrow oversees the campus gurus and is their main source of contact for publishing features on the site, and now that she is on the other side, she attributes her fashion writing and an editorial skill to her CF intern experience.
"I just like knowing that this internship is helping girls and guys further their career goals or side interests—whatever this is to them. If I'm helping anyone in any way, then I'm happy."
Ultimately, the guru program allows students to become members of an exclusive fashion network, providing them with access to opportunities that can help establish future careers in the fashion industry. As CF continues to grow, so does the army of style gurus. And just like Black, they have their eyes set on the future runway ahead.
"Being a style guru is just the perfect platform to start getting my name out there. At the end of the day, I get to make it my own, but also benefit from the advice of an amazing team of people that are just as passionate as me."
Reach Contributor Morgan Evans here.