Style
Midriff Politics: When And Where Should Girls Rock The Crop Top?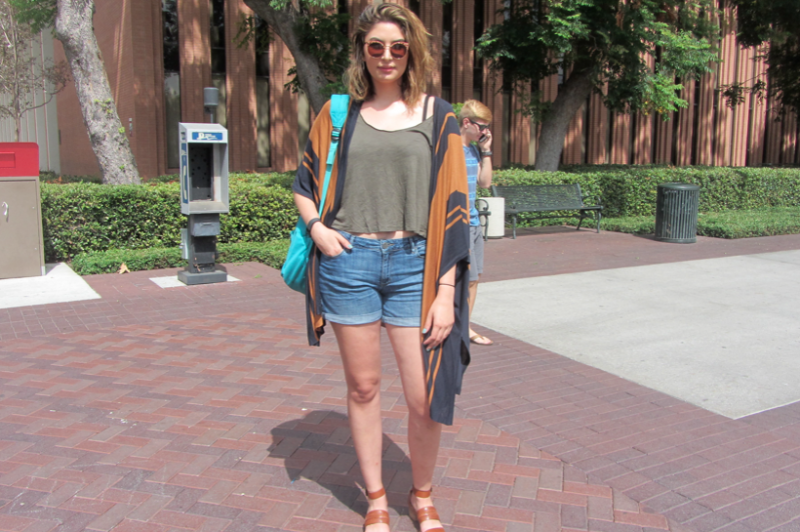 Walking around the USC campus, it's not hard to spot the well-dressed girls wearing the latest fashion trends. Girls can be seen sporting everything from overalls to Birkenstock shoes, Herschel backpacks and burnout tees, slip-on sneakers and flannels (especially worn around the waist), and different variations of the crop top.
But as popular as the crop top is on campus, the midriff-baring trend is a fairly controversial topic.
READ MORE: 'Do My Boobs Make Me Look Slutty?' And Other Busty Girl Problems
Mary Sherman, a junior at USC, is a fan of the crop top trend and feels that it's okay to show a little midriff skin every now and then. "I don't think there's anything wrong with showing that part of your body, as opposed to your arms or your legs... like what makes it any different, I guess?"
READ MORE: 90s Fashion Trends: Yea Or Nay
Yet, Shannon Delijani, a vocal performance student at USC's Thornton School of Music, expresses how a crop top may be viewed as too racy for class.
"I think it depends on how you style it, and it also depends on the context of the class that you're in, and what your major is and what you're doing," she said. "Some of my classes are pretty casual and the teachers are pretty casual. If you've just got a strip of skin showing, then it's one thing, but if you're wearing a short crop top with low rise jean, that's a little bit less appropriate for class."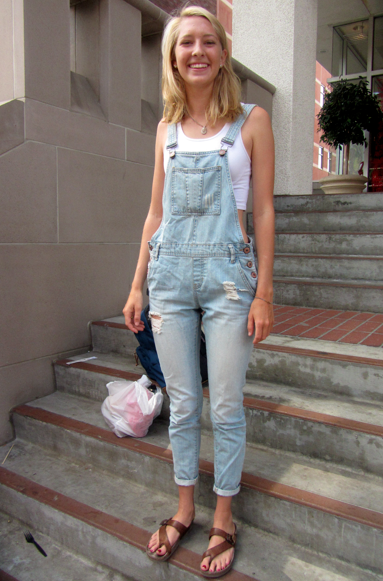 While Delijani admits that fashion is for self expression, and people should wear what makes them feel good, the singer admits that if she was in a different major, she might not be too inclined to sport the revealing trend. "I wouldn't necessarily want to walk into a bio class with tiny crop top and no sleeves on."
READ MORE: Girl Halloween Costumes That Don't Suck
Why, one may ask, does a couple inches of bare skin spark so much debate? Such is the course of fashion history: women's fashion trends evolve to show more skin, and slowly the exposure of that body part is normalized.
Daniel Durbin, the director of USC's Annenberg Institute of Sports, Media and Society, discusses the transition of women's fashion over the last few decades.
"There's always a perpetual change in fashion. When I first was teaching at USC back in the late '90s, the designer jean industry was in a gestational phase, but by the mid 2000s – 2005, 2006, if you didn't have designer jeans, you didn't belong on USC's campus. You don't see too many Levi's around here," he joked.
Durbin teaches a communications course called "Fashion, Media, and Culture." The class examines fashion as a form of communication and how what's currently considered fashionable or trendy is constantly affected by today's Hollywood and youth culture.
"But, there's a transition going on towards leggings, and Lulu[lemon] is showing up all over campus and replacing designer jeans as the one of the kinds of clothes du jour, so it's constantly and evolving process for women and men," he says.
Durbin describes the 1920s and '60s as decades that mark pivotal fashion moments for women. "In the 1920s in the jazz age, there was a complete change of clothing for women…up to that point, women had worn clothes that had multiple layers," he said. "It was not only burdensome, but almost an imprisonment of women's clothes before the 1920s." But the Roaring Twenties brought freedom in the form of lighter, looser dresses: "The flapper era started, and the flapper clothes were short skirted, flat-chested clothing that deemphasized the hourglass figure," said Durbin.
According to Durbin, the 1960s were a time when women began to break free of the cookie-cutter, housewife fashion mold by wearing more "unisex type of clothing, jeans, and pants as opposed to dresses."
When asked whether or not he finds the crop top trend appropriate for girls to wear to class, he laughs. "Sounds like we're talking back in the 1960s. 'Should we be able to show midriffs on the I Dream of Genie Show?'"
A funny comment, but Durbin has a good point. It's 2015, not 1965.
But even though taboos on revealing clothing are further lifted with each major fashion movement and women have made enormous progress in wearing whatever they want, reluctance to "show too much" continues to prevail even among the most fashion-forward set.
Renee Swanberg, a senior at USC and vice president of membership for USC's Fashion Industry Association, feels that the trend is inappropriate for class.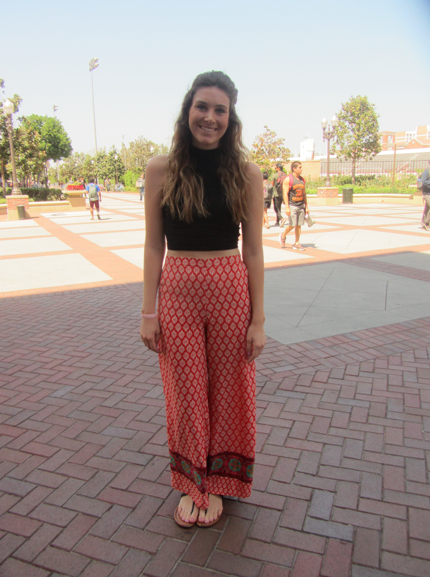 "I am huge fan of the '90s in general and the crop top. I'll wear it going out, but in class I cannot do, unless I am wearing with a highwaisted skirt. Just because, for me, class is still a professional setting in a sense. I don't want a professor to think of me differently for what I'm wearing," she said.
She says that ultimately, it's a personal choice, but she doesn't consider crop tops professional enough for school. She's a business minor, which makes her reluctant to wear crop tops or "body-con pencil skirts" to class.
"I don't think there necessarily needs to be any restriction on wearing crop tops. It's your choice, it's your body. I not going to judge anyone for doing it, I mean, because that's what fashion is all about. You do you, but me personally, I wouldn't go up to a professor or faculty in a crop top."
So, why are some still reluctant to embrace the crop? Durbin touches on the idea of a "female tastemaker society" in which a handful of women trendsetters regulate style standards and how women's fashion trends are monitored intentionally for the growth of the fashion industry.
But in addition to the women, there are also the men.
"We live in a patriarchal culture where we tend to objectify the female body, which also leads to the constant monitoring of what women wear by men and women," said Durbin. "It's all part of the social politics of keeping the order as it has been."

Contact Staff Reporter Morgan here and follow her on Twitter here.