Columnists
'Do My Boobs Make Me Look Slutty?' And Other Busty Girl Problems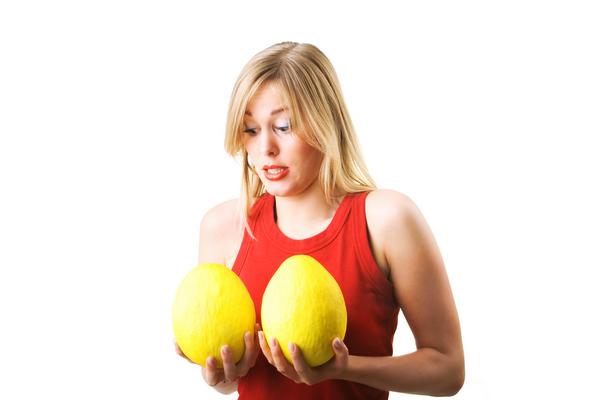 We must, we must, we must increase our bust. The bigger, the better, the tighter the sweater, the boys will like us.
This is the jingle my friends taught me in the gym locker room in the fifth grade. Many of them had learned the literary rhyme from their mothers and friends, without knowing it actually came from The New York Times Bestseller "Are You There God? It's Me, Margaret." If only we knew that, in the years to come, we would soon discover that trying to "increase our bust" or even just being "blessed" with large breasts might actually cause us more pain than pleasure.
To this day, I still haven't encountered a guy who knows how to take off a bra my size. I have this crazy idea in my head that I'll know I've met "the one" when I start dating someone who casually undoes my 34DDD without stoping to stare, or to ask, "What is this contraption?"
Like most women, my bra size fluctuates, depending on weight, the time of the month, medication, etc. But I wasn't one of the unfortunate girls cast with boobs in the third grade; instead I was "the late bloomer" who didn't start growing until the end of the ninth grade. Suddenly, I shot up to 5 feet, 9 inches and needed a D-cup bra. I was thin, with perky boobs that I pushed up with the help of the Wonderbra from Victoria's Secret.
Throughout my sophomore and junior years of high school, I never thought of my chest as a nuisance. My "coke bottle figure" was a gift from the gods, and I loved myself so much more because family members, girlfriends and male companions would tell me how I had "such a beautiful figure," which really just meant I had a tiny waist and huge breasts. My cleavage only became a problem because it continued to grow, and with its growth came back problems, the struggle to buy affordable bras and the constant changes in sleeping from one way to another, based on the size of my chest each week.
But large breasts aren't all they're made out to be in the social sphere, either. When I talked to other female college students with larger breasts, most of them expressed a sense of fear and anxiety about how their breasts impact the way they are treated by men and other women. Said one woman studying Sociology, Social Policy & Practice at Tulane University:
In middle school, I was hurt when boys said I was a slut because my boobs were big but my body was small... meaning i must stuff my bra. I like them now because they are mine to show or conceal and I like choosing who touches them. However, I worry guys get too fixated on them and don't give my face, hair, or body any notice.
A junior studying Chemistry at Chapman University expressed similar concerns when she explained:
I was on vacation and was wearing a tank too that was a little low cut, it actually was a friend of mine's I borrowed that day. When I wore the shirt I got numerous comments and looks from her family members. One of them (a teen around my age) told me to change into something less slutty and actually pulled my shirt up.
But as much as women focus on their breasts and bra sizes today, the concept of the bra is just over a century old. According to the American Vogue piece "Turning Points THE BRA," the bra started out "in Paris with the exhibit at the Exposition Universelle of a new invention from Herminie Cadolle, a corsetiere." The term bra was not widely advertised in the United States until it was first used in the December 1904 issue of Vogue.
The "backless" brassiere would quickly become popular thanks to New York glamour girl, Mary Phelps Jacob, and her crafty use of two handkerchiefs and a ribbon. But non-metal bras did not become widely popular until the beginning of Word War I, when metal was in high demand for ammunition, so women stopped purchasing it for corsets. "Busty Girl Problems," however, have been around for at least that long, considering 1920s brassiere ads encouraged women to purchase bras to "correct and flatter individual bust problems."
These issues are a universal experience, and the 2012 "boob map of the world" revealed that Russians and Scandinavian women actually have the largest breasts on average. As of 2013, American women wear a 34DD on average, but still face struggle to embrace their bust at its natural size, in a society that consistently labels breasts as "too small" or "too large."
In Los Angeles, once an actress has reached "B-List" celebrity status, people often question whether she has or will get breast implants. Countless celebrities have undergone plastic surgery to enlarge their breasts, only to regret the experience. An example that stood out to media and women across the world was the ex-"Hills" star Heidi Montag's decision to get multiple surgeries, including, but not limited to: "back scooping," a nose job, cheekbone and chin jobs, breast implants, an eyebrow lift and more.
Since 2010, the ex-reality TV actress has undergone ten procedures, but seriously regrets ever changing her body. After enduring the procedure(s), the stress of her new and improved F-Cup physically and emotionally weighed her down, and even resulted in serious injuries in her spinal chord and back muscles (which demanded even more surgery).
Montag stunned the world when she made the conscious choice to get a breast reduction from her new F-cup to a C-cup. It is pretty awful to hear that she had to go through numerous procedures to realize that she could be beautiful without fake breasts, but at least her painful experience served as a warning for thousands of women about the implications of cosmetic surgery.
READ MORE: 7 Misrepresentations of Women in Media
But not all women undergo plastic surgery for purely cosmetic reasons. Oscar-winning actress Angelina Jolie shocked media worldwide when she made the wise decision to undergo reconstructive breast surgery. Jolie's mother lost the battle to ovarian cancer at age 56, and her own battle against cancer prevention began in early 2013, when she discovered she had inherited the BCRA1 gene from her mother. In Jolie's New York Times piece "My Medical Choice," she says:
My doctors estimated that I had an 87 percent risk of breast cancer and a 50 percent risk of ovarian cancer, although the risk is different in the case of each woman. Only a fraction of breast cancers result from an inherited gene mutation. Those with a defect in BRCA1 have a 65 percent risk of getting it, on average.

Once I knew that this was my reality, I decided to be proactive and to minimize the risk as much I could. I made a decision to have a preventive double mastectomy. I started with the breasts, as my risk of breast cancer is higher than my risk of ovarian cancer, and the surgery is more complex... But I am writing about it now because I hope that other women can benefit from my experience. Cancer is still a word that strikes fear into people's hearts, producing a deep sense of powerlessness. But today it is possible to find out through a blood test whether you are highly susceptible to breast and ovarian cancer, and then take action.
Regardless of a woman's reason to change her breasts, it is her choice. But sadly, public opinion seems to support the idea of increasing one's breast mass much more than reducing it, because of the connection between femininity, beauty standards, and how breasts are valued as both commodities and symbols of attractiveness, particularly in the American context. So what about the busty women, like Heidi Montag at her F-Cup size, who may not be able to carry the weight of their chest? Should they be shamed for considering reduction? Should they be shamed for taking pride in their chests and "working with what they've got?"
READ MORE: Angelina Jolie's Decision Was Brave But Is It Possible For All Women?
In recent years, social media applications that are centered around pictures have been breeding grounds for slut-shaming. Journalists and scholars may toss this concept around lightly, but it actually means "defaming a woman for the presumed frequency of her sexual activity." An assumption that unfortunately comes with having large breasts in contemporary society, and feeling confident enough to wear a tank top on a summer day. In 2012, the popular meme "Hey Girl, Did You Know?" spread across Tumblr and Instagram so quickly, that its (former) Facebook page received over 40,000 likes before being taken down.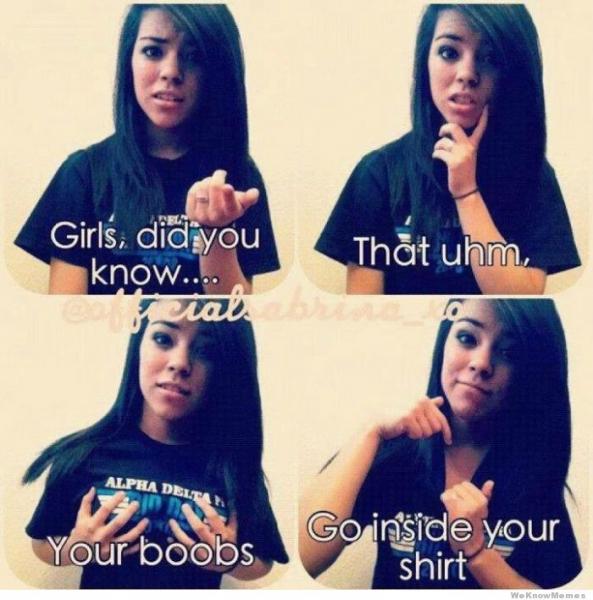 Tumblr user officialsabrina_xo may have been trying to make some political commentary about women respecting themselves, but she just ended up shaming other women for utilizing their free will. This meme serves as a great example of how social media encourages woman-on-woman slut shaming. More so, how social media prompts slut-shaming of women with features that may stir envy or resentment in other women. From "busty" cleavage to to thick hips, no matter how low one's waste line runs or how much one's breasts pop out of a tank top, telling a woman her (insert body part) should remain inside her clothing is not only sexist, but also outdated.
It his hard for me to believe that this user on tumblr has never worn a tank top to intentionally show her curves, or to just cool off during the hotter months of the year. I completely respect women who choose to cover their bodies for religious or health reasons, but the idea that all women should be covering up is both unrealistic in 2014, and almost impossible to do with large breasts.
I know that there are certain tops I am told "I can't wear" or "shouldn't wear" because my chest will not remain perfectly flat and still while I walk down the street. And this photograph makes me feel as though my willingness to still wear tanks tops or crop tops with a size 34DDD says that my comfort with my body makes me "a slut."
I hope that the women who saw this image did not feel a need to hide or cover their breasts because of the comments and shaming that hit the internet. I know girls who intentionally cover their large breasts with baggy, "hobo-chic" sweaters or several layers of sports bras, to flatten and tighten hold of their cleavage.
But sometimes it is nice to know that you can walk outside, in shorts and a tank top, and just not care. Regardless of a few creepy whistles or looks of disapproval from fellow women, there is nothing wrong with refusing to be ashamed of the way you were made, and refusing to let your so-called best asset define who you are going to be.
"Shameless" is a series by NT Columnist Maya Richard-Craven on shame and social status in the millennial generation.