USC Sports
Coach Steve Sarkisian Sums Up National Signing Day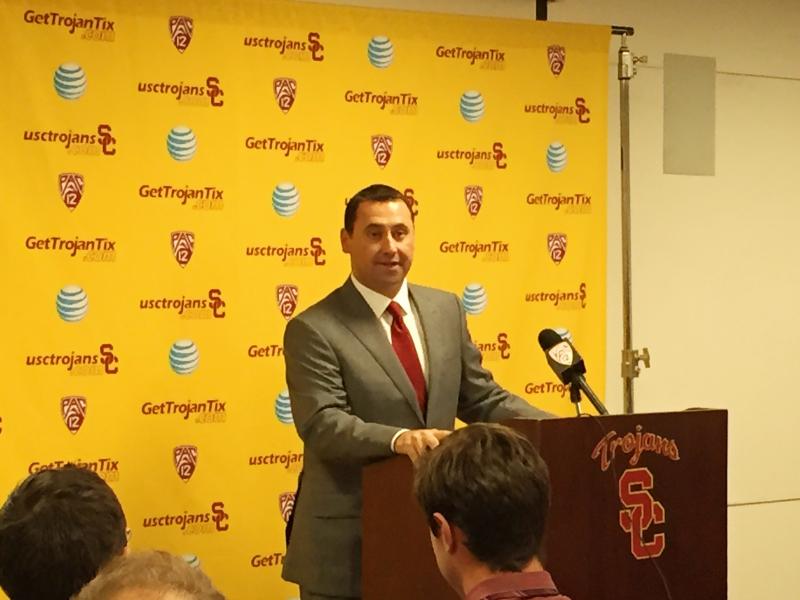 After a historic National Signing Day for USC football, Head Coach Steve Sarkisian addressed the media on the Trojans' success and emphasized moving on to the next phase of the process.
"The race begins tomorrow to get these guys prepared to play this fall," Sarkisian announced.
Those "guys" are 12 Top-100 recruits, including four five-stars and 15 four-stars, as well as seven more three-star recruits, per Scout.com.
Headlined by the No. 1 cornerback in the nation Iman Marshall, the No. 5 defensive end Rasheem Green and the No. 6 outside linebaker John Houston, the Trojans swept their Signing Day targets on their way to the No. 1 recruiting class in the country.
READ MORE: See USC's 2015 Recruiting Class
Sarkisian acknowledged the top-ranking and made sure to note the improvement of this year's recruiting class as opposed to last year.
"This year around, we were a lot more calculated." Sarkisian admitted. "It came out exactly how we wanted to."
USC did not miss out on a single target, as the Trojans completed the famed "Drive For Five" by bringing in Marshall, Green and Houston, as well as linebackers Porter Gustin and Osa Masina on earlier dates.
Clearly, the focus was both on in-state recruits and on defense, as Sark touted that those are the type of players USC has been focused on getting.
"We're gonna make our living in Southern California," Sark said, and in regards to out-of-state talent he said, "[USC] recruits guys who we think can be first-round draft picks"
As for the heavy influx of defensive recruits, Sark said he was looking for athleticism and power, among other important characteristics, while anticipating the departure of defensive lineman at the end of next season.
"We really tried to get more size, more range," he emphasized. "Big, long and strong."
Apparently, that also means recruiting players who are able to play on both sides of the ball. During his press conference, Sark hinted at four possible players who could also see time on offense: LB Osa Masina, CB, Ykilli Ross, LB Porter Gustin and CB Isaiah Langley.
READ MORE: Five-Star Linebacker Porter Gustin Commits To USC
Where exactly those players would fit in on offense or what kind of roles Sark intends for them to have remains to be seen, but he made it clear the team needed to get stronger, both physically and mentally.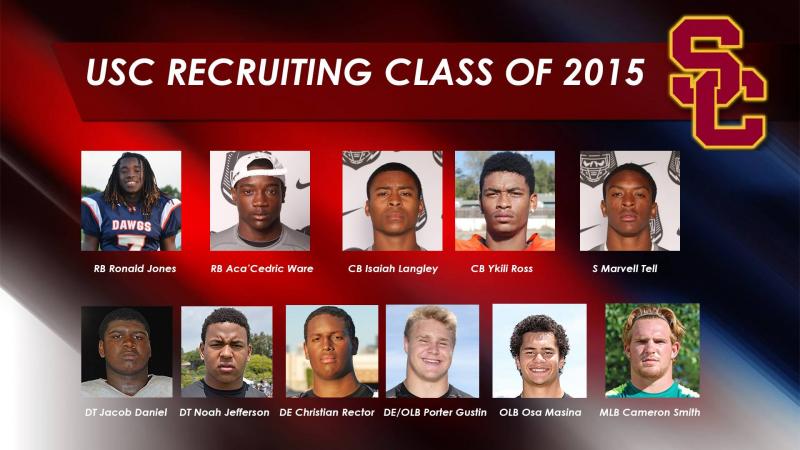 "We need to build a football team that has the potential to be a bully."
From the offense to the defense, Sark addressed nearly all incoming players, lauding their talents and ability, including the incredible speed that both running backs, Ronald Jones III and Dominic Davis bring to the backfield.
"Dominic Davis might be the fastest guy in the state of California. Ronald Jones might be fastest guy in the state of Texas."
He cited the staff's impression of incoming QB Sam Darnold who "blew them away", while also addressing the importance of incoming TE Tyler Petite due to the lack of depth at the position.
When prompted for a retroactive look at how this past season went, Sark made sure to reitirate that the focus should now to move forward and improve.
"We've shifted the mindset, we're here to win championships," he said. "These guys came here to win championships."
There was certainly no shortage of hype-laden words, as Sark spoke highly of the USC brand and how it translates to not just recruiting, but also winning.
"We all chose to come to USC, We chose to come here to be the best," he declared. "USC provides the platform to do that"
What also comes with the USC name and brand is a substantial amount of hype and expectations. And after ending up with the top recruiting class in the nation, that hype and pressure will now only rise to even higher levels.
READ MORE: Five-Star CB Iman Marshall Commits To USC
But Sark seemed to embrace it all, and who wouldn't after looking like the nation's best recruiter on Signing Day, even ousting the great Nick Saban at Alabama (No. 2 on Scout.com) and becoming only the fifth class since 2002 to have at least 12 Top-100 prospects.
"I don't have to say this is how we're going to win a national championship," he argued. "A national championship is a by-product."
The next step in the journey toward that by-product begins on March 3, when the Trojans commence spring practices.
Reach Associate Sports Editor Paolo Uggetti here, or follow him on Twitter at @PaoloUggetti.