Los Angeles
Five-Star CB Iman Marshall Completes 2015 Class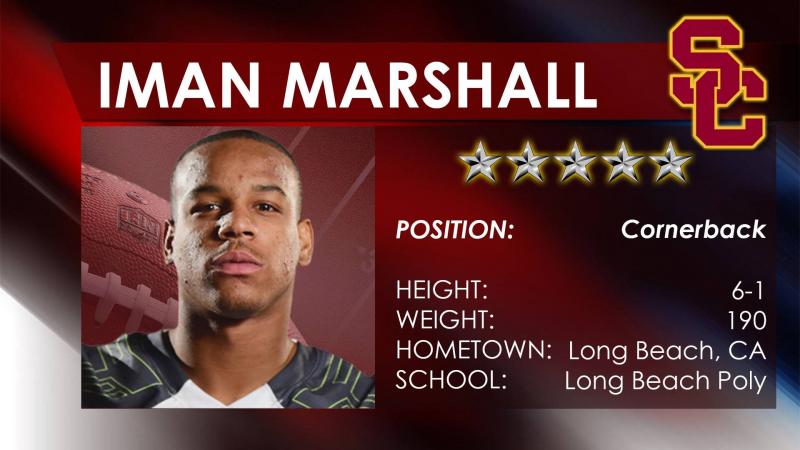 Biggie, Biggie, Biggie is going to USC, as the Trojans' master recruiting plan panned out to perfection on National Signing Day. Five-star cornerback and Top 5 national recruit Iman Marshall became the final addition to the Trojans' 2015 class Wednesday after announcing his commitment in a ceremony at his high school. He chose USC over Michigan, Florida State and Notre Dame.
Spurning the usual ESPN announcement on TV, Marshall chose instead to release a music video of his own to give his college choice. You can see the video here on Bleacher Report.
READ MORE: Five-Star Linebacker John Houston Commits To USC
Marshall joins high school teammate JuJu Smith, as the two both played wide receiver at Long Beach Poly. But while Smith switched to solely offense in his freshman campaign, Marshall might better serve the Trojans in the secondary. Marshall and Ykili Ross, who committed at US Army All-American Bowl in January, give the Trojans have a pair of cornerbacks ready to step in and play as freshmen. While Adoree' Jackson and Kevon Seymour should have the starting cornerback spots locked up heading into fall, the secondary has been a injury bug-bitten area in the past so depth is crucial.
READ MORE: USC nabs Top 50 linebacker Porter Gustin
Just looking at Marshall's tape, you can tell his biggest strength is playing in man coverage. His size will allow him to get physical with opposing wideouts. He's not the speedster Jackson is, but will be tough to get caught out of position considering the strength advantage he'll also likely have.
Josh Shaw is gone, but the core of USC's secondary returns in 2015. Yet, Marshall is almost sure to see the field after Jackson and Smith lit it up as similarly regarded freshmen. USC's use of freshmen in 2014 made headlines, and Marshall's addition gives them a reason to continue the trend.