Sports
See USC's 2015 Recruiting Class
USC finished with Rivals.com's top recruiting class in the nation after Wednesday's National Signing Day. The Trojans notched late commitments from Iman Marshall, John Houston, Rasheem Green and Porter Gustin, swinging a quartet of five-star commits into the school's most acclaimed recruiting class since the Pete Carroll days. Start to get used to these faces, as they represent USC's first recruiting class not affected by the sanctions imposed in 2010.
Check out USC's offensive commits from the 2015 class: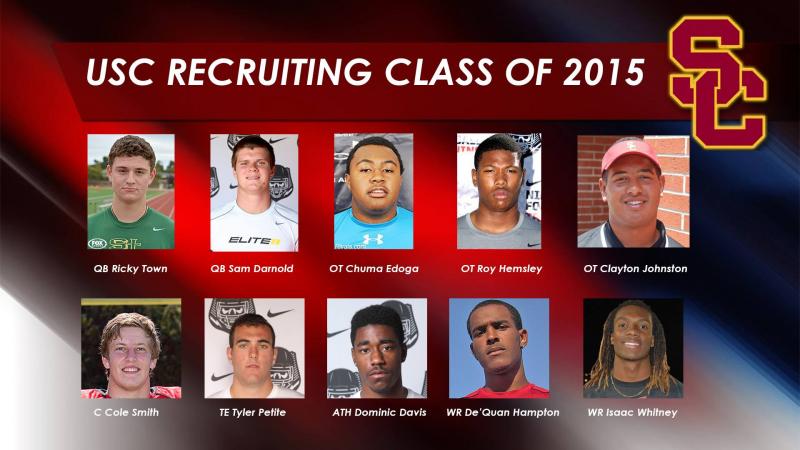 Quarterbacks: Ricky Town (6'4", 205 lbs.) and Sam Darnold (6'4", 209 lbs.)
Town has been seen as the future for USC for some time, with a prototypical frame and the arm to succeed at a high level. Darnold has been a late riser, and is a more of a runner than Town. The two will be sure to give Max Browne competition in 2016 in the post-Kessler era.
Running Backs: Ronald Jones II (6'0", 185 lbs.) and Aca'Cedric Ware (6', 196 lbs.)
Jones II is arguably the top running back prospect in the 2015 class, and has elite feet and moving ability for an exciting running style. Ware makes the Trojans 2-of-2 on running backs from Texas, and has the power to possibly get some time as a third-down back early on in his time at USC.
READ MORE: Five-Star CB Iman Marshall commits to USC
Wide Receivers: De'Quan Hampton (6'4", 220 lbs.) and Isaac Whitney (6'4", 220 lbs.)
USC is bringing in a pair of junior college recruits to help wideout depth after Nelson Agholor and George Farmer left early for the NFL draft. The pair's size is what stands out, and should be big targets for Kessler's successor to work with.
Tight End: Tyler Petite (6'5", 225 lbs.)
Petite switched from Duke to USC in January, and is a useful addition for a position that is more emphasied in Sarkisian's offense than the Kiffin days.
Offensive Linemen: Chuma Edoga (6'3", 280 lbs.), Clayton Johnston (6'6", 281 lbs.), Roy Hemsley (6'6", 280 lbs.), Cole Smith (6'3", 270 lbs.)
The gem of this class is Edoga, a guard out of Georgia who's already on campus for spring practice. The other three might need a little more seasoning, but USC is a good spot with O-line depth, meaning it's less likely they thrust freshmen into the starting lineup like 2014.
Note: The graphic below does not include Green, Houston, Marshall and Scott all of whom committed Wednesday: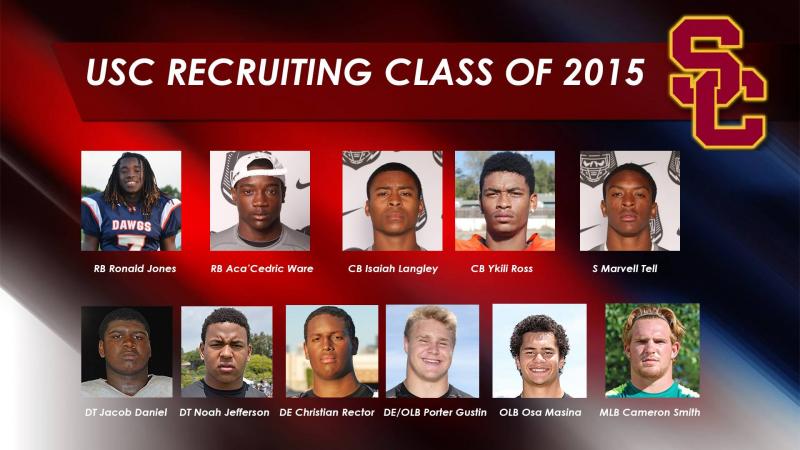 Defensive Linemen: Rasheem Green (6'5", 275 lbs.), Jacob Daniel (6'4", 310 lbs.), Kevin Scott (6'5", 280 lbs.), Noah Jefferson (6'5", 271 lbs.), Christian Rector (6'3", 255 lbs.)
Daniel is the run-stopper of this class, and could see a role early in Justin Wilcox's defensive front. Green looks like he'll be an elite pass rusher down the road, with great quickness for his size. Jefferson might need to bulk up, while Rector is a balanced pass-rusher. Scott was the final addition to the Trojans' class, and projects as another rusher off the edge for Wilcox.
READ MORE: Top Linebacking Prospect John Houston Headed To USC
Linebackers: John Houston (6'3", 211 lbs.), Porter Gustin (6'5", 245 lbs.), Cameron Smith (6'3", 225 lbs.), Osa Masina (6'3", 230 lbs.)
This trio could be a big part of things to come for USC in the middle of the defense. Houston is one of the top linebacking prospects in the 2015 class, and a tackling machine. Gustin and Masina are out of Utah and will be huge assets for a Trojan team that has shown a tendency to struggle tackling defenders in the middle. Smith is already on campus and buillt in the same mold as his three fellow 2015-ers.
Secondary: Iman Marshall (6'1", 190 lbs.), Marvell Tell (6'1", 188 lbs.), Ykili Ross (6', 175 lbs.), Isaiah Langley (5'11", 161 lbs.)
Marshall is this year's Adoree' Jackson, a wunderkind freshman who could see time early as well as see some time at wide receiver if called upon. Tell has a great knock for playmaking at the safety spot, while Ross and Langley have the speed to roam deep or cover oppponent's "speed guys."
Athlete: Dominic Davis (5'10", 175 lbs.)
Cornerback? Wide receiver? Running back? It's not quite sure where Davis will play for USC, but he sees well with the ball and could be a factor on the return team early.
Reach Jacob Freedman or Jeremy Bergman at [email protected].
News Director Ani Ucar contributed the video to this piece. Reach her here.