Nation and World
This Veterans Day, Let's Stop Screwing Over Veterans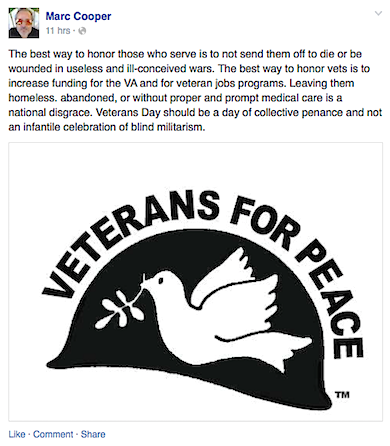 Outgoing director Marc Cooper published an inspired post on social media this Veterans Day, calling on citizens to reevaluate how we honor our troops. But, respectively, he missed a key piece to this puzzle: economics. It's nice to call on people to advocate peace over irresponsible war, but peace is not where America makes its money.
SEE ALSO: U.S. VETS Now Providing Veteran Services at Patriotic Hall
It's easy for us to relegate our blind support of the military to bumper stickers and t-shirts, because the burden of sending men and women off to fight in ill-conceived wars is rarely felt by the general populace. On the contrary, we tend to benefit and make a lot of money from it. And with Republicans in control of Congress, the likelihood is defense spending will increase.
Even a recent study from the Center for International Policy concludes while the U.S. is a war weary republic, the odds that the Pentagon budget (and just the Pentagon budget) will once-again exceed $600 billion are pretty damned good. And when we get tired of sending soldiers overseas to die in pointless wars, we can just sell our dangerous (and profitable) wartime toys to poorly-trained police squads in surburban neighborhoods.
The worst part about veterans who come back from half-baked demonstrations of crap-tacular foreign policy is they rarely get to enjoy the crass benefits of all the nonsensical carnage. Young veterans bear the brunt of unemployment, while defense contractors drive a caravan of Brink's trucks all the way to the bank. Sure, our poorly-funded health care programs might be literally killing veterans, but a thank you on Facebook should suffice, right?
Instead of Veterans Day, shouldn't we call it Military-Industrial Complex Day? They're the ones who make all the money and have all the fun.

— Ban Torture (@BanTorture) November 11, 2014
We, as Americans, have misinterpreted the acknowledgement of one's military service as respect. That's not respect. The holiday has sadly become a day of catharsis to rid ourselves of societal guilt. Real respect comes from honoring veterans' commitment, reciprocating their sacrifices and leveraging the security gained to build a society a lot less cynical and selfish than the one we live in.
I get it, it's scary. A lot of us are economically tied to the insatiable Leviathan that is the American war machine. But on a day when we are tasked with honoring the souls who maintain that machine, we are failing both our veterans and ourselves by limiting the discussion to blind appreciation.
SEE ALSO: Extended Delays In Veteran Health Care Lead To Massive Lay-Offs
Veterans need jobs, health care and homes. And when we have finally fulfilled that lowest possible level of recompense, veterans need us to stop sending them to die in needless wars where we directly, or indirectly, profit off their deaths.
Reach Editor-in-Chief Will Federman here. And follow him on Twitter.