Los Angeles
U.S. VETS Now Providing Veteran Services at Patriotic Hall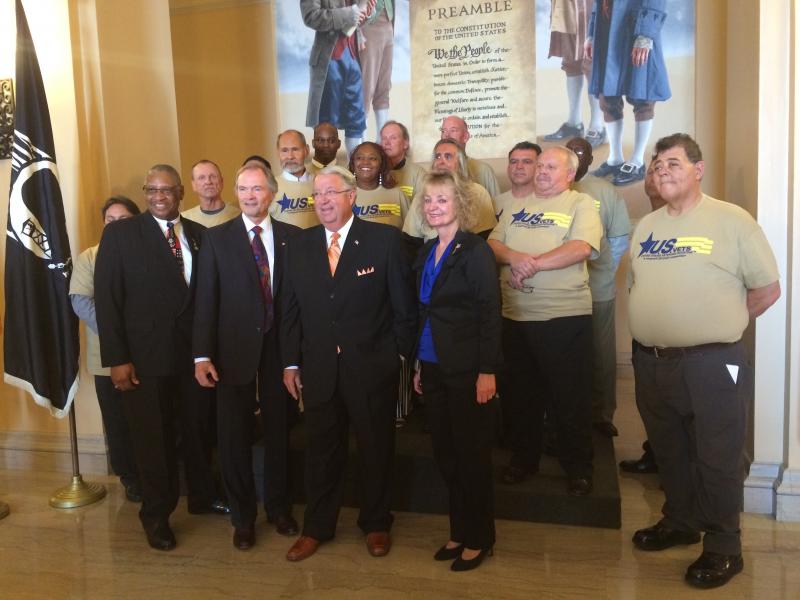 On the eve of Veteran's Day, Bob Hope
Patriotic Hall
in downtown Los Angeles announced a new addition to its services: U.S. VETS was officially moved in and operating.
The country's largest nonprofit for at-risk and homeless veterans, U.S. VETS has 11 locations in six states. Before the opening of this facility, veterans would be referred to chapters in Inglewood and Long Beach.
"We have a full menu available and we're working together to make sure veterans are transitioning smoothly from combat to the community," said Ruth Wong, Director of L.A. County's Department of Military and Veterans Affairs.
Now, those seeking help can "one stop shop" for counseling, legal assistance, job training and placement, and housing at Patriotic Hall. U.S. VETS joins other veteran service organizations already based in the almost 90-year-old building including the American Legion and American Veterans, or AMVets.
Patriotic Hall underwent an eight-year renovation that cost more than $45 million and reopened last year. Wong said one of the conditions of the county's investment was the building's use had to be returned to veteran service.
"One of the things veterans did was they signed a contract with the United States of America stating that whatever this country needed, they were willing to write that check—even up to and including their lives," said Hugh Crooks, Jr. a veteran and board member for American Legion. "This is the least that could be done for them."
SEE ALSO: Extended Delays In Veteran Health Care Lead To Massive Lay-Offs
Years ago, when Navy veteran Dottie Greer would drive on her route as a Metropolitan Transportation Authority (MTA) employee, she didn't understand why so many veterans were filing into Patriotic Hall. Along with balancing work, Greer was a single mother and busy raising five children.
"A lot of people think veterans are so strong and we don't have any weaknesses and that we come back from our service time and just re-enter civilization," said Greer. "But we kind of hide a lot of things, I know I did, suppress a lot of things because we are expected to keep an image going."
According to U.S. VETS, Los Angeles has more than 6000 homeless veterans—the highest in the nation. When Greer lost her home a year ago, she decided to tap into the resources the organization offers.
"I didn't know what to do. I was suffering a lot [physically and mentally]. And so U.S. VETS was able to give me a hand, three meals, and then all of the other services that I wasn't even expecting came into play as well," Greer said.
Now a resident at the Long Beach facility, Greer has visited the Patriotic Hall location and gotten assistance with finding permanent housing, going back to school and getting her disability approved. While there are veterans who use Patriotic Hall's services, she believes that more people need to be aware of its free resources.
"If we don't know the services are out there, we don't know how to get it," said Greer.
Reach Staff Reporter Maritza Moulite here and follow her on Twitter here.