Los Angeles
Repairing Safety: The Struggle Between Students And USC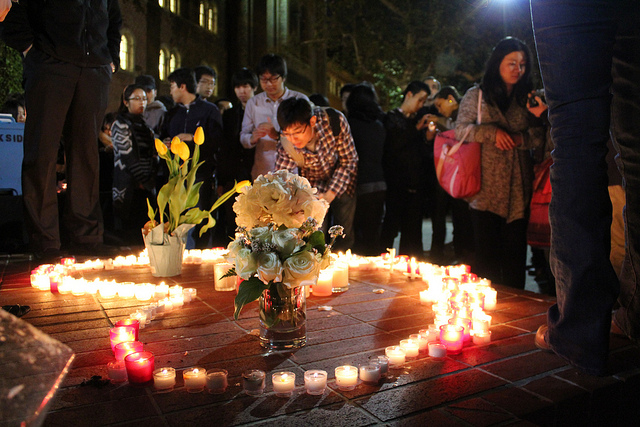 On April 11,2012, Cynthia Wang was sitting in her 10 AM Introduction to Chemical Engineering class that met every Wednesday at the University of Southern California's Viterbi School of Engineering. As the class was about to begin, her friend in the next seat over suddenly snapped her head up from her cell phone, looked directly at Cynthia and said in Chinese, "天哪, 有人被杀了"— Oh my God, there's been a homicide.
A few hours earlier, just south of campus, Howard Wang, no relation to Cynthia, lay in bed asleep. It was about six o'clock and soon he had to wake up for classes. His cell rang. Disoriented, he reached for his phone, eyes still half-closed. It was a friend from school frantically asking if he had heard the news. Two Chinese students had been murdered.
Howard, still groggy, tried to digest the news. So many thoughts darted through his mind, he recalled later. Was it someone he knew? There were two of them? Where did this happen? He told his friend he needs to get off the phone and check Ren Ren, China's version of Facebook.
Ren Ren was already in a flurry. Most people talking about the homicide had posted basic facts, much like the information his friend told him over the phone. Two students, both Chinese international graduate students studying electrical engineering at USC, were gunned down in their car around 1:00 AM that morning, not far from campus. He scoured through post after post. No names.
Cynthia's materials sat on her desk undisturbed. Both she and her classmate took to their cell phones, opening Ren Ren and We Chat, trying to get more information. Someone posted a message saying the LAPD had announced it was one male and one female student.
Cynthia, a freshman at the time, says the only relief she could muster was in the fact that the students were murdered in a car outside their off-campus home. She only knew freshmen that lived in on-campus dorms, so she couldn't have known them personally.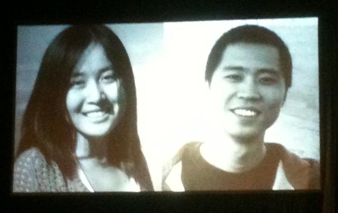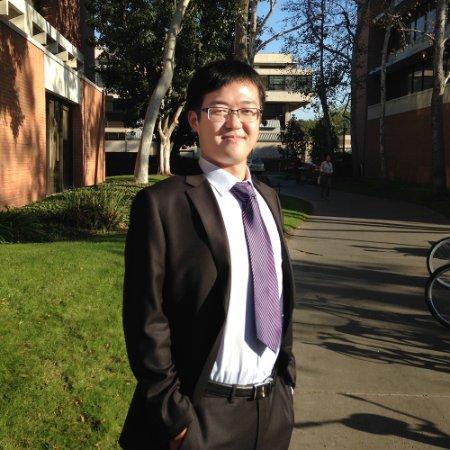 Ying Wu and Ming Qu. They were both graduate students at the Viterbi School of Engineering studying electrical engineering.
Then, in July 2014, USC students' misgivings only deepened, when another graduate student, Xinran Ji, also studying electrical engineering at Viterbi, died after being beaten by four teenagers on his walk home from school.
SEE MORE: Xinran Ji
Three Chinese international students murdered in just over two years.
Panic swept up everyone that was involved. Of the 8,745 international students in bachelors, masters, or doctorate programs at USC in Fall of 2013, 42% of these students held Chinese citizenship.
"It was wet," says Homicide Supervisor David Garrido as he recalls the early morning hours of April 11, 2012 when he was called out to the crime scene where Wu and Qu had been murdered. Garrido now sat at his desk lit by a dim lamp over his computer screen. "We wanted to get these guys, so it was important to preserve all the evidence we could given the rain," he said.
Garrido spoke in short, direct statements. It was only when he spoke of meeting each of the parents of the three murdered students from USC that he lowered his voice, looked down at his fingers and paused between words. A whiteboard above his cubicle showed a list of the 19 people murdered in the LAPD's Southwest Division this year. Ji is 11th from the top.
"They want the death penalty in this case," said Garrido of Ji's parents when they first met. They couldn't understand why a sentencing needed to take so much time. He sympathized with their pain, but had to explain due process in the U.S. through an interpreter.
The majority of Chinese international students blamed USC. University officials feel that student safety is a shared responsibility, but quickly initiated more safety measures such as year-round neighborhood security personnel.
"I personally had this idea that USC is going to be my second home—my home away from home," says Cynthia, likening it to Hogwarts, the mythical school from the Harry Potter books. She says she felt betrayed that there wasn't more protection for these two students, and compared it to parents who didn't take enough precaution for their kids' safety.
Dr. Ainsley Carry, Vice Provost for Student Affairs, and John Thomas, Chief of the Department of Public Safety at USC, met with Chinese students following Xi's murder. Thomas asked the students what percentage of personal safety is the student's own responsibility.
"One particular student said, 'I expect the university to be one-hundred percent responsible for my safety,'" remembers Carry. "It was mind blowing. I had never thought of it like that."
SEE MORE: International Students Respond To Apparant Lapses In Safety
Thomas and Carry had come to the meeting to talk about shared responsibility in fostering a safe environment. They were met with students who either didn't feel USC was doing enough or that the university was wholly responsible for creating safety within that environment.
"Even a kid coming from Auburn, Alabama or Lexington, Kentucky, we need to talk about what it's like living and learning in a major U.S. city," says Carry. It's about understanding the environments and circumstances of where students are coming from and teaching them what new things they need to consider when attending school around USC, he says.
Protecting all students, faculty and staff is an obvious concern for the university. But when Chinese students are responsible for over 175 million dollars a year in tuition alone, the stakes to ensure their safety are even higher.
Students like Cynthia say that when parents are considering colleges in the U.S. for their children, rankings are the most important factor. Ivy league schools, she says, are among the most known and regarded in China.
Yet in the last 30 years, USC has seen it's international Chinese population grow to nearly 4,000 students—the most of any university in the U.S.—owing in part to USC's improved rankings and its proximity to China. In 1978, only three such student were enrolled.
Now, Cynthia says, most everyone her age in China has two intermingling thoughts about USC: it's a great school and it's very dangerous.
"There's no question that if you do a web search in Chinese, and you search for 'Nan Jia Da,' the Chinese name for USC (南加大), there's a decent chance that some story relating to these incidents will be among your top search results," says Clayton Dube, Executive Director of the USC U.S.-China Institute.
Dube sat in his recently relocated office, boxes still unopened from the move. An honorary sword given to him by the famed Shaolin Temple hung on the wall behind him. After earning his teaching credential in 1982, Dube sold a few belongings to buy a ticket to visit China. What was supposed to be a four-week trip turned into a three-year stay. While there, he taught English and History, and became increasingly fascinated with China.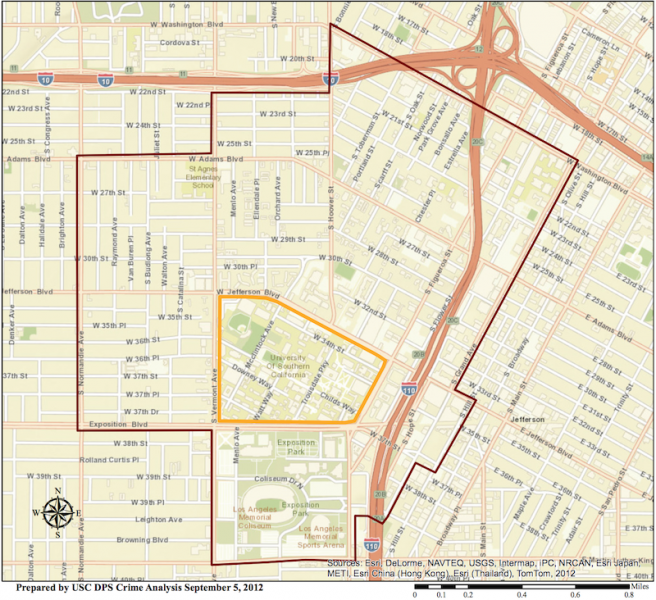 Dube, who speaks Mandarin and has traveled back to China several dozen times since his first trip 32 years ago, says he understands the need to make USC's international Chinese population feel safe.
Nearly 4,000 Chinese tourists arrive each day in the U.S., with Los Angles as the primary destination, says Dube. Similarly, Chinese investors poured 22 billion dollars into the U.S. housing market between March 2013 and March 2014, much of it ending up in Southern California.
For that reason, Mayor Eric Garcetti spoke at what Dube calls an "unprecedented gathering": a meeting to discuss Chinese student education and safety while living in LA. The children of many investors rely on their sons and daughters to stay in the city and assist their parents, says Dube.
Dube says most parents of international students he's met with understand that taking safety precautions could prevent most violent crimes. But many of USC's Chinese students don't see it that simply.
Cynthia agrees that USC's high ranking, especially their acclaimed Viterbi School of Engineering, will likely sustain the influx of future international students. Yet if USC doesn't initiate an overhaul of the safety procedures, she cautions, enrollment could see a direct hit, a sentiment echoed by Ji's peers.
"The school could have done more," said Junfei Ren, who lived in the same apartment building as this summer's murder victim, Xinran Ji. Ren paused between words as she described seeing their blood-stained porch that morning. She spoke slowly, deliberately trying not to break her polite demeanor. "He was just walking home from school."
The "more" Ren spoke of begins with the people students call "yellow jackets," security ambassadors contracted by USC to patrol intersections and city blocks off campus where many students live and congregate.
"There were no yellow jackets in the summer," says Ren. She remembers Ji as a shy and quiet person who was helpful to those around him. She echoes the same sentiments as students who attended USC a couple years earlier, when Wu and Qu were gunned downed off campus.
"Everyone was very angry, very shocked, very scared, because it happened near USC" says Howard Wang. As former president of the Chinese Students and Scholars Association, he says he saw the majority of his association become fearful for their personal safety after the double murder of 2012.
Because of the significant reduction of students in the area during the summer term, USC did not employ yellow jackets when Ji was attacked in July, according to Officer Elizabeth Carreño of DPS. She says this was one of the first adjustments USC made to bridge any safety gaps after Ji's death in the summer. USC has now decided to employ yellow jackets to monitor the campus and surrounding community year-round.
In addition to DPS officers and yellow jackets in the area, Carreño says USC is monitored by the LAPD and uses over 190 video and license plate recognition cameras around campus. Sixty of these 190 were added in the last two years, according to USC's Office of Student Affairs.
SEE ALSO: DPS To Review Safety Policies In Light Of Student's Death
Carreño, a local who grew up just blocks from USC, is part of a new unit at DPS working on outreach and education specifically geared toward the international community. At a mixer for these students held on a South LA block near campus, Carreño tells students she grew up in the area, but never got to meet the "big time" USC students she saw walking around her neighborhood.
Carreño along with a few LAPD officers sat at their own table in the backyard of USC American Culture professor Dr. David Tool, while Chinese and Indian students scurried around with plates of curry and rice in hand. The discomfort of the officers, including Carreño, in layers of uniform was obvious from the beads of sweat on each of their foreheads on that triple digit afternoon.
When it came time to speak to over 30 international students at this mixer, Carreño seems just as relaxed as she was in an air conditioned room that contained a fraction of the students one week earlier.
Carreño herself is a recent college graduate, and looks more like the students she comes out to speak with than many of her fellow officers.
Many students seem to be at ease with Carreño in what would otherwise feel like a more contrived environment. Others smile politely, but look a little confused.
After her presentation, a few students asked questions. One student raised his hand only half way, "What is the purpose of a gang?" Another student admitted she didn't understand what situations warranted calling 911.
Carreño says she's been working with different student associations and groups on campus to reach as much of the community as possible, but it doesn't always go the way she envisions it.
As the mixer wound down, Tool spoke with Chinese students in Mandarin as they left his home. He's fluent in the language from 13 years spent teaching English in Beijing. He says he organized this event to encourage international students to get to know people outside their own race.
Tool has lived in his South LA home for over 30 years. It's one of only a few single-family homes on his street as a result of more student housing complexes sprouting up over the years.
"It all goes back to culture," said Tool. He tapped the wooden table on his porch with his fingers as he spoke, as if to punctuate his sentences with each tap. The table held every school supply imaginable and students regularly stopped there to share their homework with him before they went home.
Tool says programs and services like calling 911 seem commonplace to the average American, but are sometimes novel or have completely different uses and implications in other countries.
The police, for example he says, operate under different expectations in China. They are tasked with keeping people safe, but are rarely called upon by civilians and do their job without much civic engagement. Similarly, communities don't gather around the topic of safety like they do in the U.S.
"There's no neighborhood watch in China," says Tool.
He qualifies, however, that civic engagement with safety in China isn't necessarily very different from the U.S. when he considers his South LA community.
When bullets flew through his home nearly striking his "little girl" decades earlier, Tool recalls not reporting it to the police, because it was better not to "snitch" on his neighbors who were in a gang at the time.
"Less is better," says Carrie Wang, no relation to Cynthia or Howard, of the police in China. "You don't always go to the police."
Carrie's business requires her to split her time between Los Angeles and Beijing. From her experiences in Beijing, she says there's a hesitation amongst the Chinese to elicit help from the police unless it's an absolute emergency.
Carrie says there's also a generational component at play for current international students. According to Carrie, the majority of college aged students born during the 1980's have no siblings as a result of China's one-child policy.
SEE ALSO: Safety, The Trojan Compromise
"This creates a lot of stress and pressure for this generation," says Carrie. "Chinese children of this generation have one set of parents and two sets of grandparents who focus exclusively on the success of the only child."
"My mother picked my shoes and my clothes everyday," remembers Ren. "There was not many decisions I made by myself until I came to the U.S." She adds that this was the norm for most Chinese people her age.
"It's a lot of pressure," says Xu Yuan, the President of the Chinese Students and Scholars Association. He explains that a typical conversation with his parents over the phone is centered around his schoolwork.
In light of this information, Carreño says knew she had to grab her audience's attention to help them understand what to do if confronted for their belongings.
"If someone came up to me asking for my stuff, I'd give it to them and even suggest signing some checks just to make sure they left happy and didn't harm me," she said. She jokes to hold their attention, but says this because many have never been told what to do in this situation.
Xinran Ji refused to surrender his belongings when four individuals confronted him in July, according to Detective Garrido. The LAPD found he still had possession of all his belongings when he was found dead in his apartment hours later.
Cynthia says she still holds distaste for the way Ying Wu, Ming Qu and Xinran Ji were treated in the wake of their death.
"People always ask 'why were these kids out so late?' They weren't at a party or getting drunk, they were studying or in a lab," she says.
Cynthia, who is majoring in electrical engineering, says staying on campus well into the early morning hours of any day is simply the life of a student attending Viterbi.
She, along with Howard and Ren suggested the University create an on-campus housing option for graduate international students in the same way it's offered to undergraduates.
"It's just as hard for graduate students to become acclimated to a new country as it is for undergraduates," says Cynthia.
Dube, however, challenges the fruitfulness of this notion, pointing to the dates of the murders: all had occurred around the final month of the first year of instruction, giving the students nearly as much time as freshmen to have gotten acclimated.
Suggestions and contentions overlap one another. Former students suggest that professors explain to Chinese students that nothing is worth losing, even research, in order to protect their lives.
Oftentimes students make poor decisions about their belongings out of fear that their professors won't believe them or will blame them for not backing up their materials, according to Ren.
In response to this concern, USC is working on giving students access to a Cloud service to backup valuable items like laptops, says Chief Thomas. But Cynthia agrees with Ren and worries the Cloud 'solution' runs parallel to the problem.
"You've got to start with teachers first," she says. She warns that students who don't understand they will be allowed time to make arrangements for their lost items, might resist surrendering them in the moment.
Many Chinese students fear failing classes or being kicked out of school if they had to surrender all their belongings. If more teachers make an effort to tell their international students how to operate if approached for their belongings, the burden to protect homework and research at all costs could be removed, says Cynthia.
The dialogue between school officials and students continues, but the undercurrent of blame and responsibility remains contentious ground for all those involved.
USC continues to maintain that self-awareness and taking safety precautions are a student's best bet against crime. Many Chinese students say their studies are the first priority and why they came to USC. For them, the school should cultivate safety so they can function as students, the way they intended to before leaving China.
Months after Ji's death, DPS officers continue to educate students on what they can do to keep themselves safe. At nearly every safety presentation, one student asks why a service like Campus Cruiser, takes so long.
SEE MORE: Safety, The Trojan Compromise
DPS officers like Carreño apologize and say they've already cut wait times in half. Carreño is astonished, however, that students would rather walk home than wait after everything she's told them about self-awareness and responsibility.
"But isn't it worth the wait to know you'll be safe?" Carreño asks.
Most students seem to be at odds, considering the reality of their hectic schedules against the risks.
As Tool said, "They're here to be students first, and feel the university needs to create the environment that allows them to do that."
Reach Senior Staff Reporter Tahsin Hyder here, and follow her on Twitter here.