Arts+Culture
Meet The App World's Social Media Moguls
A 16-year-old in Boston turned his Twitter feed into a mini empire. A 17-year-old in Tennessee used his bed-ridden recovery from a car crash to create comedic six-second videos that went viral. A flamboyant teen from Georgia took his love for make-up to his social media account to gain an otherwise inaccessible clientele, doing the makeup of up-and-coming Hollywood celebrities. As a new post-millennial generation, these "pluralists" are monetizing the social media/sharing generation of the Millennials to gain social media fame and fortune.
For these three social media stars, it all started behind the glow of a screen. Click, send, boom—these young entrepreneurs are busy promoting everything from makeup to fashion and fitness, using social media as their springboard into the business world.
Recently, the Social Times, released an infographic showcasing revenue for YouTube channel stars, illustrating that some resourceful internet sensations are pulling in over $2 million in revenue each year for their videos and the ads attached to them. Meanwhile, a recent U.K. finance article is claiming that Britain's young Vine stars are quitting their day jobs to launch videos from their smartphones, making over $3,000 a second from the advertisements on their Vine videos.
For these young entrepreneurs, building up and monetizing their brand seems as easy as firing off a quick post. The greater the following, the easier the cash flow. Yet, if it's that easy, why haven't all millennials (born between the early 1980s and 2002) gotten famous and rich from social media?
SEE ALSO: #AlexFromTarget: The Heartthrob, The Internet Sensation, The... Scam?
For one thing, says millennial expert Morley Winograd, many young people view social media as being more about sharing than about branding or monetizing. "The single mark of the millennial generation is the more I share the better it is, no matter what I share," says Winograd, Senior Fellow at the University of Southern California's Annenberg School's Center on Communication Leadership and Policy and Co-Author of Millennial Momentum: How a New Generation is Remaking America (2011). "This is the largest generation who wanted to do nothing but share, that's how social media exploded."
Yet for a savvy handful of millennials and the so-called pluralist generation that follows them, the explosion is an opportunity for fame and monetary success that is seemingly as accessible as the free apps that social media stars use to reach their followers.
Marc began to type, his brown eyes mirroring the screen's feed of re-tweets and ads. The sound of clicking keys filled an otherwise silent room. "Send." Within minutes followers poured in, each tweet more popular than the next. By the end of the day, Marc had 300 new followers, and by the end of that week, that count would reach 2,000.
16-year-old Marc Guberti took his love for the Boston Red Sox from the stands to his blog. In just a few months, Guberti was gaining roughly 10,000 new followers every month. Guberti wanted to take it to the next level. When his mom suggested he get a Twitter account, he instantly signed up, firing between 50-150 tweets per day.
It wasn't long before Guberti's advice-heavy tweets transformed a Red Sox fan blog into a social media advice forum, as he began posting tweets with links to posts his blog like, "How To Write A Persuasive Blog Post" and "5 Ways Businesses Can Use Vine Videos." These blog posts in addition to his tweets helped Guberti gain over a hundred thousand followers.
SEE ALSO: 5 Twitter Hastags You Should Check Out Now
Guberti has been sharing his success tactics both on his blog and how-to books—everything from how to beat levels in the popular game app, "Candy Crush" to how to gain Twitter followers. Now he's penned seven books aimed at influencing a tech-savvy pluralist generation to take advantage of the accessibility of social media.
"I definitely did not go on Twitter thinking this would happen to me. I thought this would be a cool way to get more blog traffic," says Guberti. This blog traffic has translated into a nice chunk of change for a 16-year-old, though he won't say just how much.
Instead of using advertisements to drive followers to his content, Guberti relies on his tweets and a loyal following to get book sales and blog traffic. Some of his top-sellers, "How To Be Successful On Twitter" and "365 Ways To Improve Your Business in 2014" sell for under $5 on Amazon, allowing a younger audience to purchase in big numbers, making his advice easily accessible.
In addition to his books, Guberti offers training courses on how to grow your brand and increase your Internet presence.
The income from his training courses and book sales, which is now in the thousands, has allowed Guberti to do what he loves. "Why do something that I don't enjoy, why not start now? Age is not a limit to success," says Guberti.
This generation of "pluralists" born after 1998 is capitalizing on the social media success established by the Millenials and X'ers before them. Winograd believes the latest generation is far more interested in making money than in disseminating information for free.
"Social media users from the youngest generation demonstrate an ability to negotiate, measure success by money, and demonstrate personal courage through persistence," Winograd says. "The millennial view of 'oh let's be nice to each other,' will fade with this generation coming up, as teenagers take advantage of social media established by generations before them."
SEE ALSO: Tap-ping Into The Competition: How Bloggers Are Changing Fashion and Lifestyle Journalism
A devastating car crash left a Tennessee teen with plenty of time on his hands. Instead of sulking, Jeremy Scott turned to comedy. While his injuries have healed, Scott still scrolls through Vine's feed of six-second videos for comic relief.
Bedridden by injuries sustained in the crash, Jeremy Scott entertained himself with the app, Vine, to help pass the time. He began experimenting with Vine's signature six-second videos: going straight from a "my first Vine" video to using the app as a comedic release for him and others.
"When I first started, before the re-vine button came in, it was all hash tag based, that's how people would see your videos," Scott recounts. "The popular ones were parody videos that made fun of quirky things every-day girls do…I started to make videos people could relate to, poking fun at the comedy in every day occurrences, like when you get home from a long day at school, you're hungry and open the fridge only to find it's empty."
"The re-vine button helped me get followers too, so someone with 10,000 followers would re-vine my video and their followers would start following me," says Scott. With a large viewership primed and ready, Scott began to monetize his following through advertising applications and products in his videos.
As his follower count grows, so does his paycheck, motivating Scott and other Viners to produce more and promote more to gain both fame and fortune.
SEE ALSO: 10 Funniest Celebrities On Vine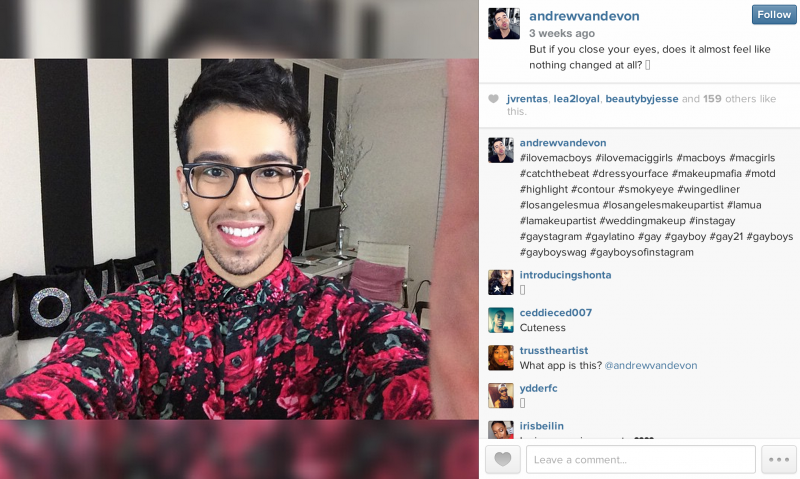 Andrew rolled in to his next client's apartment, his livelihood contained in a small black tote bag on wheels and his face diligently made-up. His latest client found Andrew on Instagram; a few comments later and he was in her Los Angeles studio apartment, doing her makeup. Her friends waited anxiously as he worked on his next masterpiece, his Instagram account serving as a preview of the beauty he was crafting behind the bathroom door.
While Andrew Van Devon doesn't consider himself Instagram famous, his thousands of followers suggest otherwise. Estrella's use of the photo-sharing app as a public portfolio, has gotten him jobs doing everything from personal make up sessions to working on VH1's latest reality drama "Love & Hip Hop: Hollywood."
"Throughout high school, I was always that weird boy with bright vivid hair color, eyeliner, eye shadow and false lashes on," says Van Devon. "I was shopping at a M.A.C. Counter located in Georgia when I was spotted and recruited by one or the managers based on my makeup skills displayed on my own face at 18-years-old."
Without Instagram, many of Van Devon's celebrity clientele would have no way to find him, but by digitalizing his portfolio, he was able to move from M.A.C. counters to backstage dressing rooms.
"Through Instagram people are constantly viewing my work and deciding to email me to book an appointment," says Van Devon. "Through there I've received so many emails regarding really amazing opportunities to work on music videos, TV, magazines and celebrities. Not only that, but I also get to use social media as a tool to better my artistry."
SEE ALSO: Makeup Artist Transforms Herself Into Kim Kardashian And The Results Are Creepily Accurate
From blogs and books, to viral funny videos, to the dazzling world of makeup, one thing links these social media success stories: authenticity. Each of these tech-savvy posters has stayed true to himself, posting content that's consistent with his brand. Resisting the allure of buying followers, they've worked hard to not only gain a genuine following, but also real fan bases.
What binds these stars is that they've found a way to not only do what they love, but take the free sharing applications that are available to everyone to find their followings. "It's the Silicon Valley ideal of if it doesn't make dollars it doesn't make sense. Users want to make sure they're making money off it," says Winograd.
Scott explains that you have to negotiate with advertisers to get what you want and be sure you are making that money. "As my follower count grows, the amount grows. The most I've made on a promotion is $400 for one video; that was a promotion that came through for an exploring app called 'Search' that was supposed to replace Safari. My management company handles that and presents rates for me and we decide on a price mutually. Most of the time, they crack to my prices because they need people to promote."
While his six-second videos seem effortless, Scott wishes his viewers knew the hours and thought it takes to create something worthy of his 200,000-plus Vine following. "People don't get when you say you don't have time to Vine today. They don't see the 30 minutes it takes to make the Vine, edit it, and make it believable," says Scott.
From the lens of a viewer, little to no thought goes into these posts and videos. They're shared, and they go viral, and while these stars are just a direct message away, they aren't as accessible as they seem.
"You need to interact with your followers to create a bond with them to get them to buy your products and read your content," says Guberti. This fellowship will lead to a fan base, and a fan base creates a consumer that isn't just supporting, but also buying your products.
SEE ALSO: Instagram Photos Scanned For Ad Targeting
While too much accessibility can be frightening, these social media stars say they have seen very few downsides in their rise to Internet fame; and while it seems money is the motivating factor for this pluralist generation, money isn't the only thing that binds these stars. Guberti and Scott feel passionately about their ability to motivate and influence their viewers for good.
"There are certainly 'stars' or 'celebrities' emerging on YouTube or Vine and getting visibility through Facebook and Twitter," says Henry Jenkins, media scholar and Provost's Professor of Communication, Journalism, Cinematic Arts and Education at USC. "But this is like imagining every kid who is playing basketball on the street becoming an NBA star. Relatively few of them are going to gain 'instant fame and fortune,' which may be the fantasy, but many more of them will have their voices heard in important conversations our culture is having."
With an Internet culture that is known for nasty trolls, these stars have learned to let the negative comments in these important conversations roll off their backs, and grow from them.
"Not everyone is going to like you for everything you do, so you just have to learn how to handle and cope with it," says Scott. "I read comments at night when I'm about to go to sleep, just to see what people are saying. I read them to get inspiration and understand where people are coming from so I can do more of what they want to see."
Although some social media stars use their fame selfishly, others have found ways to use the Internet to their advantage while still benefitting those who follow them. It's this very balance that could one day give app stars a lasting power comparable to the untouchable class of old Hollywood—except they're just a click away.
"Hollywood stars were discovered sitting at lunch counters in drug stores," says Winograd. "Back then, they were 'discovered' based on their looks, which then led to a screen test to determine if those good looks translated in front of the movie camera. The last consideration was their acting talent. But nowadays, Millennials are discovered on Vine or YouTube for their creativity and talent in creating videos—quite a difference."
Contact Contributor Mona Khalifeh here.