Style
Makeup Artist Transforms Herself Into Kim Kardashian And The Results Are Creepily Accurate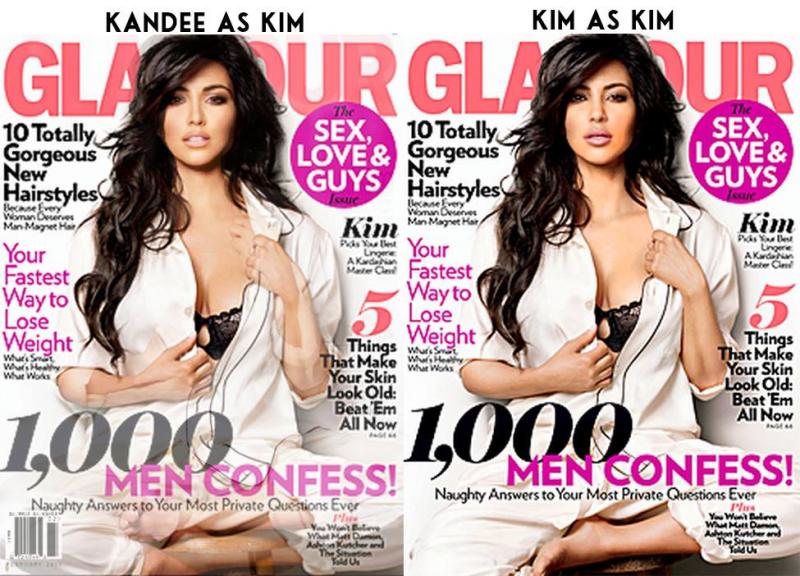 "Which Kim Kardashian is which!?" celebrity makeup artist Kandee Johnson asks fans on Facebook. Johnson is referring to the comparison shot she posted today on her
page
: Kardashian vs. Johnson masquerading as Kardashian.
Johnson looks more like Kardashian than Kardashian looks like Kardashian.
"The left Kim [Johnson] is much more beautiful!" says one commenter. "Wow! The power of makeup!" says another.
Johnson is most famous for her YouTube makeup tutorials, particularly her outrageous "transformation" videos in which she uses makeup and wigs to transform herself into a celebrity. "Justin Bieber Make-Up Transformation" has gotten over 400,000 hits in just over two months, while "Miley Cyrus Wrecking Ball Video Makeup" has 1.5 million.
ALSO READ Social Media Reaction To UCSB Deltopia Riots
Now, Glamour magazine has partnered with Johnson to create a series of tutorial videos called "Beauty ReCovered" for Glamour's YouTube channel. In the videos, Johnson will transform herself into some of Glamour's most famous cover stars, recreating their entire cover look to eerie perfection.
In this first seven-minute installment, Johnson shows Glamour viewers how to copy Kim Kardashian's "smoky eye" (along with the rest of her face) from her February 2011 cover. The tutorial has dozens of steps, including thirteen layers of foundation, and culminates in a black wig and a photo shoot.
After some off-kilter smizing and a little Photoshop, the resemblance is uncanny. "This pose doesn't look hard, but getting my leg to stay on the little stool and move my hands just like Kim K's was hard! ha ha ha," Johnson says of the experience on her blog.
Celebrity look-alike transformations are trending.This new series comes on the heels of an episode of TLC's "My Strange Addiction" called "Addicted to Looking Like Justin Bieber," which tells the story of 33-year-old Toby Sheldon, a man who has spent over $100,000 on plastic surgery in an attempt to recreate Justin Bieber's face with his own. Transformation tutorials on YouTube are plentiful, but Beauty ReCovered is the first series produced by a major fashion mag. Go Glamour for capitalizing on this totally healthy cultural fascination; hopefully next it'll produce some workout vids to help us all get thigh gaps.
According to Johnson's blog, there are more Beauty ReCovered videos to come. We can only hope so.
Or not. This is kind of creepy.
Watch the thirty-second recap below, or the entire thing in its seven-minute glory here.
Reach Staff Reporter Gigi Gastevich here.