Style
11 Fashion Trends We're Definitely Not Thankful For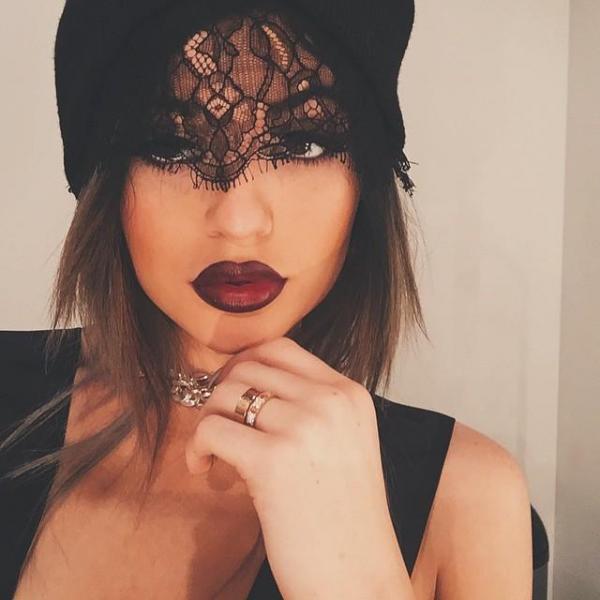 Tis the season to revel in the good stuff life has to offer. The holiday spirit inspires a strong sense of gratitude for a well-stuffed turkey, a decorated tree, the invention of eyelash extensions and the joy of spending time with loved ones.
While we take the time to count all the wonderful things we're thankful for on Thanksgiving, here's 11 unfortunate styles of 2014 that we're making sure to leave out.
Over-lined Lips
Thanks, Kylie Jenner. When Kylie started posting Instagram pics with a super-sized kisser, the world debated whether or not she got lip injections. Lip injections for a teenager still in her high school years? Scandal! Too bad we found out later that her dirty little secret is over-lining her lips. As confusing as it seems, it works on her. Still, we recognize the trickery of it. It might look good on Instagram, but it's probably a lot less believable in person. Don't jump on this style tip.
READ MORE: 11 Kardashian-Inspired Song Lyrics
Baggy Jeans With Exposed Thigh
Remember the good old days when we sported natural-looking distressed denim? Our subtle rips have unnecessarily evolved into full-blown chunks missing in the thigh area. No cute top can hide the gaping sight of your lower half. It's a 'hole' lot to hate.
Crops Tops Paired With Booty Shorts
Either rock a crop top with skinny jeans or an extra-large muscle tank with shorts. Skip pairing an itsy bitsy teeny weeny crop top with an equal itsy bitsy teeny weeny pair of booty shorts. Less is more. This is (basically) science.
Blanket Coats
This is the trend your parents would love for you to rock every day. Why? Because it's so incredibly drab. Blanket coats are on the same level as bath robes, except you can pull off a bath robe in public and just say you were having a rough morning. There's no excuse for a blanket coat.
READ MORE: Must-Have Sweaters For Fall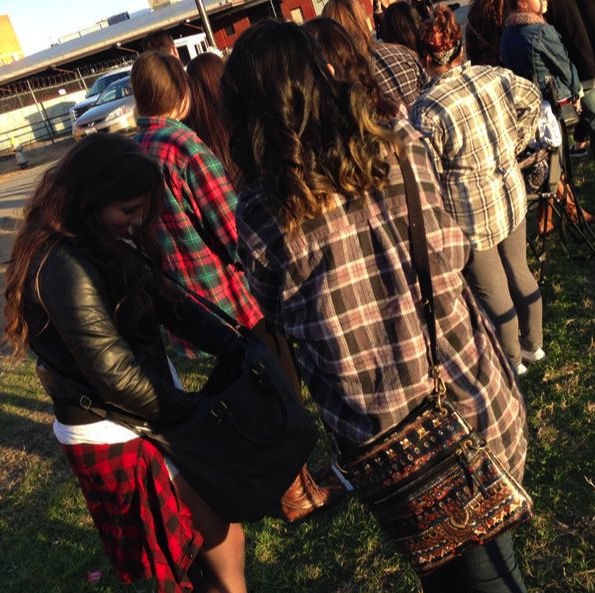 Tied Flannel Around The Waist
Don't be that girl because chances are, there's 20 "that girl"s in the immediate area. A flannel is meant to be worn as a shirt - not an accessory. Too bad flannel shirts have become a cliché these days…On second thought, just skip the flannel altogether.
Partly Shaved Hairstyles
Nothing screams "Cassie in the mid-2000s" like half or most of your head shaved. The likes of Rihanna, Salt-N-Pepa, Keyshia Cole, Ellie Goulding and many more have already attempted this look. Learn from their mistake. Plus, the growing back phase has to be a total pain.
Uber Tight Bodycon Dresses
Yes, yes, these super short dresses are a party girl's classic. Every girl owns one. Still, a bodycon dress is the most basic and inconvenient outfit choice imaginable. You can't eat all day before you go out, considering these skin-tight dresses point out every bump, lump and blemish of a real body. Obviously, more than half the ladies at the party/club/event will be wearing a bodycon just like yours. Twinning! Even worse, these dresses have an awful habit of sliding up every few minutes.
Flappy Harem Pants
Because exaggerating a lady's crotch area is the epitome of sex appeal…Not. What's more sexy than looking like you're sporting a deflated parachute as bottom wear? Anything else. Next!
READ MORE: 90s Fashion Trends: Yea or Nay?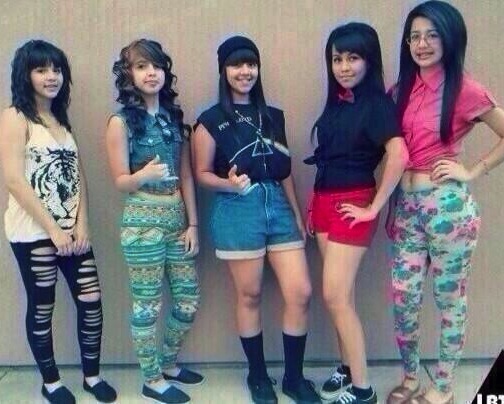 Patterned Leggings As Pants
Little girls can pull this trend off, but teenagers and grown women who know better should stay far away. Even if you're wearing a solid-colored top, that much activity going on below the waist is an incorrigible eyesore. Do yourself a favor and burn your patterned leggings. Don't let them see the light of day in 2015.
Normcore Bore-core
Earlier this year, the fashion industry (Looking right at you, Gap) actually thought it would be a great idea to make a trend out of dressing ordinarily. The problem? People thought the "Dress Normal" campaign was way too normal. Turns out we like to at least think we're making stylish choices. The fashion companies learned their lesson.
Hold The Sheer
We saw oodles of sheer at the various Fashion Weeks around the world. This is a bold trend made for the risqué environment of the runway, but is not to be used and abused in our everyday life. Wearing a see-through shirt with exposed nipples isn't suddenly business casual. Glimpses of sheer around the shoulders and back work in moderation, but let's not get cray. Leave the wackiness on the runway.
READ MORE: New York Fashion Week: Michael Costello Review
Reach Senior Entertainment Editor Kathy Zerbib here. Follow her on Twitter here.