Music
11 Kardashian-Inspired Song Lyrics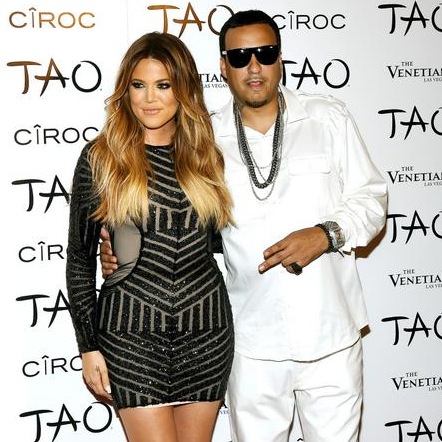 Love them or hate them, it seems like everyone is keeping up with the Kardashians these days. Even some of the top artists in the music industry felt inspired enough to dedicate a line or two (or a whole verse) in honor of the infamous family.
Trina, "Fuck Love"
"You can keep that purse, you can keep that whip, you can have that bitch."
The most recent Kardashian-influenced song lyrics came from no other than female rapper Trina. Trina and French Montana were reportedly still dating when Khloe Kardashian came along and snatched him off. However, TMZ reports Trina was just as much of a home wrecker when French was still with his wife and that he never considered Trina his "main girl." Yikes. She's also accused of trying to use the diss track to rekindle her career. Sorry, girl, the song wasn't that great.
Ray J, "I Hit It First"
"She might move on to rappers and ballplayers, but we all know I hit it first…
And if you were to come back to me, girl, we'll make another movie."
Ugh. If there were ever an award for the most attention-seeking, mediocre track crafted from sheer desperation and an inflated ego, it would be Ray J's "I Hit It First." Poor Kim K. Ray J is basically the embarrassing ex-boyfriend who still goes around telling your mutual acquaintances that you still want him. Like, what? No. You and that "movie" were so early 2000s.
Eminem, "Berzerk"
"They say that love is powerful as cough syrup in Styrofoam;
All I know is I fell asleep and woke up in that Monte Carlo with the ugly Kardashian;
Lamar, oh, sorry yo, we done both set the bar low."
Eminem has been known to take jabs at everyone from Insane Clown Posse to Everlast to Nick Cannon to Christina Aguilera… Of course a Kardashian was on his hit list, too. Joke's on you, Eminem. There is no "ugly Kardashian" and Khloe is a total fireball. Seek proof here, here, here, here, here and here.
READ MORE: 7 Times Someone Was Dissed In A Song
Snoop Dogg, "Whateva U Do"
"Ain't that a bitch? Like, Ray J, I got 'One Wish'; Look at the plates I'm in;
I never fucked Superhead or Kim Kardashian, it's a disgrace to yourself."
Well, Snoop Dogg/Lion, how do we know you haven't tried to? …Anyway, has he changed his mind since the time Kim started dating Kanye West instead?
Kanye West, "Clique"
"My girl a superstar all from a home movie."
Naturally, this is a reference to the aforementioned "movie" Kim and Ray J made so many years ago. Well, at least Kanye isn't denying that his then-girlfriend became famous from a leaked sex tape.
READ MORE: Is Kim Kardashian The Next Marilyn Monroe?
Rita Ora, "Poison"
"Like a serpent from the Garden of Eden, you are like poison running in my blood."
This one's a shot at Rob Kardashian, Rita's ex. What's up with capitalizing on break ups these days? Good for Rita, though, for turning her heartbreak into musical poetry. What better way to say "Screw you, you're a jerk" than by singing your heart out to the world?
Eminem, "We Made You"
"Damn, I think Kim Kardashian's a man;
She stomped him just cause he asked to put his hands on her massive gluteus maximus again."
Is Eminem teasing Kim Kardashian the same way a boy with a crush on a girl pulls her hair for attention? We get it, Em, you're infatuated with the booty. Let's not turn this into another "Why are you obsessed with me?" incident with Mariah Carey.
Childish Gambino, "Let Me Dope You"
"You wouldn't think from the things I'm fashionin' I'd get more bush than Kim Kardashian."
Okay, this little word play is pretty clever… Someone was bound to say this. While poking fun at the Kim Kardashian-Reggie Bush relationship of years' past, he's also poking fun at his own fashion sense and complimenting his 'player' capabilities.
Black Thought, "Reality TV"
"I'm so through with women who watch reruns of 'The Real World' with dinner,
And Kim Kardashian, moms and Bruce Jenner."
Considering Black Thought's song is a diss to reality television shows in general, it's unclear how strong of an influence "Keeping Up With The Kardashians" was to him. To Black Thought, reality TV is a ridiculous concept that he doesn't find amusement in whatsoever.
READ MORE: 9 Most Controversial Reality Stars
Kanye West, "Cold"
"And I'll admit, I had fell in love with Kim
Around the same time she had fell in love with him;
Well, that's cool, baby girl, do ya thang;
Lucky I ain't had Jay drop him from the team."
Kanye dropped some truth bombs in "Cold." Here, he explains he started having feelings for Kim Kardashian when she starting having feelings for "him" (Kris Humphries). When he says "Lucky I ain't had Jay drop him from the team," he means Kris is lucky that Kanye didn't have him traded from the Brooklyn Nets when the basketball player was on the team. Jay and Kanye are good friends and Jay owned a small stake in the team. Jay probably couldn't have, anyway, but it makes for a nice stab at Kris. Drama!
READ MORE: The Wild Wild West (Kanye West, That Is)
Kanye West, "I Won"
"You the number one trophy wife, so it's only right to live the trophy life;
You grew up on J. Lo, Timberlands by Manolo now;
Till one day I put an angel in your ultrasound;
I want to dip that ass in gold, I want to dip that ass in gold…
I made it over NBA, NFL players so every time I score it's like the Super Bowl;
Baby, we should hit the south of France so you could run around without them pants;
I put that glacier on your little hand now that's the only thing without a tan;
My trophy on that Bound bike, I gave you only pipe;
If people don't hate then it won't be right;
You could look at Kylie, Kendall, Kourtney and Khloe…
All your Mama ever made was trophies, right?"
Speaking of Kanye, he's always proudly expressed his love for Kim in his songs. In "I Won," he takes jabs at Kim's exes and compliments the whole family. A sweet gesture, especially when he mentions North ("One day I put an angel in your ultrasound"). His relationship with Kim and their little family give him plenty of fresh content to include in his music. Sigh, it doesn't get more inspired than that. Watch the full video for "I Won" below.
READ MORE: Kim Kardashian And Kanye West Wed In Florence
Reach Senior Entertainment Editor Kathy Zerbib here. Follow her on Twitter here.