Food
Cronut Craze Far From Over, But Ansel Already Working On Next Big Thing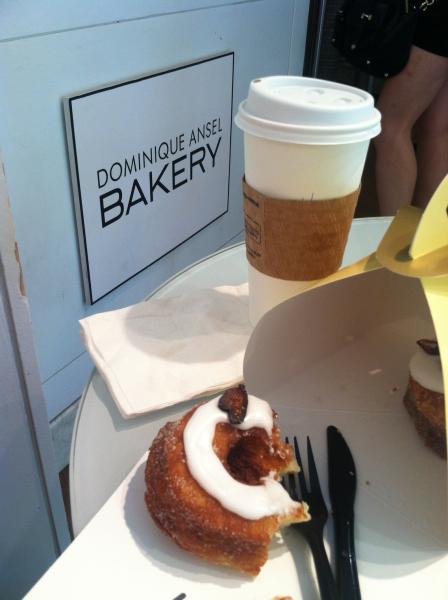 Since the Cronut's debut, New Yorkers and tourists alike have lined up for a taste of Chef Dominique Ansel's trademarked treat. When Ansel shared
the recipe
on Good Morning America earlier this month, people thought it signaled the end of the craze. If the croissant-doughnut hybrid can be replicated at home, why would anyone wait in line for the real deal?
Two weeks post recipe release, and the line at Dominique Ansel Bakery in SoHo still wraps around the block, with as many as 150 queued up on an average Saturday, said Executive Sous Chef Karys Logue.
"The place is super busy. We don't close, we don't stop," Logue said, referring to the bakery's 24-hour production schedule.
READ ALSO: Clark Street Bread Hosts Pop-Up At Grand Central Market
There are multiple reasons behind the continued demand: one, the Cronut you make at home will likely never live up to what Ansel's highly-trained staff produces, and two, Dominique Ansel Bakery is about much more than the Cronut.
"Chef Dominique is so unique. He doesn't want to just make a Cronut factory. He wants to keep creating new desserts that are each unique and have their own personality," Logue said.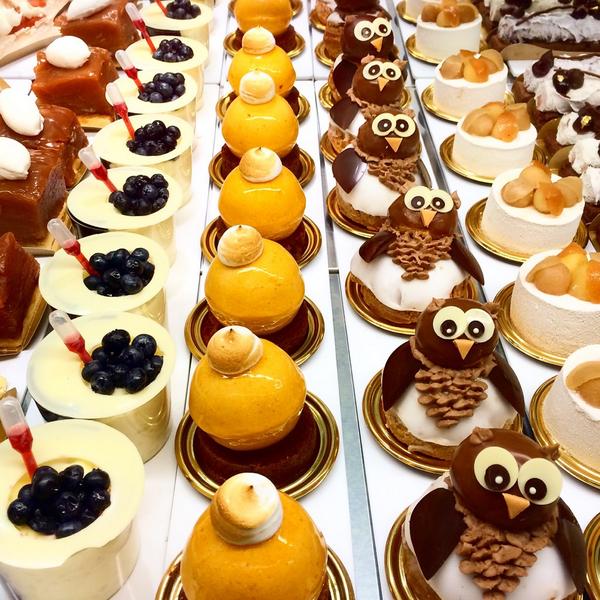 Indeed, Ansel's menu is full of innovative savory and sweet confections. The Magic Soufflé, a baked-to-order chocolate soufflé inside a brioche box, displays the chef's masterful technique. Cookie shot glasses filled with milk exemplify Ansel's fun, playful style.
Hootie
, a cream puff shaped like an adorable owl, combines whimsical design with sophisticated flavor profiles.
Logue said customers' curiosity about the unique recipes motivated Ansel to write Dominique Ansel: The Secret Recipes. Pre-orders generated by Ansel's significant following have already prompted a second printing, weeks before the cookbook's official release date.
"It's freaking beautiful," Logue said of the book. "I was blown away by how much work went into making it."
Due out Oct. 28, the book offers at-home versions of many of Ansel's curious creations, including the Cronut. Logue said Ansel decided to release the coveted recipe early on Good Morning America to preempt the possibility of unauthorized leaks.
"We knew there was a risk of the recipe being leaked early, so we wanted to make sure we did it on our terms," Logue said.
READ ALSO: 85°C Bakery Café Opens In Torrance
The recipe Ansel released is a modified at-home version of the original, differing slightly in ingredients and technique. An average baker could make a successful batch of Cronuts if he or she is patient enough to meticulously follow the recipe's three-day process, Logue said, but properly executing the laminated dough — a key element of the Cronut — requires skill.
"There's a touch and a feel to making laminated dough," Logue said. "You have to know how soft your butter needs to be and how cold your dough needs to be. If you don't have a good feel for baking, you could struggle with it."
Logue suggests starting with simpler recipes before trying the Cronut. She said the DKA, Ansel's version of a flaky, sugar-crusted kouign amann, is a more "user friendly" recipe that will help bakers get used to working with laminated dough.
"Even though it's still a lamination process, it's a more forgiving version. It has a higher success rate, even for people who don't know what they're doing," Logue said.
The DKA is also significantly less time consuming. Logue said a practiced home baker could produce the sugary delights in just a few hours.
Despite his growing celebrity, Ansel remains very hands-on at the bakery, regularly jumping in to work production stations, frying off Cronuts and even scrubbing floor drains. Logue said that while Ansel is an intense perfectionist, he rarely loses his temper and is light-hearted, often joking around with his team.
READ ALSO: Cooke Casa Bakery: Homemade Cookies Served With Comfort
Though Ansel currently oversees production and chats with guests six days a week at his SoHo bakery, that may be changing soon. In the coming months, he will travel throughout the country on a book tour, and if that isn't enough, he's in the development stages for a second bakery location.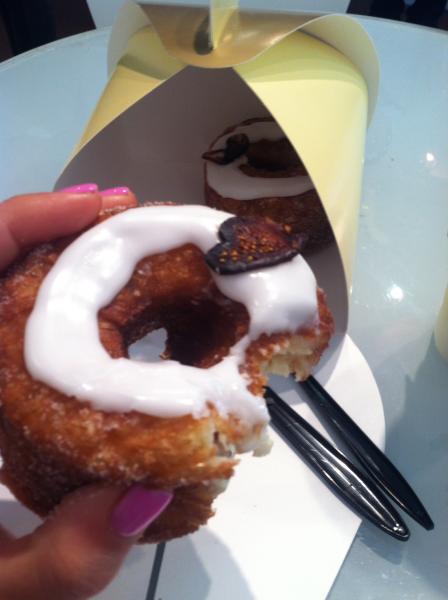 Ansel plans to open his Tokyo bakery in early 2015. The space will be much larger and will feature more savory offerings. Logue said Ansel and his team are busy developing an original line of pastries for the new bakery.
"Dominique doesn't believe in replicating anything," Logue said.
Logue said the Cronut may not be available in Tokyo. If Ansel decides to offer it there, he will feature different Asian-inspired flavors.
Ansel decided on Tokyo because he feels the city has the same glamorous, cosmopolitan vibe as New York City. Logue said Ansel has always been fascinated by Asian culture and cuisine, and she expects Tokyo to be equally captivated by Ansel's offerings.
"Asian people have a very keen eye for pastries. Not just dessert but pastries. The bakery concept works there," Logue said.
Despite speculation that the Cronut recipe release marked an end of an era, Ansel is much more than a one hit wonder. Offering up the secrets of his culinary success so early in his career not only gives fans insight into his creative genius, but also suggests that he has many more innovative ideas in store.
Reach Editor-at-Large Sara Tiano here. Follow her on Twitter here.