Food
85°C Bakery Café Opens In Torrance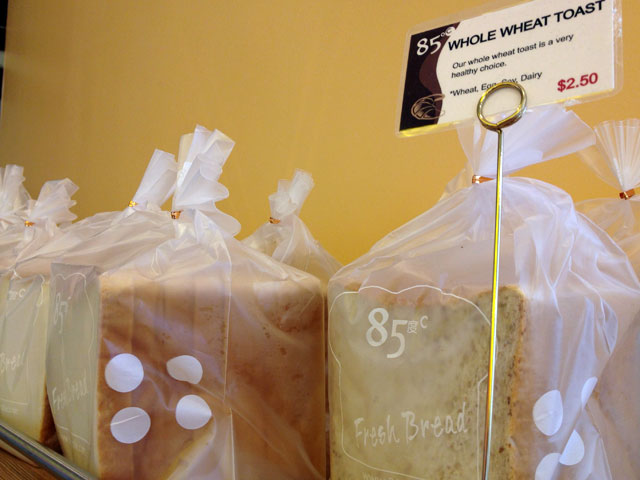 "Fresh bread! Fresh bread!"
That's the most common phrase you'll hear at 85°C Bakery Café, whose most recent location launched in Torrance on April 11.
The bakery's newest location is just 10 minutes away from another one of its stores, located in Gardena. But it's okay; maybe this new store will help diminish some of the long lines at the Gardena location.
85°C Bakery Café is known for its—guess?—fresh bread, coffee, milk teas and elegant pastries and cakes. The café features a wide variety of European style, Japanese style, Taiwanese style and American style pastries and breads. Asian-inspired pastries include "Berrytale," "Pork Sung Bun" (featuring a special 85°C blend of mayo sauce and dry, shredded pork) "Milk Pudding" and "Red Bean Bread," while traditional American pastries include selections like "Garlic Cheese," "Cheese Bread," "Cheese Dogs" and "Ham and Cheese." Different types of European-inspired danishes—"Blueberry Cheese," "Cranberry," "Tuna," "Italian Tomato"—are also featured. Some of these pastries are located in a refrigerated section and are available for purchase.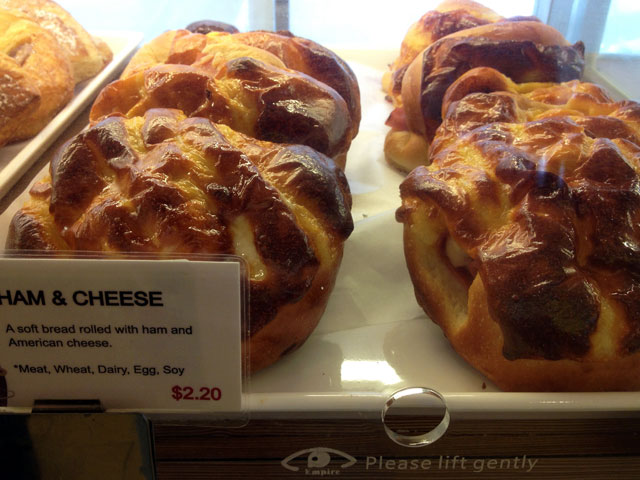 But the bread is the crowning glory of all the treats at this café. Whole loaves—like the famous, soft, fresh "Whole Wheat Toast" and the ever popular "Milk Toast"—are available for retail, as a variety of individually packaged items, like the "Mango Bread," "Mocha Bread," "Coffee Bread," "Rose Cheese," "Premium Milk Bread," "Brioche" and "Chocolate Chip Bowl."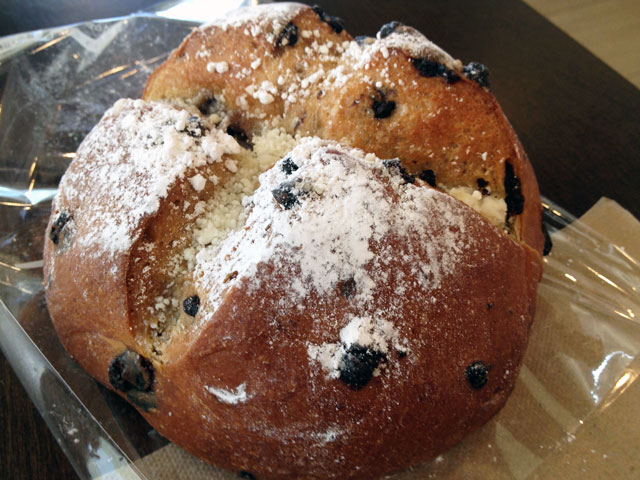 While I enjoy many of the pastries at this bakery, the "Chocolate Chip Bowl" is one of my favorite go-tos. It features a soft, fresh-flavored milk bread studded generously with chocolate chips and topped with lots of powdered sugar.
Besides the extensive variety of fresh pastries—which customers can select with tongs and pile high on plastic white trays—85°C Bakery Café specializes in elegantly decorated cakes, coffees and teas. Cakes can be ordered in individual slices or customers can purchase entire cakes (perfect for family gatherings or celebrating special occasions). Some of the many featured flavors include "Tiramisu," "Cream Cheesecake," "Coffee Crème Brulee," "Black Forest," "Chocolate Strawberry" and "Triple Chocolate Mousse." Coffees come in "hot" or "iced" options; customer favorites include the famous "85°C Coffee," "Hazelnut Latte," "Iced Sea Salt Coffee" and "Iced Chai Latte." Similarly, teas are available in hot, iced or flavored options; some of the more popular selections include "Milk Tea," "Boba Milk Tea," "Iced Sea Salt Jasmine Green Tea," "Iced Caramel Milk Tea" and "Iced Coffee Jelly Milk Tea." The bakery also features smoothies, ranging from flavors like "Mango Passion" and "Frozen Marble Taro" to "Red Bean," "Matcha," "Cookies & Cream" and "Honeydew."
Besides being the perfect spot to grab a morning pastry or post-work pick-me-up, 85°C Bakery Café is a popular hangout spot because it's open until late (10 p.m. daily and until midnight on Fridays and Saturdays). The cheap prices (pastries range from $1-3; the more expensive ones are less than $4) make it attractive as well (there's a reason people leave with boxes of packaged, freshly baked items).
Sidenote: The products from this bakery really do stay fresh if you're planning to save your goodies for later. The workers package each pastry in an individual-sized plastic wrap, but don't seal the top, a method that ensures that the bread/pastry stays fresh for as long as possible and the dough doesn't dry out.
While I was anticipating the opening of the newest 85°C Bakery Café location, I was slightly disappointed once I finally got to experience it. The Gardena store seemed to have pastries and products available; I felt like there was a smaller selection at this Torrance location. The bakery wasn't extremely busy during the time I visited; yet, the drink in our order took forever to make. Hopefully, though, those are just growing pains and with a little more time, this location will be as prompt and as pleasant to experience as the others I've been to thus far.
View a Flickr slideshow of the latest 85°C Bakery Café location below: