Arts+Culture
Fans Will Find Community At The L.A. Podcast Festival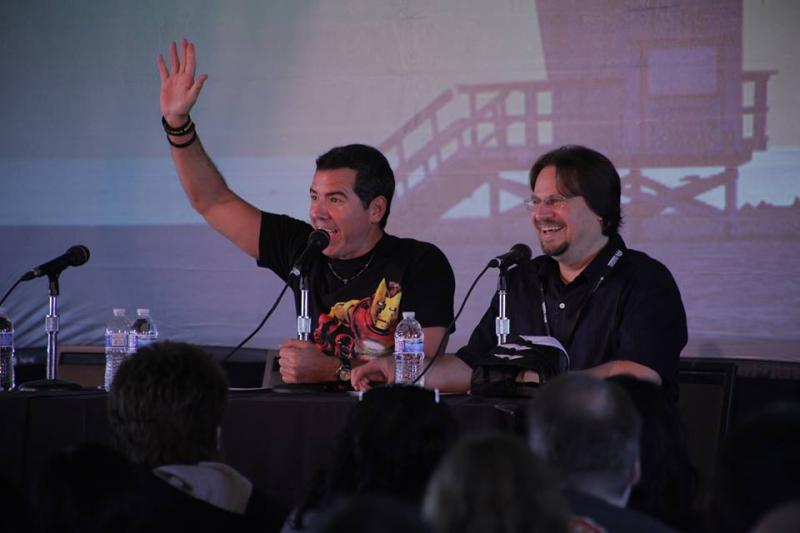 Podcasting is usually a solitary activity, but it'll be a full-on party this weekend at the L.A. Podcast Festival.
Starting Friday, over 35 podcast creators will take over the Sofitel Los Angeles Hotel for three days of live shows, panels and workshops. The shows range from comedy to science to entertainment, including comedian Marc Maron's "WTF" podcast and the "Girl on Guy" show with actor and talk show host Aisha Tyler.
Graham Elwood and Chris Mancini of the "
Comedy Film Nerds
" podcast, along with Dave Anthony and Andy Wood, raised $24,000 on Kickstarter to start the first L.A. Podcast Festival in 2012.
"We wanted to make sure there was the demand for it. And the demand was very overwhelming and positive, so we knew we were onto something," Mancini said.
Instead of their normal podcasting experience--listening to a favorite show on their solitary commute to work, for instance--festival attendees can laugh with their favorite comedians and newfound friends in a communal setting.
"A majority of people don't even know what a podcast is," Elwood said. "But all of these people come to the festival and they don't have to explain to each other. It's like a big party."
That party is for fans and podcasters alike. Jack O'Brien, the co-host of the
Cracked
podcast, is eager to find out how his fans will respond to the show's second live show ever (the first one will be only a few days earlier).
"We record our episodes in a broom closet, so we don't usually get to go to all the cool podcast hangouts," he said. "But I'm excited to attend and show people what we do."
While he didn't want to divulge too many hints about the upcoming show, O'Brien did mention the Cracked show may include "a few musical elements" and special guests. SNL alum Horatio Sanz, musical comedian Tim Minchin, and actress Whitney Cummings are just a few of the celebrities making guest appearances in the live podcast performances throughout the festival.
Other podcasters can make their own appearances on each other's shows as well. The festival's Squarespace Podcast Lab gives anyone a chance to record their own live show, maybe snagging an interview with some of the other podcast hosts or other big comedians. Marc Maron, for example, made some guest appearances on several smaller shows that attended the festival last year.
"It's just another example of how the L.A. podcast community really works together and it's amazing to see first-hand," Mancini said.
For fans and podcasters who are not in the immediate L.A. community, the festival is offering a live stream of every show on their website. For $25, fans from all over the world can watch the entire weekend's events, flip between different rooms, and even watch shows from the archive later.
No matter whether attendees are watching from their laptops or sitting in front of a podcasting panel, they'll be part of a worldwide audience. With a weekend of laughs, the L.A. Podcast Festival might just make some listeners realize that they were never alone to begin with.
"You can meet the other fans and the podcasters you've been listening to for years and get that camaraderie and feel that sense of community," Mancini said. "You can only get that live and in person at the festival."
The L.A. Podcast Festival is September 26 to 28. Find out more information on their
website
.
The "Cracked" podcast goes on Friday, September 26 at 11 p.m.
The "Comedy Film Nerds" podcast goes on Saturday, September 27 at 2 p.m.
Contact Staff Reporter Meghan Coyle here.