Film and TV
9 Movies We Can't Get Sick Of Watching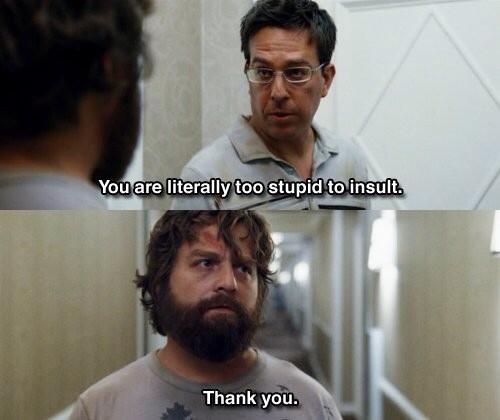 We watch movies because we can relate, or because we want to catch up with some laughs (and some people, with cries). Most of the films we love are comedies. Who doesn't love to laugh? Others can be watched over and over again because they are classics. After all, someone says "May the force be with you," or "fat Jesus" and everyone knows what movie the line is from.
"The Hangover"
Yes, the words "fat Jesus" came right out of "The Hangover." Handsome Bradley Cooper and hilarious Zach Galifianakis in the same movie—what's not to love? The comedy is great for its dialogue, scattered, yet well-thought-out plot and what each of the four characters bring to the story. The first "Hangover" movie is by far the best out of the trilogy.
READ MORE: 'The Hangover Part III': It All Ends In Vegas
"Bridesmaids"
Often refered to as the female version of "The Hangover," Kristen Wiig and SNL actress/comedian Maya Rudolph bring laughs while unraveling a plot about a woman going through a mid-life crisis—all with comedy, drama and romance.
"Crazy, Stupid, Love"
You can find most of Hollywood in this film…well, kind of. The film stars Steve Carell, Julianne Moore, Emma Stone, Ryan Gosling and Kevin Bacon. The talented and hilarious cast brings something new to the film every time we watch, whether it's a snarky comment or an analysis of the characters.
"Titanic"
Though the film is 194 minutes, Kate Winslet and Leonardo DiCaprio's chemistry on set is best when seen multiple times. The long runtime doesn't stop people from stopping on that movie while flipping through the channels (even if we know about the tragic ending). People love the movie so much, that director James Cameron brought it back to theaters in 2012.
"Yes Man"
We've seen Jim Carrey play in comedies, like "Liar Liar," and dramas, like "Eternal Sunshine of the Spotless Mind." In "Yes Man," Carrey takes up comedy once again, co-starring Zooey Deschanel. He plays Carl, a man who has always said no to life, and becomes forced to say yes to all sorts of things to become a happier man.
"Star Wars"
Though the "Star Wars" franchise has too many movies to count, the films are somehow all connected to each other, from the first film in 1977 to the last in 2005.
READ MORE: Adam Driver Rumored For 'Star Wars: Episode VII'
"The Sound of Music"
The hills are always alive when watching this classic, starring Julie Andrews and Christopher Plummer. Like "Titanic," this movie requires more than an hour and a half of your time to watch the film from beginning to end. That being said, a love story, music, and war scenes are plenty of entertainment to get you through it.
"Ferris Bueller's Day Off"
What's a list of movies to watch again and again without one of John Hughes' 80's movies? Mathew Broderick is Ferris, a popular high school student who plays hooky with his pal and girlfriend. The film touches on teenage troubles, like Hughes does in other films like "The Breakfast Club," but is filled with humor that makes us hope a school ditcher doesn't get caught.
"Frozen"
Did you start singing a song from the film when you saw this title? If you haven't seen what adds to the list of Disney classics, "Frozen" is one you need to watch. It strays away from the typical Disney-princess films. Let's not forget Olaf, the snowman, who keeps comedy in check throughout the somewhat sad themes going on throughout the movie.
READ MORE: Film Review: 'Frozen'
Reach Staff Member Tanya Mardirossian here. Follow her on Twitter.