Los Angeles
Xinran Ji's Accused Killers Plead Not Guilty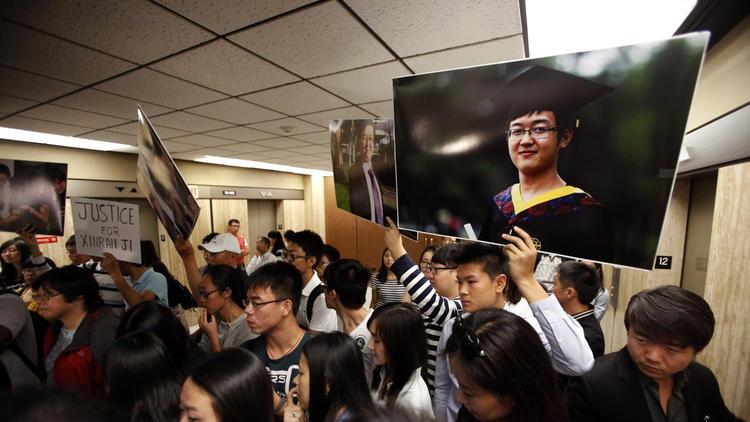 In a downtown Los Angeles courthouse on Tuesday, four teenagers charged in the murder of USC graduate student Xinran Ji entered pleas of not guilty before Judge Renee Korn, who ordered that they be remanded without bail (via
LA Times
).
Over 150 students and supporters of Ji attended the hearing, while more stood outside awaiting the results. Many of the attendees were of Chinese descent, representing a community that has now been twice victimized by senseless violence.
READ MORE: Friends On Xinran Ji: He Was 'Always Smiling,' 'Hard Working'
Two of the defendants, Jonathan Del Carmen, 19, and Andrew Garcia, 18, potentially
face the death penalty. The others, Alberto Ochoa, 18, and Alejandra Guerrero, 16, are not subject to capital punishment because of their ages. If convicted, they will likely face life in prison without the possibility of parole.
Ji was attacked in the early hours of July 24th, near the intersection of 29th Street and Orchard Ave. Despite the severe head injury he sustained during the assault, Ji was able to return to his apartment at 1237 West 30th Street, where his body was later found by a roommate.
A memorial, attended by USC representatives as well as Ji's family and friends was held on August 1.
READ MORE: USC Sends Poor Message To Grieving Family With Botched Memorial Service
Rose Tsai, the attorney representing Xinran Ji's family, had this to say after the hearing:
"I can't say we're surprised regarding the plea. We place our confidence in the District Attorney's office that they will prosecute the defendants successfully and that the justice system will be able to impose the harshest penalty on them."
READ MORE: International Students React To Apparent Lapses In Safety
Such resolute sentiments were also shared by Ji's fellow Chinese graduate students. Cosmo Ma, a student at the Rossier School of Education, said that "even though this tragedy can be attributed to many things, and even though many sides need to be blamed, such as the USC security department, the naivete, stupidity and cruelty of the killers can never ever be forgiven."
Ji's supporters and grieving family members must now endure an agonizing wait for justice. The accused are due back in court on September 12th.
Reach Executive Producer Ashley Yang here, or follow her on Twitter.
Reach Executive Producer Arash Zandi here. Follow him on Twitter here.